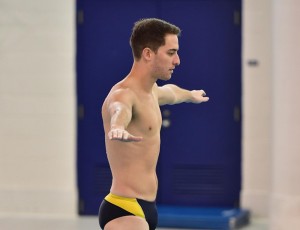 The Drexel University men's and women's diving teams competed in the Colonial Athletic Association Diving Championships this past weekend. The match took place at the University of Delaware Feb. 20 and 21. There were many notable performances, especially from David Sanchez, who took home the Men's Most Outstanding Diver award for the third time in four years.
In the men's one-meter finals Feb. 20, Sanchez took first place with a total score of 333.25. Simone Carne, Michael Binkauskas and Reed Vennel all took places in the event as well; Carne took fifth place with a score of 241.60, Binkauskas came behind Carne at sixth place with a score of 212.40 and in eighth place came Vennel with a score of 197.05.
Jaclyn Goulet, Brittany Seibert, Rory McPhillips and Hailey Ilhow competed in the women's three-meter dives Feb. 20. Goulet took the 19th place in the competition with a score of 195.95. Seibert, McPhillips, and Ilhow all took siliar rankings. Seibert took the 22nd place with a score of 178.55, McPhillips took the 23rd place with a score of 177.10 and Ilhow earned a 151.90 score for the 24th place. Even though they did not finish in top spots, Goulet, Seibert , McPhillips and Ilhow all competed to the best of their abilities, which is exactly what a championship match requires. They will only improve in the future.
Sanchez, Carne and Binkauskas competed in the men's three-meter competition Feb. 21. Sanchez took second place, tallying a score of 355.50; he was just 0.8 points behind first place. Carne and Binkauskas took seventh and eighth places, respectively. Carne had a score of 231.45 and Binkauskas was just a few points behind him at 227.10. In the men's three-meter consolation round, Reed Vennel took first place with a score of 230.65.
The women's one-meter championships also took place Feb. 21. McPhillips, Goulet, Ilhow and Seibert participated in the event. McPhillips took the 19th place with a score of 183.15 and Goulet took a close 20th place with her score, 182.15. Ilhow came in at 23rd with a score of 159.00 and Seibert tallied a score of 138.05, which put her in 24th.
Each of Drexel's divers did an excellent job keeping their composure and doing their best. The event was a wonderful end to Sanchez's college diving career. His ability and leadership will certainly be missed. However, the team retains enough talent to fill the space he leaves.
The men's and women's swim teams will compete in their championship matches from Feb. 24, to 27. Look for some big performances from both teams as they try to end their seasons on high notes.