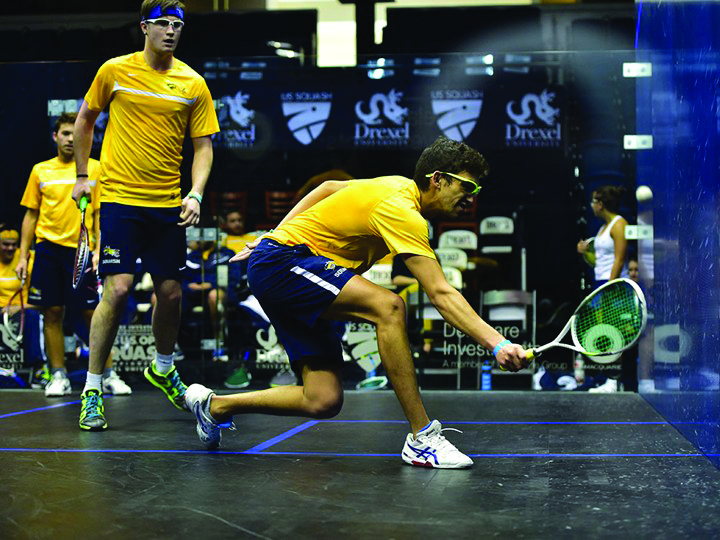 The Drexel University men's and women's squash teams finished their regular season off strong Feb. 10 and 12.
"This year's team is stronger mentally than previous years. They are putting together the big points at the end of the games and matches and getting the wins against the top teams, something we could not do in previous seasons. They now believe in their own ability on the court," head coach John White said.
The men's team swept in both their weekend matches.
The team faced off against the George Washington University Colonials on Friday and defeated them 9-0.
Sophomore Omar El Atmas, sophomore Bransten Ming, freshman Lucas Rousselet, junior Luke Willemse, junior Noel Solomon, junior Joshua Hughes and junior Cillian Dunne all swept their opponents in three games.
In the third spot, senior Michael Thompson fought back to win his match in five games. He dropped the first two games, and then came back to win the next three and the match.
Freshman Mostafa Aboul Makarim defeated his George Washington opponent in four games.
On Saturday the Dragons swept Dickinson College at home at the Kline & Specter Squash Center.
Prior to the match, the team honored Thompson, the team's senior team member.
In his final home match as a Dragon, Thompson defeated his opponent in the number three spot. He won in straight sets, sweeping his opponent.
El Atmas, Ming, Thompson, Rousselet, Solomon, Hughes, Raymond, and freshman Ben Mekdeci defeated their opponents in three games. Sophomore Will Grady finished off the ladder with a win in four games. Mekdeci's victory was the first of his college career.
The team will now move on to the national championships, which will take place in Cambridge, Massachusetts. They will take on Columbia University in the first round Feb. 17.
The women's team also won both their matches, defeating the Colonials 6-3.
Junior Hayley Hughes and senior Mary Fung-A-Fat swept their opponents in three games. Freshman Anna Hughes, sophomore Fiona Power, and senior Maria Diagama defeated their opponents in four games.
Senior Kaitlyn Money got the sixth win for Drexel of the day. She defeated her opponent in five games after trailing by two sets. The women went on to sweep Dickinson Feb. 12. Junior Ryan Morgan won her match in four games, while all the other Dragons won in three games.
The women's team will continue on to play at nationals in Princeton, New Jersey, Feb. 24.
"Preparing just the same as a prep for the Potter Division National Championship as we have before every tough set of matches. Working on the basics and focusing on their own game and not worrying who steps on court with them. Not looking too far ahead, just one match at a time. Same teams as during the season, just at a different venue," coach White said.