It was a case of deja vu for the Drexel men's and women's swimming and diving teams, as they earned a split in their dual meet at Binghamton University Nov. 12. The men's squad (4-0) won their meet 170-128 while the women's squad (1-3) lost 194-97.
The 42-point margin of victory for the men's side continued an impressive streak for them, as they have won all 4 meets so far this season by at least 20-plus points — with their smallest margin of victory being 24 in their 104-80 season-opening win at Widener Oct. 19. In addition, the squad's relatively young makeup — 15 members of the 22-man roster are underclassmen — has not stopped them from being successful in the slightest.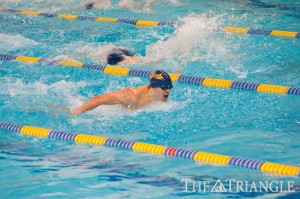 Such was made ostensibly clear as the freshman swimming sextet of Alex Galinskiy, Alex Chialastri, Mike Krohn, John Quagliariello, Andrew Reimon and Chad Schmidt led the way.
Galinskiy was without question the star performer for Drexel, winning three events — the 100-yard freestyle, the 100-yard butterfly and the 200-yard individual medley. His aforementioned freshman teammates had their respective contributions to the cause as well, as Schmidt in the  100-yard breaststroke, Quagliariello in the 100-yard backstroke, Krohn in the 200-yard butterfly, Reimon in the 200-yard breaststroke and Chialastri in the 200-yard freestyle, all had individual wins.
In addition, Drexel managed a clean sweep of the men's 200-yard medley relay and the 400-yard freestyle relay. On the diving side, junior Stephen Cal won both of his events, winning the one-meter event and three-meter event with scores of 268.65 and 278.40, respectively. Afterward, Head Coach Shawn Markey was happy with the men's team's overall efforts.
"To win at Binghamton, where the men haven't won in years, is great for them," he said. "To look at our record and see that it is 4-0 is a huge morale booster, compared to being 1-3 at this point last year," Markey said.
Markey has even greater plaudits for the freshmen.
"Alex Galinskiy is standing out as one of the top swimmers in the conference," he said. "Seeing the freshmen do well is justifying, as they're the future of this team."
One could easily look at the three straight defeats for the women's squad and come to the easy, yet ultimately misguided conclusion that they are not performing as well as they should. Not only is such sentiment misguided, it is totally off the mark. Both Markey and assistant swimming coach Katie Koch said that despite the record, the women's side has been competitive in every single meet.
"This is our most competitive women's team ever," Koch said. "We're building the team year after year, getting stronger. We're building depth."
Markey agreed with Koch's thoughts as well.
"The record does not reflect the results," he said. "They're accomplishing a lot. Teamwise, they're swimming great. [Junior] Lauren Faykes is a great all-around swimmer. [Senior] Devina Tyagi is our standout sprinter."
Both Faykes and Tyagi picked up wins. Faykes won the 200- and 500-yard freestyle events — the 200 in 1:57.30 and the 500 in 5:15.32 — while Tyagi won the 100-yard backstroke in 59.81.
Upcoming for Drexel is the Terrier Invitational held on the campus of Boston University, which takes place Nov. 18-20. Eleven teams will take part in the invitational, as it represents a different set of circumstances for Drexel.
"Coaches treat invitationals differently than dual meets," Markey said. "It's a meet for all teams to get ready for conference championships."
Like the trip to Binghamton — which is in upstate New York — the excursion to Boston will be a long one.
"It's a pretty far trip for us, taking 3.5 hours," Markey said. "We have a lot of team meetings to prepare for them. Warmups are always longer after long trips. We tend to jump right in the pool when we get there."
The invitational also represents a challenge for Drexel, as some of the more competitive teams in the country will be on display.
"Boston University has gotten stronger overall, both men and women," Markey said. "Columbia University has a good women's team. UMass has become a great team with a lot of swimmers."
Because of this, one would think that intimidation would set in for Drexel. However, that would, at least in the eyes of the coaches, be wrong.
"I don't think they're intimidated," Koch said.
Markey continued with that notion.
"Our swimmers respond well to this competition," he said. "We are definitely in the mix."