The men's soccer team has kicked off 2011 with a bang — and they haven't even played their season opener yet. The Dragons took down Fairleigh Dickenson University 3-1 in a scrimmage at Teaneck, N.J., at noon Aug. 21.
With goals scored by three different players, second-year head coach Doug Hess is proud of his team's positive start.
"I thought we did well in the build-up of our play … and [we] had some good moments defensively," he said.
The successful defense will come in handy as the men scrimmage Saint Joseph's University and Villanova University over the next few days.
Drexel will take on the Hawks for their last pre-season scrimmage Aug. 26 at 7 p.m. at St. Joe's. The Dragons defeated SJU last season 2-0, and Hess believes they need to take the same aggressive approach in order to win the upcoming matchup.
"I believe both the FDU and SJU games are good pre-season tests for our team … they are both teams that we should beat; however, in a fickle game like soccer, that doesn't always happen," Hess said. "This being the case, [these teams] provide a good test for our guys in learning how to win the games you should win."
Expecting to win and actually winning are two different animals, but with 19 returning players and a lot of young blood, the Dragons should pull out big wins early in the season.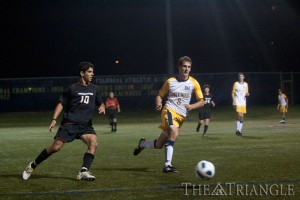 Some returning players to look out for are senior Andrew Goldberg, junior Nathan Page and sophomore Ken Tribbett.
Goldberg was named the Colonial Athletic Association Co-Player of the Week Sept. 5 least season. He also earned Philadelphia Inquirer Academic All-Area recognition for the second year in a row. His final tally on the season was 11 points.
Fellow teammate Page led the team last year with six goals and 12 points. His starts in 17 of the 18 matches played, along with his high level of play, earned him the title of Philadelphia Soccer Six All-Star as well as Second Team All-CAA honors.
Finally, Tribbett made his mark as a rookie and was named to the CAA All-Rookie Team. He also earned the title of CAA Rookie of the week.
Goldberg, Page, Tribbett and their veteran colleagues are not only expected to perform on the field, but are also expected to lead behind the scenes.
"I expect these guys to be the nucleus of our team and bring the young guys along," Hess commented. "They have gained some valuable experiences in their short time here and I expect them to be the leadership core that we will rely on throughout the season."
The team will start their regular season against Villanova University Aug. 31 at Villanova. The Dragons defeated Nova last year 2-0, and plan on continuing their success against the Wildcats.
With a lot of hard work and dedication throughout the pre-season, the guys are ready to put it all on the field.
As Hess put it, "I truly believe we are better than we were last year … the guys had a solid spring season and we want to continue with that momentum."
The opener against Villanova kicks off a trifecta of road games. The Dragons return to Drexel's Vidas Field for the first home game of the season Sept. 14 against Lafayette.