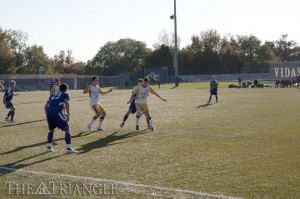 After a vast amount of personal success this past fall season, Ken Tribbett of the Drexel men's soccer team received Second Team All-Colonial Athletic Association honors in 2011. Tribbett returned this year as a sophomore for the Dragons and contributed to a vast amount of the team's overall victories.
Tribbett, a Colorado native, came from a strong soccer background that qualified him as a perfect addition to the men's roster. Tribbett earned Academic All-State First Team honors during his senior year at Grandview High School. In addition, the midfielder acquired First Team All-League and Honorable Mention All-State in 2009. While he earned a Rookie of the Year title in high school in 2007, he was also honored among his club teams for the State Cup Most Valuable Player four different times.
During the 2010 fall season as a freshman, Tribbett quickly made his presence felt on the field from the start. Head Coach Doug Hess was confident in Tribbett's abilities from the beginning and started the freshman in 17 out of 18 games. Ultimately, the rest of the league soon became aware of this dominant force in the midfield. Tribbett was named to the CAA All-Rookie Team and earned CAA Rookie of the Week. CollegeSoccerNews.com nominated him to the National Team of the Week Oct. 11 after his outstanding performances, scoring two goals and an assist in wins over George Mason and Towson.
At the beginning of the 2010 season, Tribbett was nervous with uncertain expectations of where he would fit on the team. However, once he started his first game, he knew by the second game that he had earned a starting spot for doing something he loved.
"During the season my emotions were the same as they have been all my life, which is just calm and composed, which is a key element to my game," Tribbett said.
This year Tribbett proved yet again to be a recognizable force on the field. Overall, he attained four goals and nine points for the Dragons. Midway through the season, Tribbett blew up with intensity as he scored in three consecutive games against Towson, Delaware and Georgia State. In the matches against the Tigers and Blue Hens, Tribbett shined with game-winning goals.
After being named to the All-CAA team this year, Tribbett had a rough time putting into words the amount of excitement and relief he felt. He was flattered by the recognition he gained from other coaches in the conference in acknowledging that this award isn't just given out to anyone.
"Personally I am very grateful and proud of myself to earn this award because we play in a great conference, and it shows what kind of player I am becoming," he said.
While Tribbett improves individually as a player each day, the team is growing stronger as a whole as well. Last year the team's big disappointment was losing their last five games. This year, however, the Dragons went 2-2-1 in their last five and beat James Madison, who was ranked 12th in the nation at the time, while tying No. 18 Old Dominion.
The men have exponentially improved with the help of Hess throughout the past couple years. Tribbett stated that Hess is a very demanding coach, yet he just wants the best for everyone at all times. Ultimately, Hess knows how good the men can be and helps them grow each day by extracting the most out of them at practice.
"He is also very educated about the game of soccer, as he knows more than most coaches do. Whatever point he is trying to make, I know I can trust him, and it will add something to my game," Tribbett said.
At the same time, Tribbett believes that the team still needs work on separating themselves from other teams in the CAA. Even if they do not have some 'X factor' right now, he believes they are adequate in all areas on and off the field. With battling out the last two games this year and getting better results than last year, Tribbett said it was definitely a sweeter end to the season. Ultimately, the team character they all attain is heart.