This past week, the Drexel men's soccer team wrapped up its non-conference play against City Six rival Temple and began its Colonial Athletic Association schedule against William & Mary.
Drexel (1-6-1, 0-1 CAA) fell to William & Mary (5-3, 2-0 CAA) at Vidas Field Sept. 24 in their CAA opener by a score of 2-0. Although they amassed a season-high 19 shots — five on goal — the Dragons could not get any past William & Mary goalkeeper senior Colin Smolinsky.
After producing only 11 shots over their previous two matches, Drexel was very aggressive in the offensive zone. Junior midfielder Brandon Zeller led the team with four shots, while sophomore midfielder Ken Tribbett and junior forward Phillip Hagerty contributed three shots apiece.
"It's one thing to have shots, but it's another thing to have good opportunities," head coach Doug Hess said. "And a good opportunity doesn't necessarily need to be a shot."
The Tribe opened up the scoring with a goal from freshman defender Michael Teiman in the ninth minute on a set piece by senior midfielder Nicolas Abrigo. The Dragons could not get an equalizer before Abrigo added a goal of his own in the 57th minute to put the Tribe up two.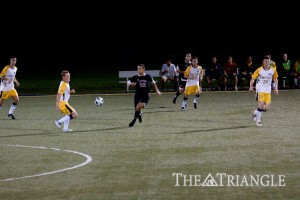 "When you go so long without scoring it starts to play on your mind," Hess said. "It's been a mental thing more than a physical thing, and the biggest struggle for the group right now is getting over the mental block."
The Dragons got over that loss and picked up their first victory of the season with a 2-0 win over Temple (3-5) at Vidas Field Sept. 28. Sophomore midfielder Malcolm LeBourne scored the first Drexel goal in 18 days on a beautiful cross from sophomore forward Matt Donohue in the 20th minute. LeBourne sprinted to the sideline where his teammates and coaches mobbed him.
"The entire team celebrated and I did as well," Hess said. "It was like the first goal of their lives again."
In the second half, sophomore goalkeeper Pentti Pussinen made two key saves to keep the score 1-0. After receiving a corner kick in the 79th minute, Hess subbed in freshman forward Ridge Robinson. Just seconds later, Robinson headed home a pass from sophomore midfielder Manuel Cazares to put Temple away for good.
"Pentti was solid when he was called on tonight," Hess said. "He kept the game at 1-0 and allowed us to pull the second goal to take a bit of the pressure off."
When the final horn sounded, the team rejoiced on their side of the field and went over to the stands to give the fans an ovation. A crowd of nearly 400 was at Vidas Field to witness the Dragons' first victory of the season.
"We've had some pretty good crowd support already, so that's a good thing," Hess said. "We play an exciting brand of soccer that the fans can definitely enjoy."
Following the Temple match, the Dragons hit the road to continue CAA play as they travel to UNC-Wilmington Oct. 1, and then to the Washington, D.C. area Oct. 6 to take on George Mason University. Last season, Drexel lost 1-0 to George Mason and blew out UNCW by a score of 4-1, both at Vidas Field.
"It's one of those things that once you get that first, finally, after going so long without one, and it's a relief," Hess said. "Hopefully it gives us the confidence in knowing that we can finish again."
Drexel will look for scoring opportunities from LeBourne, who scored two goals in last year's win over the Seahawks and continued stellar goalkeeping efforts from Pussinen as they work their way through the CAA schedule.