Drexel men's and women's crew teams both showed promise at the Knecht Cup Regatta on the Cooper River April 9-10 and are looking ahead to the Kerr Cup on the Schuylkill River April 16.
"Overall we had a strong performance," head coach Paul Savell said.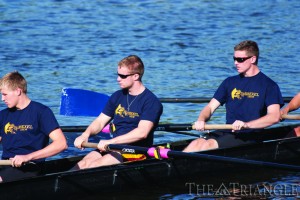 The men earned four grand final berths on the first day of racing. The Novice Eight Peggy Greenwalt boat won the grand final in the second day of racing at the Knecht Cup, held in Camden, N.J. With coxswain Marc Smith and stroke John Pieper, Vanja Busic, Sebastian Ryan, Steven Miner, Ryan McSpedon, Ross Morris, Matthew Ryan and bow Marcus DeMarici the men finished three seconds ahead of runner-up Boston College with a time of 6:10.86.
The men also had a second place finish in the Varsity Pair Final where the Katherine M. L. Buckley boat, helmed by Liam O'Neill and Peter Schmidt, finished only two seconds behind winner Colgate University.
In other events, the men's second varsity eight boat finished just seconds behind Temple University and Trinity University, and the men's varsity eight boat put forth a strong effort, but finished seven seconds behind the victor, Temple University.
The women's crew team also had four boats compete in the petite finals at the Knecht Cup. The women didn't post any winners, but had three runners-up in closely-run races.
The women's novice eight boat finished five seconds behind Duke University in what became a two-boat race down the stretch, and the women's second varsity eight boat finished only three seconds behind Rutgers University in another close contest.
Also in the water for the women was the varsity four boat, which finished in fourth place behind Robert Morris University, University of Delaware and University of Connecticut with a time of 8:30.33.
The women's varsity eight boat also picked up a second place finish, losing to University of Buffalo by four seconds and just narrowly finishing in front of University of New Hampshire by less than one second.
All in all both the men's and women's boats had a good day on the Cooper River, and made some strides that will help them this Saturday on the Schuylkill River at the Kerr Cup Regatta, named after Drexel University former coach and crew legend Thomas Kerr.
"We're back on our home course this week and have had a lot of work on the water at practice," Savell said. "We will have some strong competition coming from Fordham, Villanova, LaSalle, Army and Philadelphia University."
The Dragons look to regain the form they had at last year's Kerr Cup, where both the men's and women's teams had several first place finishes.
The women's varsity eight, women's novice four, men's novice four, women's pair, men's pair, men's novice eight, women's second varsity eight and men's second varsity eight all took first place in the respective events.
"The women have not yet reached their top speed," Savell said "But I think we are on the cusp of really getting this group to click."
Savell sees some areas where the men's team can also improve.
"We still have a bit of speed to pick up as we fine-tune our lineups," he said. "The men have shown some good speed in races this season and with a little more push could have some great results at Dad Vails."
With the teams hard at work this past week, they look to emulate the success that had at the Kerr Cup last year and, in front of their home fans on the Schuylkill River, make Drexel Crew a standout once again.