Crew
The LeBow College of Business Boat has been sent to represent Drexel at the 109th Annual Intercollegiate Rowing Association National Championships. The event began June 2 on the Cooper River in Camden, N.J.
The boat is the men's varsity four and will consist of junior coxswain Randall Lee, freshman stroke Vanja Busic, sophomore Lorenzo Albala, freshman Sebastian Ryan and senior bow Kyle Fabel.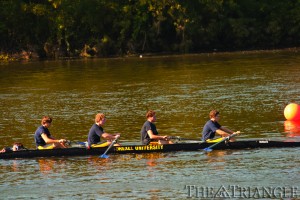 The men competed in the third heat at 11:15 a.m. June 2 against Northeastern University, Georgetown University, George Washington University and the University of California. The Dragons finished the race in second place right behind Northeastern, advancing themselves to the semi-finals on the Cooper River June 3.
Women's Lacrosse
The Drexel women's lacrosse team's leading scorer and Tewaaraton Award nominee, junior attacker Charlotte Wood, has been named to the Intercollegiate Women's Lacrosse Coaches Association Division I All-Region Team as a member of the Mid-Atlantic Second Team.
The junior led the Dragons with 52 points and was also named as a member of the All-CAA Second Team.
Now that she has been named to an IWLCA All-Region Team, Wood is eligible to be nominated for any of the IWLCA All-American Teams.
Field Hockey
Two members of the Drexel field hockey team were also members of the New Jersey High Performance Field Hockey Team. Senior midfielder Kim Tunell and sophomore midfielder Amanda Fleischut led their team to its third consecutive USA Field Hockey Senior Women's National Championship.
The game was held at American University's field and New Jersey defeated the South High Performance Team 3-2 in overtime to take the title.