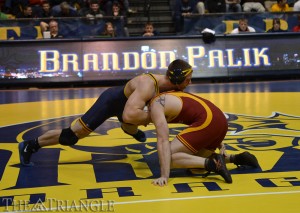 The Drexel wrestling team knew it would be a tough weekend in Michigan. The team's bus broke down Nov 15, causing a three-and-a-half-hour delay in an already nine-hour ride and perhaps serving as a sign of things to come.
Arriving late at night with many of the guys still needing to work out to cut weight threw off the team's schedule, not just for the night but also for their competition Nov. 16. The Dragons fell in all four of their duals at the Eastern Michigan Open against Ohio University, Central Michigan University, Eastern Michigan University and Michigan State University.
Maybe the real sign of what was to come came even earlier in the week, when redshirt junior Jamie Callender found out that his wrestling career was over due to concussions. The heavyweight was slated to find redemption this season after battling injuries throughout his career at Drexel.
"I was very disappointed the doctor shut me down," Callender said. "I have been training hard since I broke my leg last season and was really hoping to put together a full season to make a run at nationals. I gave it my best go, but finishing my wrestling career just wasn't in the cards I was dealt."
He has had a history with concussions since he was a sophomore in high school, leaving him more susceptible each time. One moment he was seeing a doctor for lingering headaches, and the next moment he was told he could no longer compete in the sport to which he has dedicated much of his life.
"To be honest, I'm not sure what my plans are," Callender said of his future. "I may get into coaching at my high school, Council Rock North, but I'm not sure. Wrestling has been a huge part of my life, and I don't see myself just walking away from it."
Callender continued, "I want to thank my coaches and teammates for all they have done. Drexel Wrestling has been a huge part of my college life, and I wish I could still compete for my coaches and teammates."
The news caught everyone off guard, and Callender's absence from the team's lineup was immediately felt.
"With Jamie not being in the heavyweight spot, we knew that winning any of the four duals this weekend would be tough," head coach Matt Azevedo said. "Our guys would have had to wrestle extra well to have a chance to win. Against Ohio, we were tied going into the final match. If we had him there, maybe we win that one."
Redshirt freshman Joseph Giorgio stepped in as Callender's replacement and struggled against some of the country's top heavyweight mat men. Azevedo was encouraged by Giorgio's relentless, hardworking attitude in his first matches for the Blue and Gold.
"He has a big job ahead of him, [but] he's going to work hard," the coach said about the switch to Giorgio at heavyweight. "The one thing that I know I'll get from Joe is 100 percent effort. He's going to go hard, and he's going to fight like hell. Really, that's all we can ask from our guys."
Giorgio joins five other freshmen already plugged into the Dragons lineup, giving Azevedo six guys with very little experience at the collegiate level. The long-term prospects of getting these younger guys experience early on is exciting, but the main goal is not to build for the future.
"They are already competing at a high level," Azevedo said of his freshmen. "I think by the end of the year, several of these guys could be ranked in the country and have a shot at making it to the NCAA Tournament."
Azevedo continued, "The fact that they are getting this experience and wrestling this type of schedule as freshmen, it's going to do nothing but make them better. Our future is bright, but we want to win right now, and we're going to win right now."
If there was one Dragon to step up this weekend in Callender's absence, it was Brandon Palik. Ask Azevedo about Palik, and his eyes immediately light up. He has spoken very highly of Palik since before the season even began, and the redshirt senior has not disappointed. Heading into the Eastern Michigan Open, Palik was 3-0. Over the weekend, he improved his record to 6-1. He won his first three, including two against nationally ranked opponents, before dropping his final match. It was a match that Azevedo thought Palik should have won.
"He was wrestling like an animal out there, and I think he went out there in his last match of the day against the Michigan State kid and underestimated him a little bit," Azevedo said about Palik's performance. "The kid had a good game plan, kept it close, and kept Brandon from scoring to beat him on riding time. Brandon became his own worst enemy for a moment."
The key for the Dragons moving forward will be to take the experience at the Eastern Michigan Open and learn some valuable lessons. Azevedo purposefully frontloaded his team's schedule to see what kind of will and determination they had from the onset. He gave his wrestlers a chance to learn about themselves. Now, as the schedule's difficulty lightens up a bit, it is time for the Dragons to hit their stride and grapple with confidence, especially when conference matches begin.
Drexel has a two-week break before competing in the Grapple at the Garden against Princeton University and Georgetown University Dec. 1 at Madison Square Garden.