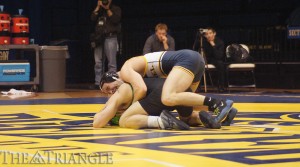 The weekend looked promising for the Drexel wrestling team as they got their star redshirt senior, Brandon Palik, back from a rib injury, but the Dragons ultimately fell to both Hofstra University and the United States Military Academy.
Drexel's weekend started with a trip north to visit Hofstra Jan. 24, but the Pride was able to slay the Dragons by a score of 29-9. Head coach Matt Azevedo got wins from two of his standout seniors, Palik at 197 pounds and Austin Sommer at 157 pounds, but those were the only individual victories the mat men could muster. Sommer won on a 5-3 decision, while Palik recorded a pin on his opponent.
Looking to bounce back and finish the weekend on a high note, the Dragons returned to the DAC to take on the Black Knights of Army Jan. 26. Drexel started the match off strong, jumping out to a quick 13-3 lead through the first four weight classes. Freshman Tanner Shoap recorded an easy six points when his opponent forfeited, and freshman 133-pounder Kevin Devoy dropped his opponent in a major decision. After freshman David Pearce fell at 141 pounds, freshman Matt Cimato came away with a gritty 4-0 decision to give the Dragons an early 10-point cushion.
After the slew of freshmen early in the match, the results started to head south for Drexel. Sommer dropped a hard-fought 8-5 decision at 157 pounds, followed by Jason Fugiel and Kevin Matyas falling in major decisions. Then, at 184 pounds, freshman Alex DeCiantis dropped a close 6-2 decision, leaving the Dragons in a 17-13 hole heading into the final two weight classes.
This was when Azevedo and his coaching staff used a little bit of strategy to try to steal a win from Army. Palik is normally a lock at 197 pounds and can really beat anyone, however Azevedo felt that Bryan Sternlieb had a better shot at winning at 197 pounds than Joe Giorgio had at winning his heavyweight match. So, with a little bit of mixing and matching, Azevedo bumped Palik up to heavyweight and wrestled Sternlieb in the void at 197 pounds.
The strategy did not work out as planned though. Sternlieb fought hard in a tough test, but fell in a 4-0 decision. The loss at 197 pounds gave Army an insurmountable 20-13 lead heading into the final match. Army needed every bit of the advantage too, as Palik earned a first-period pin, but it was not enough, as the Dragons closed out the match with a 20-19 loss.
"If the match was close we were probably going to [move Palik up]," Azevedo said after the match. "It made sense there, but we knew it was a long shot moving Sternlieb up to 197 [pounds] just because that kid is a really tough kid. But he was in the match. If the guy slips and falls, we win that match."
He continued explaining the strategy. "What we were thinking was if we only gave up regular decisions at 165, 175, 184 and even 197, and Brandon got a pin, we would have won the dual meet. And that could have happened, but we lost by one point," he said.
Although Drexel lost both of their weekend matches and fell to 4-13 overall on the season and 0-4 in the Eastern Intercollegiate Wrestling Association, there were some bright spots. They got their senior leader back, and he did all he could be asked to do, winning both of his matches by pin.
"It's good to get back out there after a break," Palik said about his time off. "Every time I've had [a break] in the past, every time I came back like a ball on fire. Breaks for me aren't really breaks where I'm not doing anything. I'm mostly just conditioning. I might stay off of the mats. I might not wrestle as much. It's just on the treadmills and the Airdyne bikes just constantly conditioning throughout."
Palik's coach had some high praise for him following his return to the mat. "He wrestles how we want the rest of our team to wrestle: aggressive and confident," Azevedo said. "That's what you saw out there. He's wrestled two matches so far, and he's had two first-period pins because he's just going after it."
Azevedo also saw some promising flashes from his freshmen after the Dragons jumped out to a quick lead against Army on the backs of the young guys.
"I think the shift in weight has been good," Azevedo said, referencing the team's decision to bump Devoy and Cimato up in weight classes. "I think our guys have more energy. They're happier, so therefore we're getting a better effort out of them. They still have a lot to work on, obviously, but it's better. I think the dynamic in the room is better. The attitude is better because everybody is not down about cutting weight."
Drexel will welcome the Duke University Blue Devils to the DAC Feb. 1 at 7 p.m. The Dragons hope Saturday is the day they can put all of the pieces together at once and come away with a team victory.