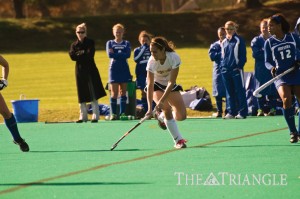 Christina Mastropaolo from the Drexel women's field hockey team has been named to the Capital One Academic All-District II Women's At-Large Second Team. The announcement came May 20 after the College Sports Information Directors of America named the list of winners. This is the second year in a row that Mastropaolo has received the honor.
Mastropaolo had a fantastic senior season for the field hockey team, scoring 14 goals to lead Drexel to a 15-5 record. Following her great season, she was named the Colonial Athletic Association Player of the Year, as well as to the First Team All-CAA, All-CAA Tournament Team and Second Team National All-America. Her successful senior season capped a tremendous collegiate career she had with the field hockey team. Among her many accomplishments, she is the Dragons' all-time leader in goals scored with 60 and points with 146.
For all of her success on the field, this honor highlights her success off the field and her dedication to the classroom. The CoSIDA selected athletes for this team who truly exemplified what a student-athlete is, and emphasized the importance of academics in addition to athletics. To be eligible for selection, honorees were required to maintain a cumulative GPA of 3.3 or higher, in addition to contributing significantly to their athletic team. An English major, Mastropaolo was honored to receive the recognition.
"To receive something that recognizes me academically as well as athletically, I feel honored," Mastropaolo said.
School is always important to her and that importance and dedication she has for her studies is reflected in her ability to achieve success in the classroom while being a top athlete. To excel in both areas was not an easy accomplishment, but with hard work she was able to succeed.
"It's so hard, and every athlete here knows this, to try to keep your GPA up and simultaneously remain as passionate and invested in your sport," she said.
She maintained her dual investments in both academics and her sport with extensive support. As she pointed out, her team helped her push to maintain success in both areas, which may have made it a little less difficult.
"We are a team who pushes each other to do well in other areas in life too, and when you're in that environment and have coaches that stress school, and teammates who want to do well, it's a lot easier," she explained.
Mastropaolo ranks this achievement as an equal to the many other awards and honors she has received. After receiving so much attention and recognition for what she does with her talents on the field, it was nice for her to be recognized for what she does off of it as well.
"They're all equally great," she said. "I'm proud of the field hockey ones, a lot, but you know this is something that you don't get recognized for as much."
Mastropaolo's successful final season and overall career on the Dragons' field hockey team have been recognized extensively over the past few weeks.
On May 23 she earned another accolade, as Drexel awarded her with the Semanik award, again being recognized for her scholarship and athletic ideals. She was very proud of her team to make it a great season, in what was her final year, which is what stands out most to her.
"We were really successful, as we were the previous season, and I was proud of us to make it as far as we did," she said. "For me what stands out is being proud of my team for my last season, and being thankful it was another successful season."
Mastropaolo was very successful as a teammate, and should be proud of her individual achievements as well. This latest award is another achievement added to the end of an amazing collegiate career.