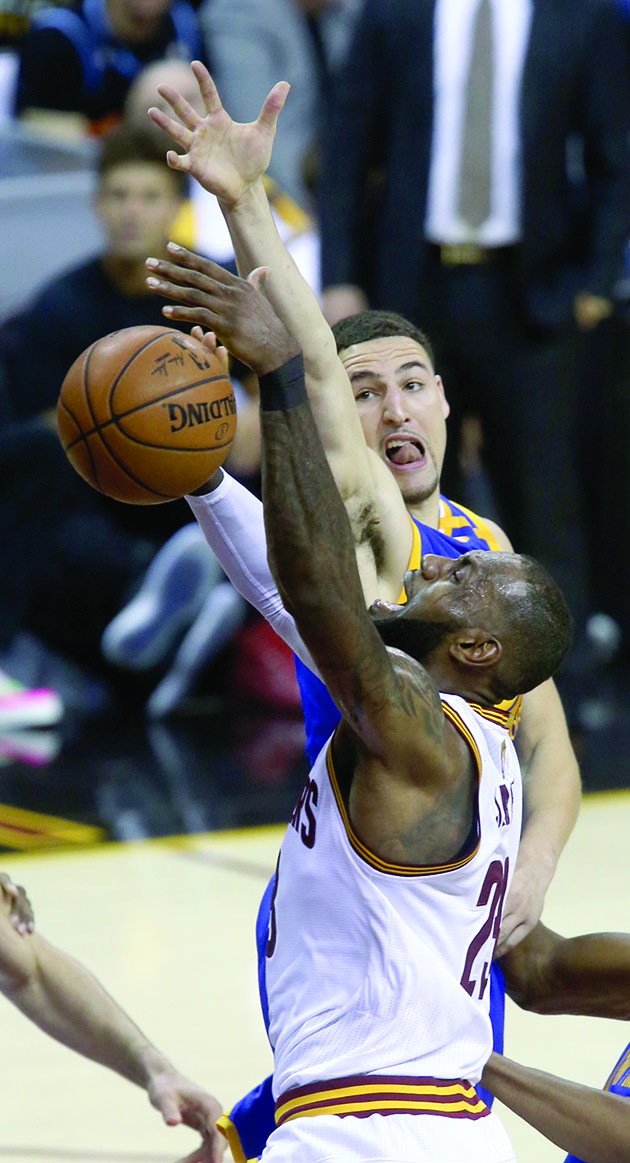 "In this fall, this is very tough, in this fall I'm going to take my talents to The Alamo and join the San Antonio Spurs."
Okay, perhaps LeBron James learned from the first time around that it's a bad idea to have a televised event in which he makes his decision on what team he's going to sign with for the upcoming season. That's probably why, when he returned to Cleveland, he wrote a letter professing his choice instead of holding a press conference.
However, the point still remains, James could very well be in a Spurs jersey before the end of his career and it makes all the sense in the world. I'm sorry to say this Cleveland, I really am, but he might just leave again.
Just imagine being LeBron James right now. You're averaging 32 points, 12.3 rebounds and 10.3 assists while shooting 55.4 percent from the floor in the NBA Finals this year. Efficiency wise you could argue, in your already illustrious career, you have never played this well on the NBA's biggest stage, yet your team is still losing by an average margin of 15.3 points.
You're taking a look around, as LeBron, and realizing the Cleveland Cavaliers, in their current construction, just don't have the firepower to compete with Golden State.
Kyrie Irving has been up and down on the offensive end. Kevin Love is too slow at the power forward position to offer any kind of defensive effort against Kevin Durant, and Love's offensive production comes nowhere close to outweighing his deficiencies on the other end.
J.R. Smith and Iman Shumpert are far too inconsistent at the shooting guard position, and when Klay Thompson gets rolling, Cleveland has no answer for him. Tristan Thompson, and centers in general, are too slow to keep up with Draymond Green in the fastbreak.
The icing on the cake is the fact that you, LeBron James, are likely wearing down physically at age 32, and not only have to carry the load on nearly every offensive possession you're involved in, but you're also tasked with trying to guard Durant on every play.
That's the nightmare that LeBron is living as we speak!
This Warriors team is just too good, and even with LeBron doing all that he can, and doing it well, it's nowhere close to enough.
"My motivation is this ghost I'm chasing. The ghost played in Chicago," Lebron said in an interview with Sports Illustrated shortly after winning the 2016 Finals. If that's true, James knows he will never truly catch that ghost unless he approaches six rings.
If the Cavaliers lose to the Warriors this year, LeBron will fall to 3-5 in the NBA Finals. The sports media will pose three questions. One, is Kevin Durant the best player in the world now that his super team beat LeBron? Two, is LeBron's legacy tarnished with yet another Finals loss? Three, will LeBron ever win again?
As these stories begin to circulate, in the back of his mind, James will no doubt be contemplating if staying in Cleveland is worth it for his legacy. With the Cav's pretty much maxed out in terms of cap space, and the Warriors having a significantly younger roster, it's likely that James will never get a ring again if he stays in "Believeland."
So the answer to King James' problem is to once again depart from home, this time moving to Texas. It's kind of absurd if you think about how perfect a fit LeBron would be with the Spurs.
The only thing that doesn't work perfectly is the timing, as James would have to wait until after 2018 to make this move. However when the time comes, LeBron should get up and leave for San Antonio, and here are all the reasons why.
Reason One: Chris Paul.
There have already been rumors circulating that CP3 is interested in departing from the Los Angeles Clippers in order to team up with Kawhi Leonard and Gregg Popovich. LeBron has hinted, on multiple occasions, that he is interested in playing alongside CP3, who happens to be close personal friends with King James.
The only problem with that line of thinking is that CP3 has a max contract for next year, and the Spurs do not have the cap space to fit him on their roster, even if they traded for him. However, if this move is being made in 2018, CP3 would be a free agent, and the Spurs will have gotten rid of Pau Gasol's $16.2 million contract by then. Tony Parker also becomes a free agent, freeing up even more cap room.
Assuming the Warriors walk through the Western Conference again, Paul would be a 33-year-old star who is still ringless, constantly being asked questions about his legacy. With that in mind, Paul likely would not be opposed to taking a pay cut to play for a winner, so the Spurs pick up the veteran point guard for a discounted price.
All that's left is to clear cap space for LeBron, so San Antonio puts Lamarcus Aldridge on the block in order to get rid of his contract. While his more than $22 million hit against the cap will be a turnoff for most, there would likely be a franchise or two interested in a power forward who is capable of averaging 20 points per game.
The Spurs could trade Aldridge for scraps to clear room for James, who, like Paul, might take a pay cut to help his legacy. With a core of LeBron, CP3 and Kawhi, the Spurs would be immediate contenders. And knowing the Spurs, even if the "scraps" they trade Aldridge for are late first round picks, they could probably find some solid role players through the draft.
Reason Two: Wade and Melo.
"I really hope that, before our career is over, we can all play together … At least one, maybe one or two seasons — me, Melo, D-Wade, CP — we can get a year in," James said in an interview with Bleacher report earlier this year when asked if he'd like to play on the same team as Chris Paul, Dwyane Wade and Carmelo Anthony.
In 2018, both Wade and Anthony will be on the free agent market. By then, Wade and Melo will both be ages 36 and 34 respectively. While they won't be their superstar selves, the two would likely be solid veterans who can play key roles on a championship team.
Given that Wade will have spent two years in Chicago earning a max dealing, there is a good chance he'd be willing to take a pay cut to play for a contender, especially if he can reunite with James. Melo, who has never won a ring, will be fresh off of a five year max deal that will have earned him over $120 million. Having already been paid well, Melo could take a smaller contract to finally both play and win with his friend James.
So in this scenario, you've got a starting lineup that features Chris Paul, Dwyane Wade, Kawhi Leonard, Carmelo Anthony and LeBron James, with Danny Green to space the floor as another shooting guard off the bench.
Now, some people may be critical of the age of those players at that point in time. That's where Reason Three comes in.
Reason Three: Gregg Popovich.
By the start of the 2019 NBA Playoffs, James and Paul will be 34, Anthony will be 35 and Wade will be 37. Leonard, at 27 years of age, would be the lone youth superstar on the team, likely in the prime of his career.
For most coaches, managing a core lineup that old for an entire 82 game season would be a struggle. Most coaches aren't Gregg Popovich.
Popovich is the man who began the trend of resting star players during marquee matchups in the regular season. While he took a great deal of criticism for having guys like Tim Duncan and Manu Ginobili not even show up to the arena for road games during the 2013-14 season, his method had results as the Spurs won a championship.
Somehow, Popovich milked solid years out of Duncan when he was already well past his prime. He's done the same thing with Ginobili and Tony Parker, and who's to say he couldn't do it with another group of stars.
On talent alone, a lineup with LeBron, Wade, Melo, Leonard and Paul could be up by 20 points headed into the fourth quarter against more than half the teams in the NBA. Key players on that roster would barely have to average 30 minutes a game. The biggest kicker would be when the Spurs have a road matchup with Golden State in the regular season, and Popovich leaves all of his starters back in San Antonio due to "illness."
Then, assuming the Spurs grab the two-seed in the West that year, they would only have to play two playoff rounds until they face the Warriors. Have you noticed how gassed LeBron is in the Finals against Golden State? Imagine if, instead of having to win 12 games before taking on the Warriors, James and his teammates only had to win eight.
That Western Conference Finals would be a "Showdown for the Ages": LeBron vs. Durant, Curry vs. Paul, Melo vs Draymond, Clay vs Kawhi, Popovich vs. Kerr.
Would the NBA Finals and the regular season be ruined? Probably. But Kevin Durant already ruined the regular season by going to Golden State, and Adam Silver has taken the position that super teams are apparently good for the league, so there's nothing the NBA can do to stop this.
Reason Four: Popovich's Game Planning.
Even if this "Super Spurs" team meets with the Warriors in the 2019 Western Conference Finals, there is no guarantee that they could upstage the Warriors. Golden State would have an advantage in youth, team chemistry and tempo.
However, San Antonio can combat those two obstacles thanks to the brilliance of Gregg Popovich. With weapons like Paul, Melo, Leonard and James at his disposal, there is no telling what kind offense he could run.
He could keep the tempo slow, with Paul facilitating to Melo and James on a pick-and-roll while Leonard sits wide open in the corner. He could ask them to play fast, with Paul and LeBron orchestrating a fastbreak as Leonard, Green and whatever role players they pick up run to the three-point line. He could have LeBron or Melo play isolation on the low block against a defensive mismatch.
There would be so many different offensive schemes the Spurs could run to disrupt the Warriors all-time fast pace.
Defensive matchups would be interesting as well. In an effort to preserve LeBron's energy, Leonard could cover Durant, and James could stick Draymond. Paul, a solid defensive point guard, would cover Curry. Danny Green and Dwyane Wade would take turns guarding Klay Thompson.
If these two hypothetical teams met during the playoffs, it would be a seven game series for the ages.
So, will LeBron leave the Cavs for the Spurs? I don't know, I'm not LeBron. However, I do know that if LeBron really wants to chase down Michael Jordan's ghost, the best place for him to do it is San Antonio.