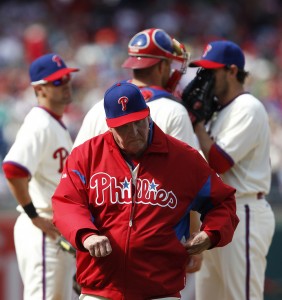 The Philadelphia Phillies are about to enter the most uncertain stretch of the season in their most uncertain season since 2000. Unable to play .500 or better baseball consistently, the Phillies will have a few major decisions to make as they approach the trade deadline.
Four of their starting eight position players are unsigned beyond the 2013 season. Three of the five members of their Opening Day rotation do not have a guaranteed contract for 2014. And the manager and leader of the squad, Charlie Manuel, will see his contract expire once the current season ends.
Management, namely General Manager Ruben Amaro Jr. and Assistant GM Scott Proefrock,  have not completely dismissed the idea of selling and effectively, giving up on the season. If they were to sell, they would not only be giving up on the season, but in a bigger sense, they would be abandoning the era. Certainly, the Manuel regime would come to an end.
According to Bovada, Charlie Manuel is the Major League Baseball manager most likely to be fired this season. The online gambling site has set the odds at 4-1 that Manuel is the first to be relieved of his duties in-season.
For three years now, the growing expectation has been that when Manuel goes, Ryne Sandberg will be promoted to the helm. Sandberg has been in the organization for three years, serving as Triple-A affiliate Lehigh Valley's manager for two seasons before being added to the 2013 major league coaching staff. Now, he stands roughly 100 feet away from Manuel in the third-base coaching box, seemingly staring into his next spot.
Many writers and insiders believe that Sandberg will indeed replace Manuel. That is at least the perception around the organization, and the Bovada odds suggest that it will just be a formality once it happens. For all we know, the decision may already have been made.
It goes without saying that you only fire a manager because you are confident that the replacement will do a significantly better job. So, what makes people confident that Sandberg would be the man to turn to in such a critical period for the franchise?
Frankly, there is no evidence. The only thing he has going for him is his skill at playing the game, but even that is a hollow reason and does not indicate his ability to manage and strategize throughout a season. In fact, only one Hall of Famer has ever become a skipper after being elected to Cooperstown: Ted Williams. For what it's worth, Teddy Ballgame managed his teams to an abysmal 273-364 record in four seasons with the Texas Rangers franchise.
Moving past that, the evidence that he would be a good hire becomes barren. Not helping the pro-Sandberg argument is that he has a certain stink attached to him, having been skipped over twice by two different Chicago Cubs GMs for the team's managerial position. Even more telling is that he was a Minor League manager in the Cubs organization in a period when the club was rebuilding. One would think that he would know the young talent whom he coached in the minors better than anyone, and yet he still was not a good enough candidate.
The organization for which he became a legend chose Mike Quade and Dale Sveum over him. Quade and Sveum aren't exactly Tony La Russa and Joe Torre. Before they were hired, the two combined to manage only 12 big-league games — including zero from Quade — so lack of experience at the helm clearly was not the reason for Sandberg not being chosen. Furthermore, he was passed over by the St. Louis Cardinals in 2011, as well as the Boston Red Sox, who opted for Bobby Valentine.
Is it possible that everyone is missing something? Or, more likely, is there not much to look at in terms of Sandberg's managerial prospects?
Being promoted to third-base coach and infield instructor after the 2012 season is the closest Sandberg has ever been to being a major league manager. Even with those two responsibilities, he's done a poor job and has shown absolutely no reason why he should lead a ballclub.
As third-base coach, he has struggled with his decision-making, which has cast doubt as to whether he can make good in-game decisions, approach certain plays correctly, and evaluate the abilities of players.
The Phillies have been thrown out on plays at the plate, not including force-outs, 10 times this season, one behind the major league high of 11. In recent weeks, Sandberg has been especially brutal in the third-base box, making five mistakes in a two-week period.
Among the many miscalculations was sending Delmon Young, one of the slowest players in the league, home on a hard-hit ball to the outfield with the top of the order coming up. Two other times, he sent the third out of an inning to be called out at the plate in the midst of Domonic Brown's hot two-week stretch; the slugger stood on-deck while his teammates were thrown out at home.
It is such decisions that demonstrate not just poor judgment but also a lack of awareness, flawed logic, and poor anticipation. Do you want a manager who has demonstrated those traits?
And for his other duty as infield instructor, it arguably cost them a big game June 19 against the Washington Nationals. Going for the sweep against the 2012 National League East champs, first baseman Ryan Howard being positioned too close to the bag keyed a Nationals comeback. Speedy center fielder Denard Span was able to reach on an infield hit as a result.
Closer Jonathan Papelbon said after the game that he was surprised with where Howard was positioned.
"I was thinking on a 3-1 count our infield would be back, and I was expecting to turn around and run to first base and catch an underhand throw," Papelbon said.
He has a point. The two possible explanations why Sandberg had Howard positioned there would be either that he was expecting a bunt despite a 3-1 hitter's count or that he simply was not paying attention. Either reason is not particularly promising for a future manager. Span, by the way, has bunted for a hit only twice this season, once on an 0-1 count and the other time on an 0-0 count. Papelbon would go on to emphasize how crucial the little things, like poor judgment in decisions such as positioning, can be.
"There's 150 pitches thrown by our pitchers, and before every one of those we have to make sure we're putting ourselves in a position to be the best we can before each pitch," Papelbon said.
There is an overwhelming pile of evidence as to why Sandberg would struggle as manager, much more than reasons to expect him to be a good candidate. Whether Manuel deserves to be fired or not is a different argument, but whether his replacement would do a better job should be considered a priority in the thought process. And right now, we have absolutely no reason to be convinced that Sandberg would do a significantly better job with decisions.
So if the Phillies want Manuel gone, they will have to go outside the organization to find a better candidate. Otherwise, what would be the purpose of hiring someone you have no confidence in as a decision-maker and leader? That should be the focus in discussions for a new manager for the remainder of 2013 and beyond.
Phillies fans can only hope that management has enough sense to put the stop sign up and not wave Sandberg into the skipper's position as liberally as he waves Delmon Young home into an out. Because as the throw is coming to the plate, we have no reason to believe that Sandberg is going be a safe hire.