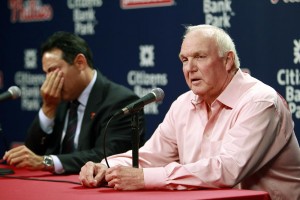 During the Aug. 17 Philadelphia Phillies game against the Los Angeles Dodgers, there were chants being yelled throughout Citizens Bank Park.
"Fire Ruben! Fire Ruben! Fire Ruben!"
The fans were showing their support for recently fired Phillies manager Charlie Manuel and their strong disapproval of the job being done by General Manager Ruben Amaro Jr.
While Manuel has never been the best at in-game strategies, he is quite good at getting the most out of the players he has. Throughout baseball, he is known as a player's coach; that is his strength, and he has maximized that strength throughout his baseball career. If he were given the players, he would extract the best out of them, whatever the result may be.
Over the past two seasons, Manuel was given an average roster at best. As a result of his past success, he was asked to transform the unit into a championship team. Manuel couldn't and was formally relieved of his duties Aug. 16. As it is throughout sports, if you don't win on a consistent basis, you will be out of a job.
Manuel leaves the Phillies as the best manager the team has ever had. His 780 wins with the Phillies are the most in franchise history. He has five National League East division titles, one of which came in 2011 when he led the team to a franchise record 102 regular-season wins. He led the team to two National League titles in 2008 and 2009, and most importantly a World Series win in 2008.
Matt Gelb of The Philadelphia Inquirer reported that Chase Utley said, "I love Charlie Manuel, on the field and off. I wanted to play my entire career for him."
However, the Phillies' failures over the past two seasons have not been entirely Manuel's fault. The longtime manager was fired because of the mistakes of Amaro, who has taken excellent talent that was found and developed under former general managers Ed Wade and Pat Gillick and turned the Phillies into a team of mostly 30-year-olds who are well past their prime.
Injuries have been a major reason why the Phillies have struggled over the past two seasons. Stars Ryan Howard, Roy Halladay and Chase Utley have barely been on the field, and even when they have been, their performances have not matched expected production. All three of them have been injured this season, which has contributed to the disastrousness of the season, along with injuries to Ben Revere and Mike Adams and Carlos Ruiz's 25-game drug suspension.
Despite those injuries, Amaro is responsible for assembling the second-worst bullpen in all of baseball. He also needs to answer why he thought "The Delmon Young Experiment" would work. It was pointed out by baseball writer Bob Whalon, "It speaks volumes that Young hasn't even signed on with another team since the Phillies released him, while the Cubs were able to get a prospect in a trade for Alfonso Soriano."
Amaro has made some flashy moves in his time as GM like signing Cliff Lee, Jonathan Papelbon and Halladay. However, it has been his reluctance to get younger and build a farm system that could contain the core of the next generation of Phillies, and this has resulted in a poor product being put on the field and is why the future seems less optimistic for the Philadelphia faithful.
That's where the essential problem lies; Amaro isn't really a good judge of talent. He just has a virtually limitless payroll, which will grow even larger with the new television deal that the Phillies will sign in a couple of years. Amaro has given Howard and Papelbon contracts that are virtually untradeable, and Jimmy Rollins is a shortstop who is quickly declining.
Proof of Amaro's inability to judge talent can be found when evaluating the Cliff Lee trade before the 2010 season for Phillippe Aumont, J.C. Ramirez and Tyson Gillies, three players who have amounted to basically nothing for the Phillies. The core of the greatest era in franchise history — Howard, Rollins, Utley and Hamels — was drafted under Wade. It's not a coincidence that the team's drafting has suffered since Amaro was chosen to be the Phillies GM.
Charlie Manuel gave his entire life to the game of baseball, and it's a shame that he's being made a scapegoat for the mistakes of Amaro. He deserved better. Unless he suddenly learns how to judge talent or gets fired — the latter seems more likely — the crowds at Citizens Bank Park will surely continue to plead to Phillies management.
"Fire Ruben!"