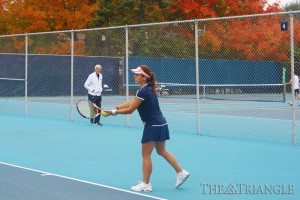 Coming off a dominating 7-0 win over Monmouth University Oct. 14 at the Drexel Courts, the Drexel women's tennis team is headed to the Intercollegiate Tennis Association Northeast Regional Championships in very good form.
"It is a night-and-day comparison from [the Cissie Leary] Invitational to where we are now, heading into ITAs," Head Coach Tricia Udicious said.
In the Monmouth matches, sophomores Zeynep Mafa and Marcela Rosales and junior Emma Brook led the women's team.
Mafa won her match 6-0, 6-1 over the Hawks' junior first singles player Nicole Lippens. Rosales won her match 6-1, 6-2 over freshman third singles player Ashley Sandler, and Brook won her match 6-0, 6-1 over Monmouth sophomore second singles player Brooke Verdiglione. In the doubles matches, Mafa and Rosales won 8-0 over the Monmouth first doubles pair of Lippens and Verdiglione, while Brook and senior Sonja Stosic also won 8-0 over the Hawks' second doubles pair of Sandler and junior Dana Ferrari. The success that the women's team has had, not only in the Monmouth matches but in previous matches, should prove to pay off in the ITA Championships.
The ITAs are the most important matches for the women's tennis team during their fall season. It is played at Yale University and features the best tennis players in the Northeast region. Ivy League Universities such as Yale, Harvard, Pennsylvania and Dartmouth will participate, while other schools from the region will send their best to participate in the tournament as well.
A competition such as this that features top talents is a great opportunity for the Drexel women's team members to show that all their hard work so far has paid off.
"We have been practicing hard, and we expect to do well if we do what we have been practicing," Mafa, the team's only representative in the main draw of the tournament, said.
"Marcela can compete and has a good shot of coming through the qualifiers," Udicious said of Rosales, who must play in the qualifiers and win to enter the main draw.
For the doubles draw, the combination of Brooke and freshman Nicole Pivonka will compete in the main draw along with Mafa and Rosales.
The ITAs are the biggest individual events for the women's tennis team in the fall season. With a successful string of matches behind them, the Dragons look to use those strong performances to have a positive showing at the ITAs.