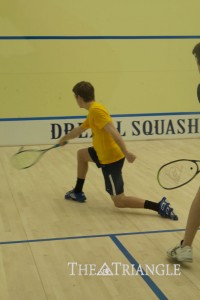 All the hours of morning practices, conditioning drills and technical skill sessions manage  to come down to this moment. Every story has its ending, and all of them, regardless of the who's and what's and where's and why's, have a say in how it comes out. The first season for the Drexel men's squash team has reached that ending marker.
The Drexel men's squash team (7-9) has performed admirably in its first official season as a varsity program, with impressive wins over Haverford College, Washington College and Swarthmore College.
They subsequently head into the College Squash Association Men's Team National Championships in Princeton, N.J. Feb. 17 with the chance, albeit slim, to win their division at nationals. The 28th-ranked Dragons will be competing for the Conroy Cup (Division D) along with No. 29 Georgetown University, No. 27 Johns Hopkins University, No. 30 Northeastern University, No. 31 Colgate University, No. 26 Hobart College, No. 25 Tufts University and the No. 32 Massachusetts Institute of Technology. In all, 63 teams will be competing in eight separate divisions, with the Potter Cup (Division A) having the top eight teams in the country squaring off for the national title.
Speaking before the tournament, head coach John White is fully aware of the significance of the circumstances surrounding him and his team.
"Each game brings about more pressure than the regular season," he said. "It's nationals, so every team we are going up against is fully aware of that and will be at their very best. Every team coming into this tournament is playing their best squash."
However, he has not necessarily had his team do any championship-centric training to get ready for the occasion.
"It's just more getting the guys into match fitness, match preparation, than practicing technical skills," White continued. "It's mostly about developing a game plan."
Given the newness of the varsity program at Drexel, White does not exactly have sweeping expectations for how he wants his team to perform, from the likes of sophomore No. 1 Justin Singh (12-2) to freshman Nicholas DiDonato (6-8) to even outside players like sophomores Kevin Sacherman and William Heyman.
"As far as the expectations I had from the beginning of the season to now, they've gone well past them," White said. "Yet everyone needs to bring their A-game at nationals, for we have a good chance of winning our division."
But for the most part, White only asks one thing of his players, regardless of where they place at the national championships.
"I just want them to play at their very best no matter what happens," he said. "Everyone has improved throughout the season, and hopefully that can continue for one last time."