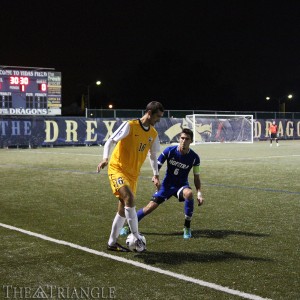 The Drexel men's soccer team might be in the most prosperous era in its history.
The Dragons have now accrued back-to-back regular season Colonial Athletic Association Championships. They finished last year's regular season as the top seed in in the CAA tournament, and they lived up to their seeding with a 1-0 championship victory over The College of William & Mary.
Their run in the NCAA tournament was quick and painful however, as their hopes were dashed by Old Dominion University in a landslide 5-1 defeat.
Despite the big loss to end the season, the season was a resounding success, one in which they reached heights never reached by the team before.
And that's where the problem lies. Many of the players responsible for that success have been lost to graduation and transfers, with five players graduating and nine total players leaving the team.
The five graduating seniors were a huge part of the run the team made last year. In fact, out of the 11 members of the team with double-digit shots last year, five were seniors. That's a simply devastating loss to a team that scored 1.29 goals per game last year.
These are the types of holes that have to be plugged by incoming freshmen, and the Dragons have gathered a strong enough incoming class to overcome the obstacles they seem to be facing.
The team has eight freshmen poised to fill the gaps left by departing players.
Swedish midfielder Erik Alexandersson seems particularly important to the upcoming season. Standing 6 feet tall, Alexandersson has a history of success including leading his high school team, Katrinelundsgymnasiet, to a regional championship in 2011. Rumor has it that the school also won the "most difficult name to spell" award that same season. He also earned a place on the Swedish national team for his region from 2010-2012, so besides his obvious skill on the field, Alexandersson should be ready to step into a high-pressure situation and succeed.
Head coach Doug Hess added another offensive weapon in Tristan Thompson, who besides occasionally playing power forward for the Cleveland Cavaliers, hails from Lakewood, California, and is 5 feet 4 inches. Thompson led his academy team in scoring last season and won an offensive player of the year award with his high school team in 2012.
Sander Yu is a midfielder from Wayne, Pennsylvania, who played at The Haverford School in the suburbs of Philadelphia. He was a bit of a journeyman in his high school years, playing for three different high schools and succeeding at all three. He garnered All-Inter-Academic League, All-Delaware County, and All-Main Line awards while playing at Haverford and was captain of the D.C. United Academy team.
In addition to these standouts, Hess has added an arsenal of incredibly talented young midfielders from all over the country to give the team some depth in a position where it lacked depth last year.
Joseph Rodriguez stands poised to take a role in the midfield, where he played for his high school, Montclair High School, and for the U.S. Under-15 Boys' National Team.
Bayley Winkel also seems poised to not only take over a major share of the workload on the field, but could possibly be a candidate for a leadership role in the coming years. At Henry Street High School, he won the male athlete of the year award all four seasons and was team captain for three of those seasons. With that kind of experience leading players, Winkel could make a huge impact on and off the field for a young team.
The last of the offensive additions for Hess is Dakota Peterson, a 5-foot-9-inch freshman from East High School in Denver. He helped lead East to a state championship in his sophomore season and has since played for a variety of teams, including three years with the Colorado Rapids Soccer Academy. He seems to be a very good player for this team to shift between positions, possibly even making him a forward if the need arises.
Few additions, however, were made on the defensive side of the field.
The sole defenseman added by Hess and his staff is Noah Blodget, a 5-foot-9-inch Philadelphia product who played high school soccer at Lower Merion High School, leading them to a district championship and state quarterfinal berth in his time there. He also played and was captain for FC Delco and the Lower Merion club team.
The team added freshman goalkeeper Jacob Jordan, another Philadelphia product who played for the Continental FC Delco Academy team and will be backing up returning sophomore Tyler Afflerbach, who started 18 games last year and was named to the All-CAA Second Team and the CAA All-Rookie Team.
More than anything, this year looks to be one full of growth: growth for young players on the team, growth for a coaching staff facing the loss of five starters and growth of national recognition for a team that has been slept on in the past few years.
Come out and catch the Dragons playing at Vidas Field Sept. 2 against Villanova University, and look out for the young guys to make a big impact.