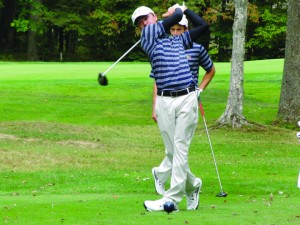 When you were growing up, your parents might have told you that you should never have too much of a good thing. Drexel sophomore golfer Chris Crawford's parents apparently never took the time to let him know that.
Crawford shot a two-over par 144 at the Lafayette College Invitational April 6-7 to pick up his second individual tournament win in just six days. He won the Villanova University Wildcat Invitational April 1.
The sophomore started the first round with two birdies in the first three holes and carded a two-under par 34 on the front nine Sunday.
A triple-bogey on the 11th hole set the tone for a tumultuous back nine, which saw three more bogeys and two birdies.
Crawford's back nine total came to a four-over par 39 and his first round score to a two-over par 73, leaving him tied for second after one day of competition.
To the casual observer, shooting three over par on the 11th seems like the kind of crucial miscue that could have sunk Crawford's back nine, his first round and even his tournament. He saw it differently.
"After the triple I just forgot about it and moved on with my round," Crawford said of the back nine blunder. "It was a bit of a fluke incident, and I knew I was hitting it well, so I really didn't let it bother me too much."
Head coach Mike Dynda said last week that his star golfer plays steady golf, and Crawford used his even-keeled demeanor and mindset to get back on track for the rest of the round.
As it turned out, the sophomore would need every stroke he could get by the end of the competition Monday.
Crawford began his second round playing with fire on the front nine, picking up where he left off in Sunday's second round. He carded four bogeys — including one on the first hole — and three birdies to score a one-over par 37.
His wild front nine left him one stroke behind Longwood University's Clayton Forren, tied with Central Connecticut State University's Matthew DeJohn and one stroke ahead of Canisius College's Andrew Romano entering the final nine holes of the tournament.
And, once again, the steady play his coach lauds him for came through when it mattered most.
While CCSU's DeJohn and Canisius' Romano bogeyed two of the final four holes, Crawford kept his head down and put his putter to work. He drained a birdie on the 11th hole, the same one that had given him trouble just one day earlier, and hit par on the other eight holes, entering the clubhouse with an on-par 71 for the day.
He said that he was pleased with the way he played, especially in his short game, which proved crucial down the stretch.
"I did really hit my irons nicely this week and was able to make a few birdies by hitting it close," Crawford said. "I still have a lot of work to do to improve my wedge play, and I feel like my putting is really starting to turn around and keeps getting better."
His putting made all the difference in the end; while Crawford was able to sink his lone birdie on the back nine, Longwood's Forren saw his lead disappear when he bogeyed the par-five 15th hole. And, with the pressure on, Forren bogeyed the final hole of the tournament, giving Crawford the one-stroke gap he needed to claim the trophy.
Crawford has now pinched two consecutive tournament victories, three total in just eight outings since the beginning of the fall season. His head coach said he's starting to realize just how special this dominant run is.
"It's fun to watch, obviously, and [an individual golfer winning back-to-back tournaments] hasn't been done in my 11 years here at Drexel," Dynda said of Crawford's success. "It's important to realize that this sport is not like other team sports where there is one winner and one non-winner. In golf, every week there's only one winner and about 90 non-winners."
Of course, Crawford didn't want to soak in the victory too much. He says he's got more work to do.
"Winning any tournament is always a nice accomplishment, and winning two in a row feels pretty good," Crawford said.
Behind Crawford's first-place finish, the Dragons finished tied for fifth as a team at the tournament. Seniors Vincent Anagnos and Ben Hinge finished tied for 27th, each shooting a 12-over par 154. After carding a rough 12-over par 83 in the first round, Anagnos roared back with a second round 71, tied for the second-best score from any competitor Monday.
Hinge, in just his second outing of the entire year dating back to the start of the spring season, shot a consistent tournament, going for 78 in the first round and following it up with a five-over par 76.
Despite having a small sample size, Dynda said he likes what he's seen from the senior thus far both in preparation and execution and will call on him again as the season nears its conclusion.
"Ben Hinge has performed wonderfully in just his second start of the season," Dynda said. "Weather has put us behind the eight ball with preparation, so being mentally ready is important. Ben continues to get better every week and will do so through the [Colonial Athletic Association Champtionships]."
Dynda said he's looking for the rest of the team to step up as the Dragons near the conference tournament.
"The rest of the team needs to step it up a notch," the veteran coach said. "Not a big notch, but just become a little better every tournament. Having the individual winner the last two weeks has improved our finishes in the team standings. When we start getting two players near the individual lead, you will see some team wins to go along with Crawford's victories."
The team has the upcoming weekend off before heading to Annapolis, Md., to take part in the United States Naval Academy Spring Invitational April 19-20. The Navy spring invite is the Dragons' final tournament of the season before the CAA Championships in North Carolina April 25-27.