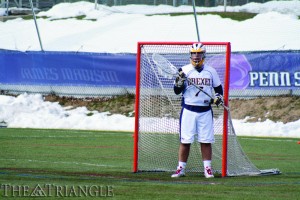 After a long winter, the Drexel men's lacrosse team gears up for its first game of the year against the University of Virginia. For the seniors on the team, this is their last chance to pull out a big season.

As veteran goaltender Mark Manos enters his final year, he hopes to leave Drexel on top.

"The expectation is always high, but being that it's my senior season, it means a lot to me and the rest of the seniors that we do things the right way and that we work hard every day," Manos said. "It is a special season for us because it's our last shot here at Drexel, which is unfortunate, but it is great at the same time because everybody is rallying around us, and we want to take this team to another level."

Though it is always a team effort when the Dragons take the field, there's no denying the mark that Manos has made during his time in Drexel uniform.

As a freshman Manos snagged the title of Colonial Athletic Association Rookie of the Year by earning his spot as starting goalie. Moving into his sophomore year he was named Third Team All-American after helping his team earn four wins against top-10 teams, and he later received the title of CAA Defensive Player of the Year. As a junior the success only continued, as he was named Honorable Mention All-America and finished the season with 166 saves.

Which brings us to today, where he perhaps attained his most notable achievement — being selected in the 2012 Major League Lacrosse Collegiate Draft in the third round (20th pick overall) by the expansion Charlotte Hounds. He was the second goalkeeper selected in the draft and will be playing for the Hounds during their first MLL season.

"It's an awesome opportunity that I have to continue my lacrosse career after college, but right now the big focus is Drexel," Manos said. "Obviously it's something to look forward to, but for now it's all Drexel all the time. … I have to stay focused on the task at hand, and that's hopefully winning the CAA and making it to the National Championship."

Manos isn't the only senior with a lot to be proud of. Fellow seniors Frank Tufano and Kyle Bergman were both named to the 2012 Preseason All-CAA team. They were selected for the team by the seven CAA coaches.

"All the guys on this team deserve to be recognized — they go out every day and work their butts off to get this team where we want it to go, and I can't give those guys any more credit," Manos said. "It's absolutely amazing what they do every day for us. It's just the work ethic that everyone on our team has to go out and compete — you can't ask for any more."

Last season Tufano led his team in ground balls and caused turnovers, earning himself the title of the CAA's current top long-stick midfielder. Bergman, who plays midfield, also had quite the season last year with 19 goals, 12 assists and 31 points overall. He is entering his senior year with a total of 65 points.

As a whole, the Dragons were picked to finish fifth in the CAA by the coaches' poll. More impressively, they are ranked 20th in the nation by the preseason United States Intercollegiate Lacrosse Association Coaches Poll.

"It's awesome to be preseason ranked that high," Manos said. "We have a lot of expectations for ourselves, and we want to get way up there. We want to be in the top five, the top 10 — it's something that we strive for. Being ranked 20th right now is great, but we definitely have higher expectations."

In their USILA company are fellow CAA teams Hofstra University at No. 14 and the University of Delaware at No. 19. Also in the poll is the University of Virginia Cavaliers, who happen to be the reigning national champions and Drexel's first opponents of the season. The Cavaliers hold the No. 1 spot in the poll.

Needless to say, the Dragons' first game may very well be the toughest of the season.

"Virginia is a great team," Manos said. "They have a lot of senior leadership coming in and a lot of great players. We go out every day, and we work hard in order to take our team to the next level, and this is the first step to get to where we want to go — and hopefully we will come out Saturday with a huge win."

Drexel takes on Virginia Feb. 18 at 2 p.m. at Vidas Field.