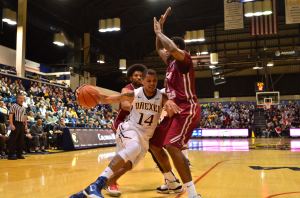 A hot start proved to be just a mirage and the Drexel men's basketball team was out-classed by the College of William & Mary in a 73-47 loss Jan. 5, the team's seventh straight defeat.
The Dragons scored the first seven points of the night and 12 of the first 15, forcing William & Mary coach Tony Shaver into an early timeout. But the Tribe roared back and put the game away in the second half.
Senior Tribe guard Marcus Thornton led all scorers with 23 points on 7-of-12 shooting, and William & Mary shot 55.1 percent from the field as a team.
The Tribe hit 11 three-point shots to Drexel's six, and were simply too much for the short-handed Dragons to handle as the night wore on.
William & Mary out-scored Drexel, 39-18, in the second half.
First half
The Dragons exploded to a quick 12 points in less than four minutes, hitting their first five field goals of the night to take an early 12-3 lead. But they missed their next five, allowing the Tribe to climb back into contention.
From that point the first half was a rock fight as both squads traded jabs, neither side landing a semblance of a haymaker.
Thornton drained four of his team's seven first-half three-pointers, piling up 18 points as NBA scouts looked on. Drexel junior guard Damion Lee did his best to keep pace, dropping 14 of his own with four makes from behind the arc as well.
The Tribe closed the half with an 11-2 run, the final six coming on back-to-back triples from Thornton.
Drexel committed just one turnover in the first half.
Performance of the night
Guard Damion Lee did his best to keep his team in contention on a night when it often felt like he was playing one-on-five. Lee scored 18 points on 6-of-13 shooting, with 14 of those points coming in the first half.
The junior tacked on seven rebounds and three assists.
Inside the box score
Drexel committed just seven turnovers, lower than the team's season average of 12.9 turnovers per game.
The Tribe knocked down 11 three-pointers, marking the third straight game Drexel has allowed at least 10 three-pointers.
William & Mary out-rebounded Drexel 41-24.
What's next?
The Dragons (2-11, 0-2) hit the road and head to Maryland to take on Towson University (7-7, 0-1) Jan. 8 at 7:00 pm.
William & Mary (8-5, 2-0) keeps traveling and heads to Elon University (8-5, 1-0) to take on the Phoenix on Jan. 8 at 7:00 pm.