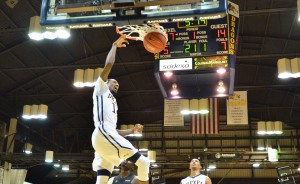 There's this thing called momentum, and for the first time this season, the Drexel men's basketball team has it.
After losing four straight to start the season, the Dragons have picked up two in a row following the team's 59-36 win over the University of Southern Mississippi Nov. 30.
Junior Drexel guard Damion Lee lead the Dragons with 22 points on 10 shots and the Drexel offense continued to work towards an identity, based largely on good ball movement and smart shot selection. The Dragons hit 24 of their 50 shots on the evening.
And head coach James "Bruiser" Flint's patented defense kept a Southern Miss team previously averaging 73.3 points per game to just 36 points in 40 minutes.
It was an impressive showing from the young Drexel team, albeit one aided by a shoulder injury hampering the Golden Eagles' leading scorer Matt Bingaya. The Dragons are now allowing just 58.3 points per game through six games.
FIRST HALF
Everything came up Drexel in the first half. The Dragons built on their first win of the season and a week of rest and practice, and came out blazing against the Golden Eagles. Drexel shot 46 percent from the field, including knocking down 4 of 7 three pointers, and took a 35-21 lead into halftime.
Lee lead all scorers with 19 first-half points, hitting all three of his three-point attempts and all four of his free throw attempts. Lee opened the floor for a number of teammates, including freshman guard Rashann London, who scored seven in the first stanza.
Southern Mississippi's leading scorer, Matt Bingaya, wasn't in the starting lineup and didn't score a single point in six first-half minutes. He appeared to be nursing a right shoulder injury.
PERFORMANCE OF THE NIGHT
Damion Lee scored 22 points on just 10 field goal attempts, an efficient performance from the junior guard. Lee, coming off 60 combined points in the final two games of the Charleston Classic tournament, is hitting his stride as one of the most exciting scorers in the city. He knocked down 4 of 4 shots from behind the arc.
INSIDE THE BOX SCORE
Drexel out-rebounded the Golden Eagles, 38 to 24. The Dragons grabbed 11 offensive rebounds to Southern Mississippi's 8.
The Dragons held Doc Sadler's team to 15-of-47 shooting on the evening, good for just 31.9 percent from the field.
FRESHMAN FOCUS
The team's freshmen have shown impressive ability to contribute to a young Dragons team so far this season, and Sunday was no different.
Freshman forward Tyshawn Myles picked up 10 rebounds and added his first career dunk as a Dragon.
Meanwhile, freshman point guard Rashann London played the most complete game of his young career, picking up 9 points in 36 minutes.
WHAT'S NEXT
The Dragons (2-4) host local program University of the Sciences (5-2) Thursday, Dec. 4, at 7:00 p.m.
The Golden Eagles (3-2) return home to host North Dakota State University (3-2) on Wednesday, Dec. 3, at 8:30 p.m.