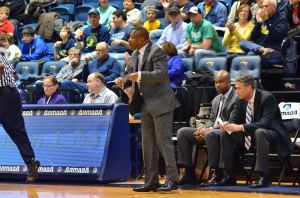 The Drexel men's basketball team's six-game win streak came to a screeching halt with an 81-57 loss to Hofstra University Feb. 15.
The Pride ran roughshod over the Dragons for the second time this season, shooting 63 percent from the field against a Drexel defense that entered the game as the best unit in the Colonial Athletic Association.
Moussa Kone led the way for Hofstra, scoring 23 points on a perfect 10-of-10 shooting. The entire Hofstra offense attacked the hoop all evening, scoring 58 points in the paint. In the two matchups between the teams this season, Hofstra scored 108 combined points in the paint.
On Drexel's end, junior guard Tavon Allen led an otherwise listless offense with 20 points on seven-of-19 shooting. Junior guard Damion Lee couldn't find much of a rhythm for the third time in his last four games, scoring 15 points on three-of-nine shooting.
First half
It was a parade into the paint for the Pride. Hofstra scored 20 of its first 21 points in the paint, dominating the Dragons' league-best defense with efficient shot after efficient shot to build a 41-25 halftime lead.
Drexel couldn't catch its breath, or figure out how to play backdoor defense, and Hofstra's Malik Nichols capitalized. The junior tied his career high with 15 points in the first half, hitting seven of eight field goal attempts, providing the motor for a Hofstra offense that shot 63.3 percent from the field in the first 20 minutes.
On the other side of the floor, junior guard Damion Lee struggled to find any semblance of rhythm in the first stanza. The conference's leading scorer attempted just three shots, all misses, and committed two fouls.
Junior guard Tavon Allen scored 14 points on six-of-11 shooting, including hitting a pair of three pointers, but his efforts couldn't draw the Dragons any closer to the run-and-gun Pride.
Performance of the night
On a night when positives were at a premium for the Dragons, junior guard Tavon Allen scored 20 points on seven-of-19 shooting and pulled down five rebounds. Allen has scored at least 15 points in three of the Dragons' last four games.
Inside the box score
Hofstra out-rebounded Drexel, 34-26, on the evening.
The Pride were strong off the bench, scoring 26 bench points to Drexel's 11.
The Dragons knocked down 17 of 18 free throw attempts.
What's next?
The Dragons hit the road and head down to Virginia to take on James Madison University (16-11, 9-5) Feb. 18 at 7:00 pm.
Hofstra continues its road trip with a journey down to Towson University (12-15, 5-9) Feb. 18 at 7:00 pm.