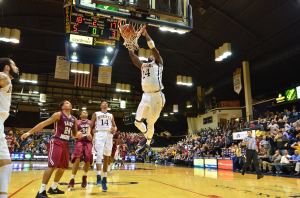 A flaming-hot end to the first half and an unbelievably efficient night on the offensive end led the Drexel men's basketball team to an 85-76 win over the UNCW Seahawks on Jan. 31.
The Dragons' 83 points were the most they scored all season long. They shot 60.4 percent from the field, 41.7 percent from behind the arc, and 75.9 percent from the free throw line.
Junior guard Damion Lee scored 32 points and grabbed 13 rebounds for his second double-double of the year, setting a career-high in rebounds. Lee scored 19 of his points in the second half. In Drexel's loss at UNCW earlier in the year, Lee also scored 32.
Sophomore guard Sammy Mojica added 17 points on six-of-eight shooting, and sophomore forward Rodney Williams contributed 13 points of his own in his second game back from injury.
The Seahawks pushed hard in the latter half of the second period, breaking out a 15-2 run to cut the deficit to 76-70 with 1:49 to play.
First half
Drexel played its best half of offensive basketball all season in the first half against the Seahawks. Despite being out-rebounded by UNCW, 21-12, the Dragons countered the inequality by knocking down their shots. The Dragons knocked down 16 of their 27 field goal attempts, good for 59.3 percent, and ended the half on an 18-4 run.
Lee led all Drexel scorers with 13 points on four-of-seven shooting, while Mojica poured in 11 points on four-of-five shooting, including two-of-three from deep.
They broke UNCW's press with a reasonable effectiveness, committing just five turnovers in the first 20 minutes of the game.
Drexel's ability to break the Seahawks' patented press defense opened up a number of high-percentage looks for the Dragons' fastbreak offense. The Dragons scored 10 points on the fastbreak in the first half and knocked down eight of 12 free throw attempts.
Performance of the night
Junior guard Damion Lee led the Dragons in scoring once again with a transcendent performance, notching 32 points on 10-of-14 shooting. He added a career-high 13 rebounds, and tacked on three assists, playing all 40 minutes.
Lee made 10 of his 11 free throw attempts, meaning he's converted 52 of his last 54 free throw attempts.
Inside the box score
Drexel spread the ball around far more judiciously than UNCW, dishing out 20 assists to the Seahawks' eight.
The Dragons countered UNCW's pace with tempo of their own, scoring 14 fastbreak points.
Both teams had significant contributions from their respective benches. Drexel's bench scored 32 points; UNCW's scored 27.
UNCW capitalized on a 16-5 offensive rebounding advantage and scored 20 second-chance points to Drexel's five.
What's next?
Drexel (7-14, 5-5) hits the road for a pair of games, starting Feb. 5 at Elon University (11-11, 3-6) at 7:00 pm.
UNCW (12-9, 7-3) keeps its road trip going rolling, heading to James Madison University (13-10, 6-4) Feb. 4 at 7:00 pm.