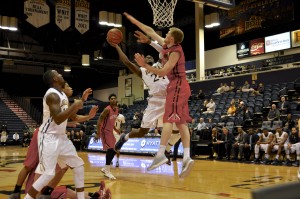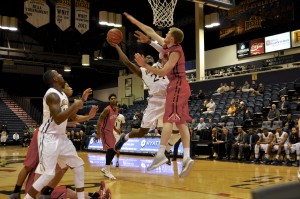 "It was an exact copy of the first game."
Head coach James "Bruiser" Flint had seen this one before, as had anybody who watched Hofstra University dismantle the Drexel University men's basketball team by 28 points Jan. 21. When the two teams met again Feb. 15 it felt like a re-run of the previous contest, and the Dragons fell to the Pride, 81-57.
The only truly discernible difference was the venue. The first loss came in Hempstead, New York. The second loss, which snapped Drexel's six-game win streak, came in Philadelphia.
Just as it was in the first game, the Dragons' undoing was their inability to keep Hofstra out of the paint.
In the first matchup, the Pride scored 50 points near the hoop. That number stood as Drexel's worst game at defending the paint all year until Hofstra rolled into University City and scored 58 in the rematch. Thirty-four of the Pride's 41 first-half points came in the paint, and they ended the game with a 42-point advantage in the paint.
Flint said afterwards that he and his coaches had talked with the team about doing a few things differently so as to avoid a similar result. His guys stepped out on Hofstra's forwards a little more in the first game, something they did a little less the second time around.
"We talked about it, but obviously we didn't stop it," Flint said with an exasperated chuckle. "We tried a few things different than the first game. It didn't work, obviously."
As far as Flint was concerned, his team wasn't prepared to handle Hofstra's physicality, especially when it came to defending forward Moussa Kone, who scored 23 points on a perfect 10-for-10 shooting performance.
In the first outing, Kone scored eight points on four-of-six shooting, while Hofstra's Malik Nichols scored 10 points. This time around the two combined for 38 points, hitting a combined 17 shots on just 19 attempts.
And it wasn't just limited to Kone and Nichols. In the first half, the Pride hit 19 field goals. Fourteen of them were layups. By the time the final buzzer sounded, 23 of the Pride's 34 field goals were either layups or dunks. They owned the paint all night, and Flint said his players didn't respond to the challenge.
"They play us real physical offensively, and we didn't react well to it," Flint said. "We did the same thing in the first game, and they did the same thing in the first game. And [my players] know this is what's going to happen. [They] were in the [first] game.
"We've got to react to it better, and we didn't. That's why we got the same result. You're right. It was the same game. It was the exact same game."