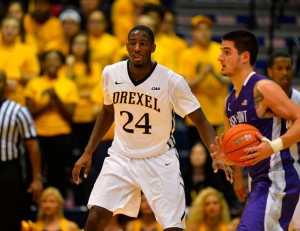 The last three games for the Drexel men's basketball team ended in unfortunate loses against James Madison University, the University of North Carolina at Wilmington, and Towson University.
These three losses have resulted in the men's basketball team's overall record dropping to 1-8 in Colonial Athletic Association play.
The Dragons traveled to JMU Jan. 21 and lost to the Dukes by a score of 68-45.
Their fourth straight loss has not done much for their overall record. The James Madison Dukes came into the match as one of the top three shooting teams.
Though the Drexel defense gave JMU a tough time and restricted their chances of scoring three pointers, the Drexel offense failed to deliver.
Freshman Terrell Allen and junior Rodney Williams were both praised for their outstanding performances, while graduate student Kazembe Abif netted the most points for the team, totaling 15 points.
The next game for the Dragons was held Jan. 24 at the Daskalakis Athletic Center against UNCW, in which the team lost 71-77.
Despite a strong offensive game from the Dragons, the Seahawks emerged victorious.
The Dragons led 42-34 at one point in the second half of the game, but the momentum changed and the opposing team took the lead 48-45.
Williams managed to get astounding rebounds and scored 17 points for the home team. Sophomore Rashann London managed to check the Seahawks lead by scoring a three-pointer. The defense of UNCW proved to be difficult for Drexel, and the Dragons just could not keep up. 
With a loss against UNCW, the Dragons fell to a 3-16 overall record.
The team had their most recent loss Thursday night, Jan. 28, against Towson University at the DAC, bringing them to 3-17 overall.