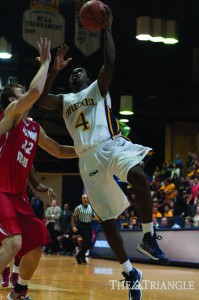 It's been a disappointing start for the Colonial Athletic Association preseason pick for Team of the Year. The Drexel Dragons dropped their first two games of the season, falling in disappointing fashion and in overtime for each game.
Drexel started the season Nov. 9 with a sloppy loss, falling to Kent State University 66-62 in overtime. The game featured messy play on both ends from both teams.
Chris Fouch, who is healthy early in the season for a change, started the year off with a bang. The ace sixth man came off the bench to drop 24 points, shooting 6-12 from three and hitting all six of his free throws.
The starters, meanwhile, struggled mightily in the backcourt. Frantz Massenat, Damion Lee and Derrick Thomas played poorly and struggled to find any rhythm to get on a run. The trio of guards shot 9-29 from the field.
The Golden Flashes were led by Chris Evans with 21 points and nine rebounds. They kept control of regulation just as much as Drexel did, as neither team held a lead more than six points. Drexel committed 16 turnovers in the contest.
The Dragons fell Nov. 15 to Illinois State University 86-84 in overtime. In another close back-and-forth game, the Redbirds stole a game at the John A. Daskalakis Athletic Center, where the Drexel men had not lost a home game since Feb. 9, 2011.
Drexel once again failed to finish the job and seal a late victory. They had plenty of chances in this one, holding a lead of much of the game. The Dragons were leading the Red Birds by five with five minutes remaining, but they squandered the lead. In overtime the Dragons almost made a dramatic comeback, down by four with 19 seconds remaining. Fouch hit a three with six seconds remaining and fouled on the inbound. Jonny Hill made one free throw with four seconds remaining, but the Dragons couldn't push the ball up court fast enough to get a quality shot.
After the game, head coach Bruiser Flint said that the team needs to play hard to the final buzzer. He commented that the Dragons need to make clutch foul shots when it matters most. He gave the Redbirds credit for making plays with the game on the line, while Drexel failed to do so.
Frantz Massenat had a team-high 18 points in the game, earning 14 of them from the free-throw line. On the other end of the spectrum, Daryl McCoy's foul trouble killed Drexel. The big man had two early fouls and recorded his fourth foul too early in the second, which handcuffed Flint.
"Daryl [McCoy] can't play 15 minutes per game," Flint said. "I'm asking Kazembe Abif to do too much, for a young guy right now. … And he's in tough situations. … It's crushing us right now."
"We want to win these games," Massenat said. "All losses can help because you can see what you did wrong, but we'd rather win."
Star forward Jackie Carmichael wasn't in the starting lineup for the Redbirds because he was late for a team meeting that morning. Illinois State head coach Dan Muller said that the team has a zero-tolerance policy, which dictated his decision.
"Jackie is as good a kid as you'll ever meet," Muller said. "He's never been late before, and he'll probably never be late again."
Philadelphia 76ers head coach Doug Collins, a proud Illinois State alumnus, was in attendance. Following a pathetic Sixers loss Nov. 14 to the Detroit Pistons, Collins was able to enjoy a win by his Redbirds. Muller said that he didn't get a chance to speak with Collins before the game, but he was in the locker room after, talking with the team.
"There's no one that means more to this program than Doug Collins," Muller said. "We're lucky to have someone like him still so passionate about ISU basketball. He's a resource, and we really appreciate him."
Next up for the Dragons is a City 6 matchup down the street. They will visit The Palestra Nov. 17 for a 4 p.m. tipoff against the University of Pennsylvania.
The Quakers are off to a shaky start to the season themselves. After an incredible come-from-behind victory Nov. 9 in which they overcame a 22-point deficit, they followed it up with two bad losses against the University of Delaware and Fairfield University.
The last time the two teams met was in 2010, when Drexel defeated Penn 77-56. That game, which was also played at The Palestra, featured a spectacular combined effort from Derrick Thomas and Chris Fouch, as the duo teamed up for 49 points.
"It's a big game," Flint said. "Another emotional game in a hot gym."