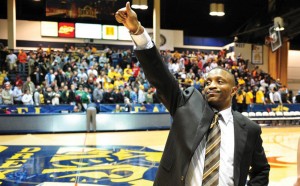 "I've been trying to get water from a rock sometimes. That's hard."
James "Bruiser" Flint is tired. His players can't seem to make a shot when they need to the most. He can't seem to catch a break.
It's been a long season for the head coach of Drexel University's men's basketball team — the longest in quite some time — and it's not over yet. He still has to slog through the tail end of a conference slate, pray for mercy, fortuitous bounces, maybe a couple of wins and see what comes out the other side.
Flint sits at the plastic table where he meets with reporters after each home game, tucked deep underneath the floor that has so tormented him in these past few months, and really, years. It's less formal after Drexel's loss to James Madison in early February; two reporters, standing near the table, chat for a short while with Flint about what went wrong in the game, but they spend most of their time on the Dragons' doomed season, turning it over in their hands, an autopsy before confirming the time of death.
Drexel has won three games this season and lost 21. Barring something dramatic in the final weeks, it will go down as the worst season since the program joined Division I in 1973. It is certainly the worst of Flint's head coaching career.
Normally in these post-game conversations, reporters sit more than an arm's length away from Flint, so the view of the man is obscured from about his chest down. After the James Madison game, the view is different — and revealing. Flint is still seated, slouched back in his chair, his face calm, cool and collected. But his right hands works furiously on his knee, tapping away, a tic — nervous? anxious? angry? — previously undetected.
He's asked how this season has affected him.
"You are who you are, man," Flint says. "It's been frustrating."
There's no longer the question of whether he's aware his job could be on the line. He says he's heard the calls. He read one in this very newspaper.
Flint's coaching career began nearly three decades ago down in Baltimore with Coppin State. He knows how these things go. He's dealt with outside pressure before. He stepped down as the University of Massachusetts head coach after five seasons because he couldn't return the Minutemen to the heights they had reached under John Calipari. Two NCAA tournament appearances and a .650 winning percentage in the Atlantic 10 couldn't keep him afloat then. Those two resume chips sure would look nice in Drexel blue right now.
But add up the pressure, the frustration and everything that comes along with those two, and Flint doesn't seem, at least outwardly, to be concerned. For all his notable fieriness during games, Flint is a subdued presence after the dust settles. His voice rarely rises above a murmur, win or lose.
He has seemingly taken all of this — four seasons of disappointment, the momentum of losses tumbling into more losses — in stride. He doesn't lash out, at his players or at the media. He turns the lens on himself, ready to absorb the blows, fair or not, from the outside.
"I'm satisfied that the guys play hard," Flint says, and he's right. His team, consistently down by double digits, never quits on him. "Sometimes, you can lose your team," he continues. "As much as y'all think I'm crazy, I'm not that crazy."
He says he tries to keep it all in perspective for his players. He knows how much pressure is on them, both from the outside and from within themselves.
"Honestly, they might not be ready for that," Flint says. "So you don't kill them. You try not to kill them. If you come and watch the team, you'll say to yourself, 'Hey, they do play pretty hard.'
"From an effort standpoint, they give me everything they can," Flint says. "Sometimes, that's not good enough."
The same can be said for the embattled coach. For 15 years, Flint has played the role of Drexel's Sisyphus, piloting a former technical institute — the unloved step-brother of the most storied college basketball city in the northeast — out of a few dark years, straight up the hill to national relevance, just to watch the rock tumble back down as quickly as a Tavon Allen turnover.
Flint seems to have given his decade and a half at Drexel his all. He's recruited historically excellent players, just to watch their tenures fail to line up. He's been pulled down by an unprecedented string of injuries.
Now, he's somewhere he's never been.
"I've never had two seasons in a row where I've lost, in my career," Flint says. "Whether I was at UMass, or here. So that's one of the most frustrating things. Usually, if we have a tough year, we're usually back in the next one. It's been tough, it's been tough, it's been tough.
"But," he continues, "I've been coaching for a long time. I just haven't had seasons like this. I've been getting a lot of guys calling me up and saying, 'Yo, this happens from time to time. You know that, right? You just haven't had it.' I get guys calling me and saying that all the time. 'You have seasons like this. You just have them.' I tell them, but it's back to back, and the dudes will be like, 'Sometimes, you have three or four years.'"
Truthfully, the program has been stagnating for four years, not just these last two. And if we look at recent historical precedent in the Colonial Athletic Association, this dismal season could very well be Flint's last stand.
Look, first, at Old Dominion University, a former CAA member. After 11 prolific seasons under Blaine Taylor, including four NCAA tournament appearances and 237 wins, Taylor's Monarchs flamed out in the fall of 2012, going 5-25. That was enough for Old Dominion's athletic department. Taylor was out.
Next, we have the University of North Carolina-Wilmington, which fired Buzz Peterson after four tough years during which he piled up a record of 42-80, including a nine-win season in his final go-round.
And then there's Hofstra, which in 2013 replaced Mo Cassara after three consecutive years of regression despite winning 22 games in his first season.
Now, we look back at Flint.
Like Taylor, his first 11 years with Drexel were largely successful. 199 wins is nothing to laugh at. But, like Taylor, Flint's most recent work is nowhere near up to snuff.
Flint's last four years have also been eerily reminiscent of Peterson's four-year tenure at UNCW, which was enough to get him fired. Peterson went 42-80 in those four years; Flint has gone 42-72 since the beginning of the 2012-13 season.
And, just as Cassara's did, Flint's team has regressed in each of the last three seasons, leading to this brutal campaign.
Of course, each individual case has extenuating circumstances. Flint is an institution at Drexel. Getting rid of a long-time coach has always been a hard sell. Athletic Director Eric Zillmer has already provided him with quite a long leash.
The problem is, coaching is a results-based business. For Flint, the results have been brutal as of late.
He says, before the evening is over, that he thinks next season will be more of the same. If things line up the same, if his players are healthy and able to take the floor without pause, this team can compete in the CAA.
"If not," he says, gesturing to a reporter, "we're back to, he's ready to fire me again."
Then he laughs.
Bruiser Flint is tired, but he's a good sport.