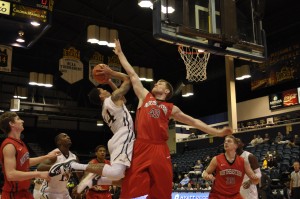 The Drexel University men's basketball team started slow again in its 65-60 win over Northeastern University Jan. 28. The Dragons shot 32 percent from the field in the first half, scored just 19 points, and the game felt all too familiar to their head coach.
They had been here before. Four days ago, actually. Where was the confidence? He didn't understand why his team wasn't shooting better.
So James "Bruiser" Flint gave his team the same talk he did Jan. 24. He told them they had to start making shots. He told them they weren't going to win by shooting 30 percent in a game. Be ready, he said. Be ready, and make some shots.
"Offense is all about confidence," Flint said after the game. "I talked about it in the last game. If you don't have any confidence to shoot the ball, you aren't going to make any [baskets]. I can't draw up a play to make you make a shot. I might be able to get you open, but I can't draw it to make you make it.
"We just said, when the ball comes to you, be ready to score the ball."
Flint didn't make any actual halftime adjustments, but the product his team brought in the second half was markedly better. The Dragons turned a 29-19 halftime deficit into a 33-30 contest courtesy of a 7-0 run, including five straight points from junior guard Damion Lee.
When Lee picked up his third foul of the game, he took a seat on the bench and the Dragons kept scoring. Sophomore guard Sammy Mojica scored five straight of his own, including a tip-in that brought the sparse crowd to its feet.
In the first 7:48 of the second half, Drexel out-scored Northeastern 19-6. The lead was theirs for the first time since early in the first half. And they weren't going to look back.
Lee scored 24 of his season-high 33 in the second half of the win, a 46-point second half from the Dragons that was spurred by the animated start to the second half.
"We came out more energetic in the first five minutes [of the second half], and then we started knocking down shots and everyone started getting in tune with the game," Lee explained. "And then we just started taking the lead from there."
Lee knocked down nine of his 16 shots from the field in the game, including hitting three of five three-point attempts. He set the pace for the Dragons at the start of the second half and sealed the game by hitting 10 straight free throws down the stretch as Northeastern turned to the foul-and-hope method.
While the rest of his team continues to figure out how to play with the confidence he's looking for, Flint said that Lee's having no such problem. The junior guard is hitting his stride in conference play, and he's scoring the ball better than anybody in the Colonial Athletic Association.
"[Lee] shoots every ball, but he knows he's going to shoot every ball," Flint said of his star. "And I will say this about him — he's getting a lot of points on very few shots. That's efficiency."
Flint said he used to say the something about a former player of his, guard Chris Fouch, who graduated last spring. He used to say that Fouch didn't need a lot of shots to get a lot of points.
"I [could] stick [Fouch] in there for 10 minutes," Flint explained, "and he'll get me 20 [points] in 10 [minutes]. And he won't need a lot of shots."
Flint said that Lee's game is starting to remind him of the way Fouch used to play, scoring points from deep and hitting foul shots without wasting possessions with missed shots.
And when Lee plays that way, and the rest of his teammates help him for the four minutes he's on the bench, Drexel has just enough talent to pull off this kind of upset win.
The Dragons (6-14, 4-5) play again when they host University of North Carolina-Wilmington (12-8, 7-2) Jan. 31 at 4 p.m.