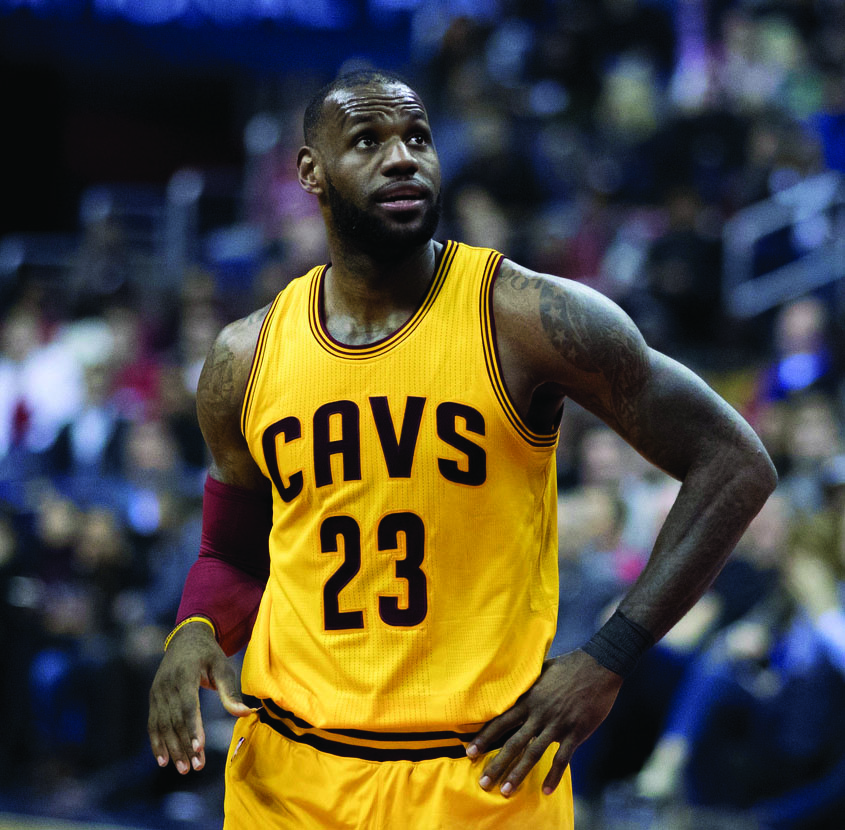 His 11 point performance in Game 3 of the Eastern Conference Finals proves that LeBron James lives in the most difficult era ever to be the National Basketball Association's best player.
"Jordan never would have had a game like that. Kobe never would have come up short. Bird or Magic wouldn't let that happen. See, I told you the Cleveland Cavaliers weren't that good, I told you the Celtics would take them in seven." You might have heard statements like these at some point this week in the streets, or in barbershops, or on talk radio, or on twitter or facebook.
The haters will look for any and every minor detail and mistake LeBron makes in an attempt to tarnish the legacy of a player who is easily one of the league's five best to ever do it, if not already higher on that heavily opinionated list. And while I'm sure star players in previous generations faced scrutiny, the backlash that LeBron gets is magnified by social media.
LeBron haters will undoubtedly be up in arms after reading both the first sentence of this article and the sentence immediately before this one, but I don't care anymore. My patience for the ignorant hate of a superstar who plays the game the way it was meant to be played has grown far too short. Whether or not you think he is better than Jordan or Bird or Magic or Kobe, can you at least acknowledge that no player has ever been crucified more for his errors, which are minimal at that, than King James?
We live in a world where Twitter, Facebook, Instagram, Snapchat and several other social media sites allow us to spread messages and opinions at the click of a button. In many ways, social media has fostered great changes for our society. However, it is easier now, more than ever before, to make a completely false statement and get dozens, if not hundreds of people to quickly believe it as fact, all because of social media.
Statements like "Jordan would have never played this poorly," are both easy and absurd to make because there is no factual evidence backing them. That's just the first thing that pops into a lazy fan's mind who thinks, likely because he went 6-0 in the finals, Jordan never made a mistake on the court. If you were a responsible NBA follower, you'd do your research and see that Michael Jordan didn't actually walk on water. Regardless of what Nike, Gatorade and Skip Bayless want you to believe, "His Airness" had flaws, just like everyone else.
Have you ever seen Jordan's statline from the 1996 Finals, when the Bulls were up 3-0 and trying to close out the season in which they set a record for wins? Sure, if you go by the series averages, Jordan played phenomenal. However, if you take a deeper dive into the game by game box scores, you'll learn that even MJ, at the peak of his power, had bad games on the biggest stage.
In Game 4 of the Finals that year against the Seattle SuperSonics, with a chance to clinch a sweep, Jordan shot a not-so-sexy six of 19 from the floor as the Bulls lost 107-86.
If that surprises you, go look at Game 6 from that same series. Again, with a ring on the line, and this time with the Sonics having clawed back to make the series 3-2, the great Air Jordan failed to be his usual self, going a horrendous five of 19 from the floor. Fortunately for him, the Bulls played unreal defense that night because they had Dennis Rodman and Scottie Pippen, arguably two of the five best defensive players in league history, on the court alongside Jordan.
Chicago won the series clinching game in spite of its superstar scorer, but why don't we ever talk about the help Jordan got? Why don't we ever talk about the bad games Jordan had, not just in the 1996 Finals, but throughout his career?  Maybe it's because, in those moments, the Joe Schmo's of the world with 200 followers on Twitter didn't have the ability to tweet out from their phone "See, I told you Jordan wasn't that good," all based upon a rare, poor performance from an all-time great.
Allow me to further demonstrate this point. LeBron's playoff statline this year, excluding the Game 3 loss to Boston in the ECF, is as follows: he's averaged 34.3 points, 8.2 rebounds, 7.0 assists and a plus-minus of 15, all while shooting a dominant 56.8 percent from the floor, 43.1 percent from three and 73 percent from the free throw line, not to mention the Cavs are 11-0 in those games. Up until this week, people across sports media platforms were saying they had never seen an individual play at such a high level.
However, after Cleveland's ECF Game 3 loss, the haters came out from under the rocks LeBron had been forcing them to take shelter beneath in order to voice their entirely too cruel criticisms of a man who, for the 10 previous postseason games, had played basketball as well, if not better, than anyone who has ever lived.
LeBron James is a flawed human being, just like you and me. Even King James can have an off night, but it's not the off nights we judge greatness on. Rather, it's the consistently high level of play that stars demonstrate which allows us to determine where in the all-time rankings we place them.
In a close out Game 7 at home against the Celtics during the 2010 NBA Finals, Kobe Bryant shot six for 24 from the floor, but was aided in a 83-79 victory by a 20 point performance from Ron Artest. In the 1984 Finals, Magic Johnson played so poorly that he earned the nickname "Tragic Johnson," because everyone blamed him for the the Los Angeles Lakers losing the series. In Game 4 of the 1987 NBA Finals, with the Celtics trailing by one, Larry Bird missed a relatively open jumper at the sound of the final buzzer, which capped a seven of 19 shooting night for him. Had Bird's shot gone in, the series would have been tied 2-2 and Boston may have found a way to win that year's Finals, instead of being beaten four games to one by the Lakers.
I bring up all of these indisputable facts to prove the point that you can nit-pick the career of anyone you choose, but their rare off nights are not evidence that they are worse than another player. It's the frequency in which athletes perform at high and low levels that should be taken into account, but with the way social media works, it's so much easier to focus on the mistakes, mostly because they are so rare by those who are so great.
When LeBron James missed that dunk towards the end of the third quarter in Game 4 of the ECF May 23, I found a GIF of it on twitter within five minutes of the play happening live. People were up in arms about it. It was such a big deal, there was a story headline on Snapchat declaring that LeBron had butchered a wide open fastbreak slam.
Why is that? Maybe it's because most people had never seen LeBron miss a dunk before, and the haters quickly wanted to use that one play to make the childish point that "Jordan would have made the dunk." That's funny though, because you can find footage on YouTube  of Jordan missing a wide open fastbreak slam in Game 3 of the 1992 ECF Semifinals against the New York Knicks.
Relative to his missed dunk, there was not much said about the 22 points LeBron scored in the second half of Game 4, despite him being in foul trouble throughout. As a matter of fact, all the praise went to Kyrie Irving, who was undeniably great in a 42 point outburst. For some reason, though, Irving gets infinitely more credit from the haters for helping LeBron than Pippen did with Jordan, or Shaq did with Kobe, or Kareem did with Magic, or McHale did with Bird.
The only chance LeBron has of completely silencing the haters is if he somehow vanquishes Golden State Warriors with newly added Kevin Durant, that appears ready to avenge its finals loss from last season. And not only does he have to beat a team in the finals that will be a heavy favorite, but he also has to average either 30 points or more points than Kyrie, nine rebounds and eight assists, otherwise he wasn't "dominant enough." And not only does he have to do all that, but he also has to win three more titles after that and be the NBA Finals MVP in all of those, and that still might not be enough. At least that's what the haters will tell you.
The truth is, if you are a real fan of the game of basketball and you're watching LeBron James play right now, you're not buying into the naive tweets, or the hot takes or the opinions of Jordan fan boys who aren't yet ready to admit that someone might just be as good. If you are a real fan of the game, you're watching this NBA Playoffs and realizing that you are seeing one of the best to ever do it, and you know that if the Cavs some how beat the Warriors in the finals, LeBron will have pulled off a basketball equivalent of the Rumble in the Jungle. So put down your phones, close your laptops, turn off your radio and just witness greatness, because there's no guarantee we'll ever see a player this good again.