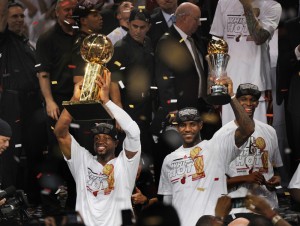 With 27.9 seconds remaining in the most important game of his career thus far, LeBron James buried a 19-foot jumper.
They were points 34 and 35 of the night for James, ensuring that his career average in Game 7s — the highest in NBA history — would increase. Twenty-eight seconds later, he would be an NBA champion and Finals MVP for the second straight year.
The most remarkable part of James' performance was that he relied on a mid-range jumper to cap off this game, of all games.
A 6-foot-8-inch, 240-pound dunking machine with a much-improved three-point shot that had been clicking all night decided to rely on his mid-range game to put Game 7 effectively out of reach for the opposing San Antonio Spurs.
James has reached a new level. However, he is not as good as Michael Jordan was. Not just yet.
James scored a game-high 37 points, pulled down 12 rebounds and led the Miami Heat June 20 in Game 7. Facing a team overflowing with experience, including all-time great winners like Tim Duncan and coach Gregg Popovich, James put on an MVP-worthy performance on a night when one member of Miami's vaunted "Big Three," Chris Bosh, was held scoreless.
He scored nine points and assisted on two Shane Battier three-pointers in the fourth quarter, including the aforementioned game sealer and two subsequent dagger-driving free throws before raising the Larry O'Brien Trophy.
This game came less than 48 hours after a jaw-dropping final 17 minutes of Game 6 in which James scored 18 points, bringing the Heat back from the brink of elimination; an offseason of disappointment; and an ESPN news cycle of vapid, dystopian analysis of Miami's future.
For a more succinct version, he scored 55 points in the last 65 minutes of the NBA Finals.
But James is still not as good as Jordan. Not yet.
That is not the problem at hand. The problem is that our sporting society feels the need to proclaim someone "the greatest" after every championship. Nobody called Jordan "the greatest" after his second NBA championship, but he was on his way.
While the Stephen A. Smiths of the world refuse to allow James the same evolutionary period, that is exactly where he stood on the first day of the 2013 offseason. He is a 28-year-old superstar, a man who carved out his place in NBA history with the past two postseason runs and is looking to expand his trophy case as his pursuit of greatness continues.
For a player with the skill set of James, two championship trophies cannot create a legacy. Two championship trophies are two stepping-stones.
This is why James is not yet as good as Jordan. He is on his way.
His decisive mid-range jumper is a sure sign of this progression.
To make this shot, his 23rd field goal attempt of the evening, James came around a screen and saw that he had room in front of him — maybe four feet between him and Danny Green, with 15 feet between Green and the hoop. There were nine seconds on the shot clock.
As he demonstrated in Game 1 of the Eastern Conference Finals, James is capable of sprinting from the three-point line to the hoop for a layup in less than two seconds. He had nine seconds with an inferior basketball player defending him.
He was faced with a decision.
This would have been an ideal situation for James in 2007 because of his unencumbered speed. This was how he beat the Detroit Pistons in Game 5 of the Eastern Conference Finals that season.
This would have been a nightmare situation for James in 2011 because of his absence of confidence. It was how he lost the NBA Finals against the Dallas Mavericks, a team of destiny made up of players who simply believed in themselves more than the first iteration of the super Miami team.
However, it was the perfect situation for James in 2013 based on how his play has evolved. He has become a player as confident in his jump shot as he is in his post game, as confident in his three-pointers as he is in his dunks.
But it did not happen in just one season. Once upon a time, in his rookie year nine years ago, James shot 41.7 percent from the field, a career low. In 2011 he shot 51 percent from the field but just 33 percent from behind the arc. This year he shot 56.5 percent from the field and 40.6 percent from behind the arc, both career bests.
James took that 19-footer because of the player he has become. He would not have attempted that jumper in 2007 or 2011. But in 2013 he attempted it and knocked it down without grazing the rim.
This season does not cement him just beneath Jordan in the NBA's legacy tree. Not every championship must elevate him on that list. This one in particular moved him to No. 5, behind Jordan, Bill Russell, Magic Johnson and Hakeem Olajuwon.
There can be an open debate, but the progression up the tree seems natural. It was just another branch on the tall, gnarled, majestic tree of basketball hierarchy. There is no longer the question of whether James will land in the highest reaches of the tree's canopy. The only question that remains: Which branch he will claim for himself?
The man, as previously mentioned, is a 28-year-old, two-time NBA champion. He is climbing a tree that is 67 years old. He is chasing four players who are all at least 22 years older than he is.
This has been just one year in the LeBron James story. He nearly broke a record when his team won 27 straight games. He had the most improved shooting season of his still-young career. He won three more trophies, including the most important one of them all.
But it was just one season. When he is done playing, we can ask the big-picture questions.
For now, he is busy finishing up his rough draft. Let's give him some room to continue working.