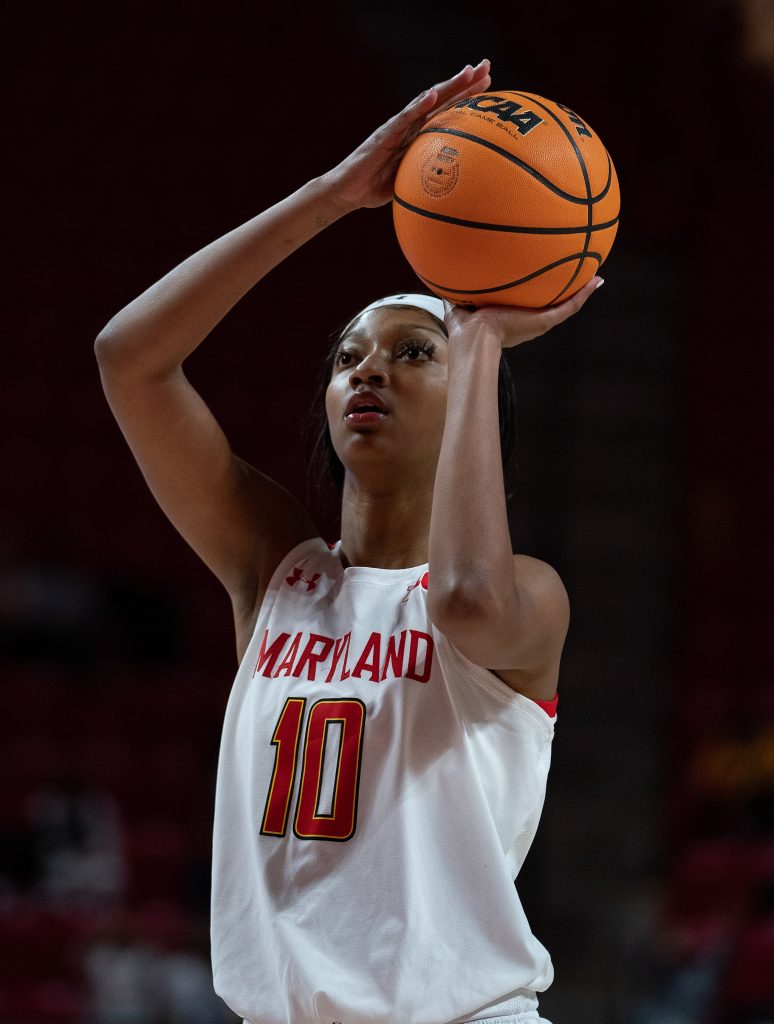 When you see the number ten on the back of a jersey, you know that person is a star straight away. With that double digit behind her purple shirt, Angel Reese walks and talks like just that. To say the women's NCAA final was sensational is an understatement.
After the final whistle blew on April 2, we all knew the spotlights were either going to be on Iowa's Steph Curry regen, Caitlin Clarke, or LSU's Angel Reese. With 12.9 million total viewers, the spotlights were going to be very bright, and very heated.
Yes, Angel is a phenomenal outstanding player—I mean, the athlete is LeBron James and Shaq approved. Winning the best player award in the biggest college basketball tournament just added to her list of achievements. But there is something even greater than that. What Angel did after the final was remind every single person watching of something very important—to stay true to themselves.
Standing inches away from First Lady Jill Biden and being on prime time Sunday television, the pressure was on for Angel, but the six foot three shooting guard reminded everyone that it is possible to be who you are in spite of who is watching.
Caitlin Clark, University of Iowa's star scorer, increased her celebrity throughout the NCAA tournament with her dominant ability to take over each game Iowa played, as well as for her penchant for trash talking while doing so. She gained virality multiple times throughout the tournament with overt demonstrations of her dissing her opponents. While the national audience ate up Clark's theatrics, many had an adverse reaction when Angel Reese returned the favor after helping lift LSU over Iowa in the National Championship game.
The controversy grew as Angel Reese pointed out the racial disparity in the way her actions were perceived.
"I don't fit in the box that you all want me to be in. I'm too hood, I'm too ghetto. You told me that all year. But when other people do it, y'all don't say nothing," Reese said. "So this is for the girls that look like me, that want to speak up on what they believe in. It's unapologetically you. It was bigger than me tonight."
Anyone who has played some sort of competitive team sports knows that once in a while trash talking comes into play. I remember watching an interview with American Premier League football player, Weston Mckennie. He was asked about some of his strengths and the second one he mentioned was trash talking.
So why is Angel being slammed for this? All she did was wave the infamous "You Can't See Me" gesture popularized by John Cena and point to her ring finger. Then all of a sudden, popular figures like Dave Portnoy with two million twitter followers are calling the 20-year-old sophomore classless and "a piece of…" (you can probably guess the end of it).
You also have people like Keith Olbermann with almost a million followers calling her an idiot. All these old guys coming for the throat of any other twenty-year-old might break them, but Angel responded in an interview with NBA by saying "I don't care what anybody has to say about me. I love who I am. … I'm authentically me." This resilience from a college sophomore is really impressive and sets a huge example for anyone who thinks they need to sacrifice their whole personality to achieve something.
I find it weird and wrong that a lot of people with huge followings are publicly slamming someone who is half their age—and these same people will be retweeting mental health posts a few weeks from now. But we all have to look at the strong and authentic personality of this future star. In a world where everyone tells you that you have to be a certain way or have a certain character to do something, Angel Reese reminded everyone, especially me, that we should not compromise who we are to appeal to people we probably do not even care about.
P.S. A huge shout out to the ladies who played that blockbuster final, that was one of the best basketball games we have seen in quite some time.