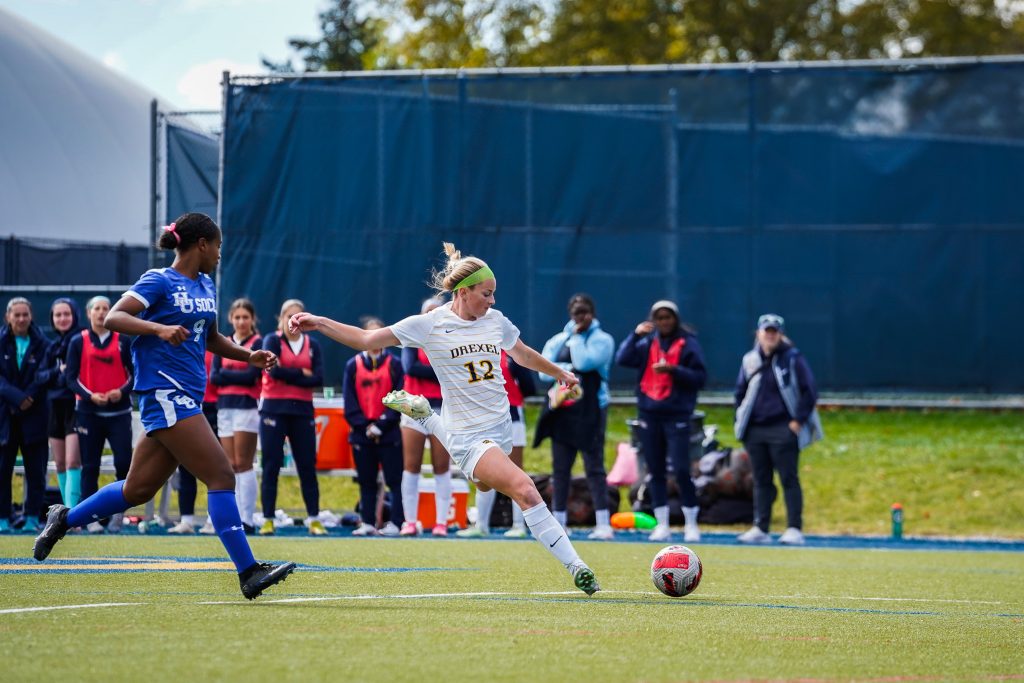 Her last game for Drexel was one that Denalney Lappin will most likely never forget. Her team not only won the senior day game against Hampton University, 8-1, the third-highest win in Drexel women's soccer history, but Lappin also broke a 16-year-old Drexel All-Time record.
With four assists and one goal against Hampton, Lappin passed Aleka Yiantsos's record from 2007 and is now the player with the most career points for Drexel women's soccer. In four years playing for Drexel, Lappin scored 24 goals and assisted 16. This adds up to 64 career points (a goal is worth two points, and an assist is worth one point).
"It feels great. It's something I've dreamed of since I've been a little girl. It's everything you want to achieve," said Lappin.
Lappin joined Drexel in 2020 and since then received multiple awards. Her strong performances, especially in the 2022 fall season, helped her team to make it to the CAA (Coastal Athletic Association) playoffs that Drexel was able to host. In the quarterfinals, Lappin scored both Drexel goals against William and Mary and lifted Drexel to the semifinals. However, this is when they got eliminated by Northeastern. For her strong performances, Lappin was rewarded with the 2022 CAA Attacking Player of the Year award.
"This was definitely a highlight in my four years here and a huge accomplishment for me personally," said Lappin.
Even though Lappin is eligible to play one more year, she is going to transfer to a different school.
"I'm going somewhere else for academics. Drexel doesn't have something I want to pursue in the future," said Lappin, who is trying to find a new university through a transfer portal for college athletes.
Lappin is not the only player that left the team after this season. With Annalena O'Reilly, Emma Goodrow, Molly Piso and Isabel Kuzy, Drexel has been losing some of its best and most reliable players in recent years. In total, 13 players — almost half of the team — graduated or transferred from Drexel. This is a serious challenge that coach Ray Goon will have to deal with in the upcoming months. Lappin is still optimistic that Drexel will continue to be successful in the future.
"The next year is definitely going to be a rebuilding year because we are losing so many players, but I honestly think that the players that didn't get as much time, are going to be good," said Lappin.