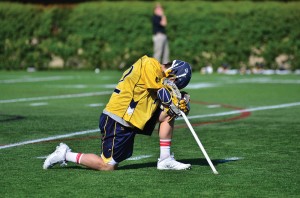 Elite is a funny word.
To sports fans, it's quite possibly the single most polarizing word one can use. The term is tossed around as if it's a definitive description of the capabilities of a group of athletes or any athlete in particular.
"Sure, that team's good, but are they elite?"
The difference between a good and an elite team or athletic program is unquantifiable, but it's apparent when you see it.
This year the Drexel men's lacrosse team was elite, even if the final game of the season, a 15-6 loss at the hands of Denver University, shed a different light. Absolute domination by the opposing team in the biggest game of the season hurts. It's painful and tough to swallow, but it isn't remotely indicative of this year's team.
The team that donned the Blue and Gold at Vidas Field this year was so much more than just a Cinderella story that defied its program's history, going further than any other Drexel Dragons team.
It was a group of athletes who refused to give up and banded together to move this program past a roadblock the likes of which no other elite team in the country was facing coming into this season: being the best team never to make an National Collegiate Athletic Association Tournament.
The quarterfinal loss to Denver was a horrible one — at no point did the Dragons actually look comfortable or even very familiar with collegiate lacrosse. They were sloppy with the ball, didn't win faceoffs and looked as though a high school team could score double digits against their defense.
But that only matters in the short term.
In the long term, the Dragons are now scarier than ever. They've managed to transform a program that was always scary but never truly threatening into a force to be reckoned with for years to come.
So don't look at the year in a negative light because of the horrible Denver loss.
It was a success — one of the most successful seasons a Drexel program has ever embarked upon.
We watched as the team spent the first half of the season middling in the conference before kicking it into high gear to make the dramatic playoff run. We watched as sophomore goalie Will Gabrielsen absolutely dominated to cement his spot as starter, and redshirt freshman Cole Shafer burst onto the scene, making an offensive impact the likes of which few other freshmen in the country could replicate.
We saw the Dragons win nine straight games and make the Elite 8 of the NCAA Tournament, finally shedding the albatross that had shrouded the program for years.
As fans, we saw these ups and downs for what they were: victories, losses, saves and goals.
But this season was so much more than that. It was powerful, it was important, and it means something deeper than just a bunch of statistics.
I've spoken to head coach Brian Voelker weekly this season following each game, and though the outcomes of the games varied, his message was always the same. He emphasized his team working hard from week to week, regardless of the results of the prior week. He addressed his defense and offense working together and the importance of teamwork.
For the most part, his words were clinical and strategic, but beyond the simple words I wrote in my articles was an unspoken love. Love for his players, for the team and for the game of lacrosse.
Too often individuals interfere with the cohesiveness of the entire team and disrupt the development of the love that only occurs among teams and programs that are really special. Voelker's team this year was special, and making it special was the first step in a direction toward a future filled with playoff games for the Dragons.
Repeatedly, the team's unwillingness to give up on each other and throw in the towel shined through, particularly in the playoffs.
Teams like that are few and far between, and that's why I think that, even without the incredible talents of departing seniors Ben McIntosh, Nick Trizano, Matt Dusek and many more, the Dragons are still in good hands for years to come.
The Drexel program is now in the hands of players like Nick Saputo, Shafer and Gabrielsen, all under the tutelage of Voelker and his assistant coaches.
So yes, the team didn't play at an elite level in their Elite 8 matchup against Denver, but that shouldn't change your opinions about the team.
Watching any other game this season would show you what this team truly is: a hardworking, dedicated group of students all absolutely in love with the sport they play. That should serve as an inspiration to anyone pursuing any goal. That level of passion rarely manifests itself, but when it does, it's an incredible thing to behold.
And that's why this team was successful. They had one of the best players in the country in McIntosh. They had an incredible faceoff specialist in Saputo. They had a strong defense led by Dusek and Gabrielsen. They had all of that and more, but that isn't what makes a team elite. You have to have heart, passion, and a love for each other and the game.
And that's something that remains, even as players cycle in and out of the system: a culture of love, hard work and passion pervading the locker room, sidelines and field. I consider myself lucky to have witnessed it firsthand.