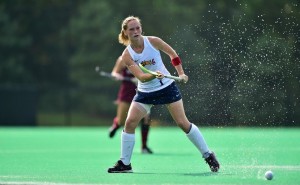 When it rains it pours, and right now the Drexel University field hockey team is in the midst of a downpour.
This season has not turned out quite as coaches and players would have hoped, but as with all rainstorms, there is a sunny and bright day to follow. As of now, the lady Dragons sit 1-6, but with many game yet to be played. It will, of course be difficult to weather this storm, but with the experience of head coach Denise Zelenak, and eight upperclassman on the squad, a turn around is very possible.
It is well worth noting that in five of the six games played, the Dragons have only let up three or fewer goals. This is impressive, especially considering starting goalkeeper for the Dragons, Erin Gilchrist, is just a freshman. The Dragons have had great success on their defensive lines, making sure to pressure the ball, and making it difficult to get near the goal.
Coach Zelenak commented on her team's defensive prowess, "The team's defensive unit and press lines have been very effective and our second half adjustments have shown well."
Second half adjustments are indeed extremely important to this team. On average, the dragons are only allowing one goal in the second half. A great example of this teams ability to make adjustments can be seen in the game against ninth-ranked University of Virginia. In the first half, Drexel allowed 5 goals, where as in the second half they locked down Virginia only allowing one goal.
Similarly, in the match against second-ranked North Carolina University, the Dragons allowed two goals in the first half, but managed to reduce North Carolina to just one goal in the second half. The importance of adjustments cannot be overstated. Adjustments allow a team to keep themselves in a game, even if the game looks lost. The Dragons will certainly work on making sure they come out of the gates more focused but the ability to make adjustments is extremely important and a great bright sport for this team.
Drexel's field hockey team must keep working on their offensive game as well. So far this season, the Dragons have averaged about 1 goal per game. Even with the best defense, and on point adjustments, not being able to score will keep this team on a losing path. Coach Zelenak explained, "Right now we just need to be a little more confident and settled in the offensive circle, we create a lot of positive opportunities that we need to put away." The inability to put away opportunities is what is truly hurting this team right now.
The Dragons right now have 12 underclassman to just eight upperclassman. With all the new faces on the team, it will take more then six games to become acclimated to game speed, especially having to play every week. Coach Zelenak noted, "With so many new players both joining the team and earning starting positions, we expected a challenging first half of the season. Because of this we have been very focused on our long-term goals and most importantly being prepared for our strong Colonial Athletic Association conference. Having said that, we are playing the game at a great level right now but still need to translate our corners and shots-on-goal, into actual goals."
There is no doubt the offense is suffering from unfamiliarity with both offensive plays and in game situations in general. Players who are new to the collegiate level of field hockey are going to need time to become acclimated to new game situations that they may never have seen before in high school. It is certainly going to take time, but with the way the Dragons have played defense, once the offensive side of the ball comes around this team will be a force.
The Dragons still have many games left on their schedule including all six conference games. They will face their first CAA opponent, Northeastern University, in Boston on Friday, Oct. 2. On Sept. 28, the Dragons will be facing Lafayette University. The Drexel field hockey team has many positives attached to it, there is no doubt this team has a bright future, and it is likely we will see flashes of that bright future as soon as the 28th.