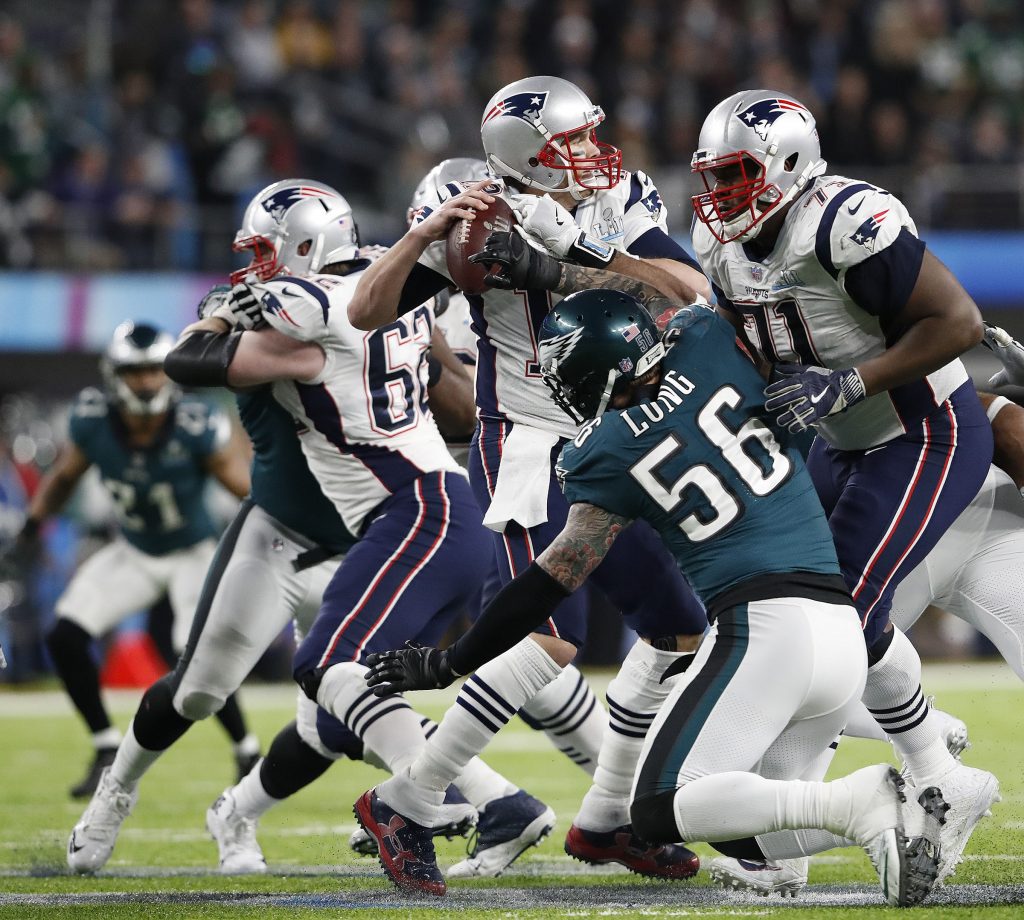 A five-point-three-second 40-yard dash and a 24.5-inch vertical jump are seemingly unimpressive numbers. Yet, they represent the greatest quarterback in the history of the NFL: Tom Brady.
Put aside your hatred for just a moment, and consider all that Brady has done in his 18 seasons. Throughout his career Brady has faced constant setbacks and challenges. Yet, he has managed to put up historic stats at an age when most quarterbacks are sitting comfortably in the announcing booth on Sundays. (I'm looking at you, Tony Romo.)
Despite being overly criticized at basically every step of his career, Brady has managed to outperform every other quarterback in league history. And yes, that does include Peyton Manning and Joe Montana (both great players in their own right). Brady is the complete package — he has the stats and championships to prove his superiority.
In football, the ultimate goal of each player and team is to finish the season by hoisting the Vince Lombardi Trophy following a Super Bowl victory. Tom Brady has accomplished that goal a total of five times. That is more than any other player in the 52 years that the Super Bowl has been played. Even the highly-vaunted Joe Montana is looking up at Brady, having only four titles to his name.
In fact, only four teams in the entire league have won five or more championships. Brady is more successful than basically every franchise in the entire league since its inception. He holds the record for most wins by a starting quarterback ever, reflecting his ability to dominate the regular season as well. Nobody even comes close to the level of success that Brady has found throughout his lengthy career.
Considering the fact that four of his eight Super Bowl appearances came after Brady hit the age of 30, many may think that Brady was simply carried by his team, only contributing the minimum amount necessary for the team to win. This could not be farther from the truth.
At the age of 40, Brady is still breaking records and moving up the rankings in terms of all-time stats. In fact, in Super Bowl LII, Brady threw for a career-high playoff record 505 yards. And all of those yards came without top targets Julian Edelman or Brandin Cooks (injured early in the game), leaving Brady to throw to former Division II lacrosse player Chris Hogan, the diminutive Danny Amendola, and the often double-covered Rob Gronkowski.
Honestly, I'm pretty sure Brady could have made me look like a Pro Bowl receiver considering some of the remarkable throws he made. Those MVP-worthy stats are simply remarkable given Brady's age and situation. To put it in perspective, Peyton Manning (at the age of 39) finished his final Super Bowl appearance with a measly 141 yards and an interception despite having one of the best wide receiver duos in the whole league.
Brady has played at such a high level throughout his entire career, not just recently. Brady is second all time in total career passing yards and third in career passing touchdowns, and both of those records are attainable for Brady within one or two seasons. Soon enough, supporters of Peyton Manning as the Greatest of All Time will not even have the support of statistics in their favor. And while Manning may have won more MVP awards, his inability to perform when it matters — the playoffs — compared to Brady throughout their careers means that there is no contest between the two. And for those who believe Joe Montana is a greater quarterback than Brady, the stats don't lie: Brady is better in essentially every single statistical category when compared to Montana.
At the end of the day, no matter how much people love to hate him, Tom Brady is the greatest quarterback in the history of the NFL. Over his 18 year career, he has dominated his opponents, finding remarkable amounts of success on the biggest stage. The stats that he puts up throughout his consistent winning seasons raise him above anybody else who may even be considered in the conversation. When the time comes to vote on whether Brady should be entered into the NFL Hall of Fame, the vote should be unanimous in his favor, cementing his status as the Greatest of All Time.