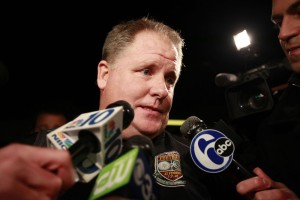 In his first year in charge of making draft decisions for the Philadelphia Eagles, head coach Chip Kelly chose pieces that he hopes can become the foundation for a winning formula in Philadelphia.
Coming from the University of Oregon, Kelly is known for his innovative offense, so it came as no surprise that his first pick was an offensive player. The Eagles drafted versatile offensive lineman Lane Johnson from the University of Oklahoma with the fourth overall pick. Kelly continued to stay on the offensive side of the ball by drafting Stanford University tight end Zach Ertz in the second round. Because Kelly's coaching style is dependent on a creative offense, drafting two players on that side of the football with his first two picks was expected, even for an Eagles team that is in dire need of improving a defense that was ranked 18th in the National Football League.
Kelly finally addressed some defensive moves in the third round by drafting interior defensive lineman Bennie Logan from Louisiana State University. Then, Kelly's fourth-round choice sent shockwaves throughout Philadelphia and the rest of the NFL, as the Eagles traded up to draft University of Southern California quarterback Matt Barkley. No one knows what Kelly's ultimate plan is for this team, but it seems as though he has added an offensive lineman, tight end and quarterback that could be the building blocks for the offense for years to come.
"We were very specific," Kelly said in a press conference following the draft. "I think you have to be, because there has to be a certain level that you bring in here. If you constantly take the overachiever at every position, you're going to be too small."
The rest of the Eagles' draft focused on the defense. They drafted North Carolina State University safety Earl Wolff, The University of Utah outside linebacker Joe Kruger, Oregon cornerback Jordan Poyer and Oklahoma defensive end David King to round out the draft. Poyer could prove to be a steal with the 218th pick, as many scouts had a second-round grade on him even after questions about his speed arose.
In this draft, the Eagles and Kelly went after players from big-time programs. Every pick was from the Big 12, Southeastern Conference, Atlantic Coast Conference or Pac-12. Comparatively, under former head coach Andy Reid, the Eagles drafted a player from the NCAA Football Championship Subdivision or lower in five of the last eight drafts. Sometimes teams can find a player that can contribute to a team from those smaller schools. However, it is far more unlikely that one of them will turn out to be somebody like Victor Cruz from the University of Massachusetts Amherst or Jeremiah Trotter from Stephen F. Austin State University.
"I think you still have to adhere to the fact that we wanted to get bigger, and we felt like we did," Kelly said. "I think size is important, but there's not one factor that overrides the other. I think you have to look at the whole package when you're making those decisions."
Some of the Eagles' draft picks this year have valid concerns. Barkley, for example, is coming off shoulder surgery, and his arm strength is in question. However, it speaks volumes to the existing options that Kelly has inherited here in Philadelphia. By adding Barkley, Kelly has sent a message to quarterbacks Michael Vick and last year's season-ending starter Nick Foles.
Chip Kelly has yet to coach a game in Philadelphia, but for the first time in a long time, Eagles fans have a chance to feel excited about the man putting together the building blocks of the franchise.