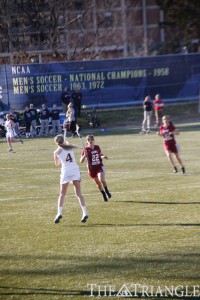 It is ironic in sports that the players who win individual awards are usually the most modest; these two Drexel Athletes of the Week are no different.
Junior women's lacrosse attacker Kelli Joran and senior men's lacrosse midfielder Kyle Bergman led their respective teams to vital victories this week and have each humbly received the award for the week of April 23.
"To be named Drexel Athlete of the Week is a great honor," Joran said. "I really feel that a lot of people on our team could have won this award because everyone played great last weekend."
Bergman built upon that thought.
"Being named athlete of the week is an honor, but the win on Saturday was a team effort," Bergman said. "Individual awards are nice, but I play lacrosse to win games and to try and help this team win the Colonial Athletic Association."
Joran, a third-year player from Downingtown, Pa., scored three goals and won three draw controls April 20 against The College of William & Mary. She tied the game at 10-10 with an unassisted goal just 27 seconds before the final buzzer.
With only 11 seconds remaining in overtime, Joran notched the game-winning goal, her 27th of the season, to go along with four assists. Her 31 points this season eclipse last year's mark of 30, her previous career high.
"Kelli has stepped up big for us in conference play," head coach Anna Marie Vesco said. "She has peaked at the perfect time as we approached the playoffs and is determined to help our team succeed."
In Drexel's 10-4 victory April 22 against Old Dominion University, Joran notched a goal and an assist to help end the regular season with a bang. With the win, the Dragons improved to an 11-5 overall record and clinched the No. 4 seed in the upcoming CAA Tournament.
The Dragons will play top-seeded Towson University April 27 in the first round, a team that defeated them April 15 in a heartbreaker at Vidas Field. Down 9-5 with 20 minutes remaining, the Tigers scored six of the next seven goals, including the game-winner with just 29 seconds remaining, to stun Drexel.
"Our loss to Towson was the toughest loss we had all season," Joran said. "It will give us even more motivation to win this weekend, and if we play our best, I know we can knock them out of the CAA Tournament."
The highly touted Drexel men's lacrosse team has been knocked down quite a few times this season, but after every tough loss, co-captain Kyle Bergman and the other team leaders have picked the Dragons back up.
After a disappointing loss to the No. 2 University of Massachusetts April 14, the Dragons faced Towson for the final conference matchup of the season. Bergman, originally from Toronto, notched two goals and two assists as Drexel defeated the Tigers by a score of 13-5 to clinch a spot in the upcoming CAA Tournament.
"The amazing feeling of winning and the frustrating feeling of losing have changed me for the better," Bergman explained. "No matter what position my teammates and I have found ourselves in, believing in each other and playing together has been the key to our success."
Drexel will wrap up its season April 28 at Vidas Field against St. John's University, which will be Senior Day for Bergman and eight others. Although they enter their final game with a 6-7 overall record, the Dragons still expect big things from the remainder of the season.
"We're looking forward to a solid all-around performance against St. John's," Bergman said. "This Saturday is a great opportunity for us to fire on all cylinders and build confidence as we head into the playoffs."
As a senior, Bergman now has time to reflect on his Drexel career, which includes CAA All-Rookie honors as a freshman, being named Second Team All-CAA, and a total of 55 goals and 37 assists. He has 14 goals and 13 assists so far this season, tied for second on the team with 27 points.
"There are so many things that I'll remember about my career here at Drexel," Bergman recalled. "It's been an incredible experience, and I've been really lucky to play in a program with a bunch of great guys."
Joran and Bergman will both be playing large parts in their teams' upcoming CAA playoffs and, according to these accolades, will welcome the challenges.