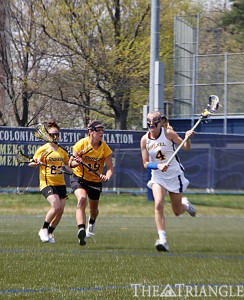 Kelli Joran has another ac- colade to add to her personal lacrosse season description. The Drexel University junior midfielder was named to the 2012 Intercollegiate Women's Lacrosse Coaches Association Division I All-Region last week for the Mid-Atlantic re- gion Second Team.
This is the fourth time Jo- ran has been honored for her tremendous 2012 campaign. Philly College Sports recently named the Downingtown, Pa. native to the All-Philly Divi- sion I First Team for women's lacrosse. She also was recog- nized by the Colonial Athletic Association for her tourna- ment play and selected to the All-Tournament Team. This was after she was named to the All-CAA First Team.
Additionally, she was named to the Preseason 2012 All-CAA women's lacrosse team after catching attention with her strong freshman and sophomore seasons under the talented coaching staff led by head women's lacrosse coach Anna Marie Vesco.
"All of the awards are meaningful to me because we worked really hard this year, and I'm glad all of the hard work paid off," Joran said.
Joran was ranked third on the team for scoring, with 29 goals this season, and she played in all 17 games. She also won control of 40 draws, an area in which Drexel did well.
Joran was the lone Dragon from a very talented team to be named to the squad. For her, it was nice to receive the unique recognition, but she does not think she is more de- serving than her teammates.
representative from Drexel, but I wouldn't say I take ex- tra pride because some of my other teammates deserve it just as much as I do," Jo- ran humbly said. "I was hon- ored for being selected to the IWLCA all-regional team be- cause only seven people from
the CAA made it." Fortunately for the Drag-
ons, Joran will be returning next year for her final season on the field. With an already impressive list of achieve- ments, the team and fans alike look forward to seeing what she will do next.