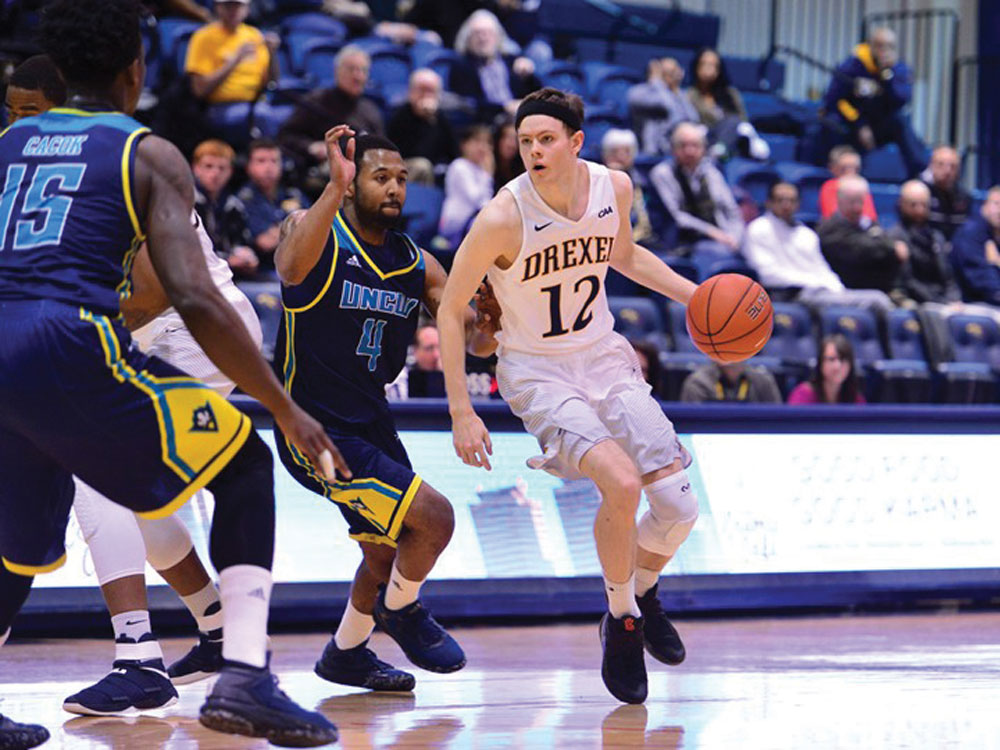 With March and the start of the Colonial Athletic Association tournament quickly approaching, the Drexel University men's basketball team returned to the familiar hardwood of the Daskalakis Athletic Center for a contest against the College of William & Mary Feb. 9 and Towson University Feb. 11.
Head coach Zach Spiker and his staff didn't need to dig too far into the memory bank in their preparation for this week. Just 10 short days previous, his group was blown away by a strong second half from the Tribe on their home floor, dazed and drained from a taxing three games in six days stretch at the end of January. The schedule context could not have been more different in the rematch; this time, Drexel entered well-rested, with a full four days off since their last game.
The effect of this was evident from the onset. Drexel opened with an 11-0 run in a tone-setting first half, with eight of those points poured in by freshman Kari Jonsson. Jonsson would turn out to be the man of the evening, flashing a three-point stroke that carried him to a 23-point outing, made extra special by the presence of his family who made the trip from his native Iceland.
The freshman spearheaded a balanced and efficient offense, which included double-digit showings form junior Sammy Mojica, freshman Kurk Lee, and yet another solid performance from the frontcourt senior Rodney Williams.
While this surely pleased their coach, the real story was a defensive tenacity that has been missing of late. Recall that in their last matchup, Drexel surrendered 108 points, including a hefty 63 points in the second half. But William & Mary's potent attack (averaging a touch above 81 points per game for the season thus far) was limited to just 61 points by the time the final buzzer sounded.
"I couldn't write it in bigger letters; 108's been on our locker-room board," Spiker told The Daily News' Dick Jerardi after the game. "I think our guys have responded. We're still not where we need to be defensively, but I thought we had a much more focused and efficient effort."
The blowout victory was also a godsend considering the limited rotation that has tightened up further following the news of junior Miles Overton's season-ending wrist injury, a tough pill to swallow for both the coach and player, who seemed to finally be hitting his stride on the offensive end for the first time since his transfer from Wake Forest University.
This lack of depth, however, would come back to bite them two days later in a showdown with the Towson Tigers. An early Drexel lead in the first half would turn into a five-point Towson advantage at half, before growing again in the second half to as high as 11. The reason: a dominating performance by their bench in comparison to Drexel's, outscoring them 37-4 by game's end.
Fans of area basketball recognized a familiar face leading this bench effort: John Davis, sixth man for the Tigers, enjoyed a storied career at Philadelphia Catholic League power Neumann-Goretti, and made his presence felt on his last trip home. Davis finished with a 14 point, 10 rebound performance that included an important bucket late in the game to fend off a furious Drexel comeback, which was led by freshman dynamo Kurk Lee's Herculean second half.
Lee scored 15 in the frame, willing his team back into contention with a mix of three point shooting, ball distribution, and steals on the defensive end of the floor. His five assists also pulls him to within one of the program's freshman season assist total, held by Drexel legend Michael Anderson since 1984.
Alas, despite his efforts, Towson remained steadfast in defense of their lead, staying unfazed even as it was whittled to a one possession game with 14 seconds remaining. The 69-65 final marked a disappointing loss for the Dragons, an unfortunately familiar tune that hearkened memories from their double overtime loss to the same opponent less than two weeks ago.
That said, it appears that Zach Spiker's impact is starting to take hold for the Dragons, who have seen their young nucleus begin to gel and post impressive performances as the season wanes. One can't help but draw the comparison to their professional counterparts, the Philadelphia 76ers, whose young group has begun to gain momentum in the new year as well. Look for this trend to continue as Drexel returns to the DAC for a Saturday afternoon matchup with Elon University Feb. 18.