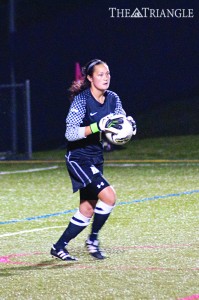 Very few athletes ever have the opportunity to represent their country in their respective sports. Drexel women's soccer goalie Eve Badana will represent her country, the Republic of Ireland, on the field Nov. 28 and Dec. 1. Her opponent will be the top-ranked national team, the United States women's national team.
Badana will be making her third and fourth career appearances against the 2012 Olympic champions Nov. 28 in Portland, Ore., at Jeld-Wen Field, then three days later on Dec. 1 at the University of Phoenix Stadium in Phoenix. The U.S. women's national team will feature players such as Abby Wambach, Alex Morgan and Hope Solo.
Badana relishes the opportunity to compete against the best team in the world. "It's a privilege playing this group of young ladies. I'm excited to see what the best are like up close, and it's definitely an honor," Badana said of about her upcoming opponents.
Along with her other two international caps, Badana's sophomore campaign with the Dragons women's soccer team has prepared her for her upcoming matches. This season, she completed one of, if not the most, successful campaigns for a goalie in Drexel history. Badana led the Colonial Athletic Association in goals-against average at .67 and in shutouts with 10. Both of these figures are Drexel records. As a result of her individual excellence, she was rewarded by being named the CAA Defensive Player of the Year. Her individual efforts benefited the Drexel women's team well as they achieved a program best13-3 mark this past season and advanced to the CAA semifinals.
Badana is relying on the coaching that she has received the past two seasons at Drexel to help her in her upcoming matches. She knows this will be a different environment. While playing for Drexel is important, Badana realizes the gravity of the situation at hand and the skill of the team she is going to play against. As a result, some things will have to change. On the international level, the game is much faster, and an added level of focus is needed to adjust to such a different level of play. Badana believes she has become a better player than she was when making her first two appearances for her country thanks to the coaches at Drexel. In her first appearance for Ireland, Badana became the first female from Drexel to play soccer for a national team. Add to that the experience she received during her first two matches, and she feels ready for the challenge ahead.
"You try not to think too much about it because it really is just another game," Badana said of the Ireland games. Along with the help of several veterans on the team, adjusting to the game will be an easier transition. This is an excellent opportunity for Drexel's young goalkeeper. Minding the net against the best team in the world will be a difficult task. However, if this past season's performances are any indication of what is to come, Badana will have little trouble adjusting in this game and succeeding in her upcoming matches against the gold-medal winners.