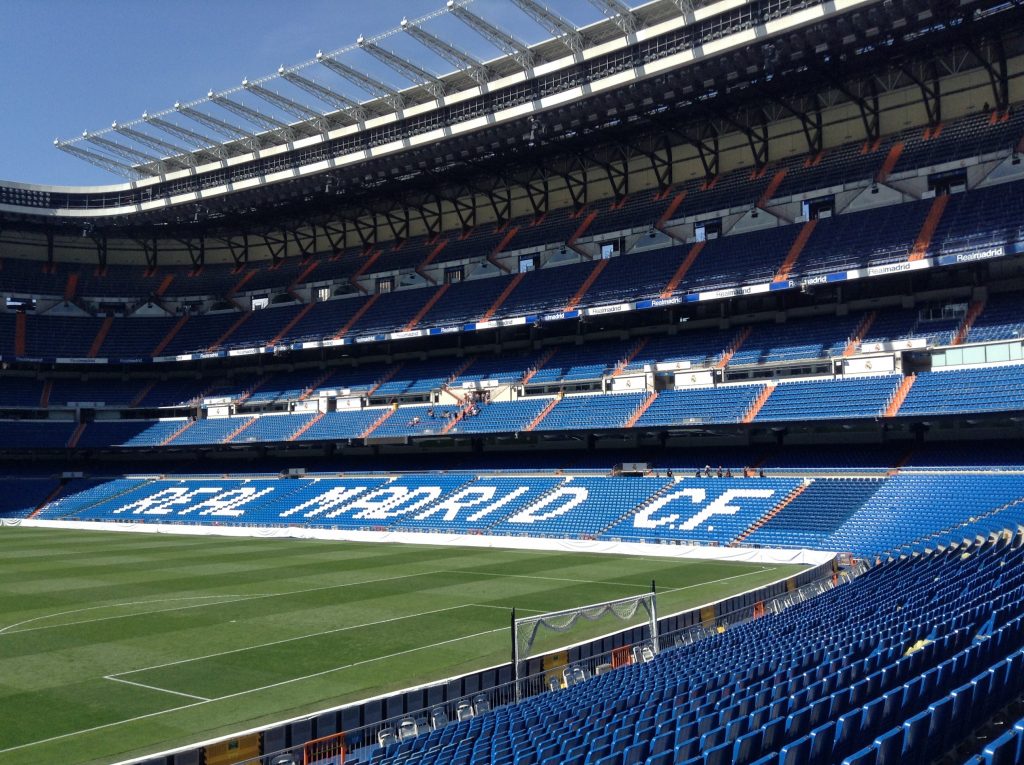 Only four teams remain in the Champions League this season as we get closer and closer to crowning the kings of Europe for 2023. The two sides of the bracket could not be more different than each other with the usual suspects Real Madrid and Manchester City rehashing their developing rivalry on one side with one of the oldest rivalries in world football, the Derby della Madonnina being played out on the other between Inter Milan and AC Milan. Fortunately for us fans, this means that we are guaranteed to see one titan team against an underdog in the final. Although it does feel somewhat silly referring to AC Milan or Inter as "underdogs," considering AC Milan have the second most amount of Champions League trophies with seven and Inter isn't too far behind with three, it goes without saying that no one seriously expected them to make it this far.
Real Madrid 1-1 Manchester City
The first leg of the series kicked off on Tuesday night between Real Madrid and Manchester City, two of the absolute best teams in the world and heavy favorites to win this competition dating back to the beginning of the season. Funnily enough, these two teams actually met at this very stage last year where Man City looked to have ensured the victory only for Real Madrid to pull off one of the greatest comebacks in Champions League history and snatch victory at the death, before defeating Liverpool in the Final.
Manchester City are one of the scariest teams to face right now as they can seemingly take down anyone at the drop of a hat. While it took a bit for Pep Guardiola to correctly adjust his possession-based style to the directness needed to accommodate new signing, Erling Haaland, once it clicked, they never looked back. Despite trailing behind Arsenal for most of the Premier League season, Man City fought back like always with a late-season surge and they now find themselves top of the table after a streak of wins including a 3-1 beat-down of Arsenal. This has translated to the Champions League as well with the Citizens smashing RB Leipzig 8-1 on aggregate before dispatching Bayern Munich 4-1 on aggregate with a statement victory in the quarterfinals. The first leg of their series against Bayern was a particularly outstanding performance.
Standing in the way of Manchester City's total domination is none other than Real Madrid who virtually need no introduction. The reigning champions of this competition, they have also won this trophy more than anyone else in history with 14 titles. In fact, they have double the amount of Champions League than the next highest winners, the aforementioned AC Milan with seven. This season in La Liga for Real Madrid started off well but they slowly fell away allowing Barcelona to take a commanding lead. In the cup competitions though, Real Madrid maintained their form, winning the UEFA Super Cup, the FIFA Club World Cup and crucially, the Copa del Rey last weekend. Carlo Ancelotti and his men look to add another Champions League to that list and after relatively easy wins against other English teams; Liverpool and Chelsea, Manchester City definitely have their work cut out.
Despite the match being held in Madrid, it was Man City who started off on the front foot, dominating possession and hitting their opponents with relentless attack after attack. In just the first 20 minutes, Thibaut Courtois in goal was forced into making multiple saves against Haaland, Rodri and Kevin De Bruyne. Though it must be said, most of these shots were from far out and the home team did well to protect their eighteen-yard box. Amid all this stress, Real Madrid looked just as calm as ever and were simply waiting for their moment to pounce. That moment would come towards the end of the first half when Eduardo Camavinga, who is a midfielder playing out of position at left-back, dribbled the entire length of the field before laying off the ball to Real's hero this season, Vinicius Junior, at the top of the box. It looked like Vinicius would pass the ball off or at least attempt to dribble farther in, but instead, he unleashed a cannonball of a shot which flew past Ederson and into the net. For all their pressure going forward, Man City found themselves a goal down meanwhile Real Madrid's patience paid off heavily.
Going into the second half, that goal seemed to deflate the Citizens while doing the opposite to Los Blancos, who were now on the front foot. Vinicius and his fellow countryman, Rodrygo, caused terror to Man City's backline with their linkup play and they almost scored a second after the two Brazilians set up Karim Benzema's whose shot was heroically blocked by John Stones. In the first half, Real Madrid took the lead through individual brilliance despite playing with their backs against the wall for majority of the 45. Ironically, the opposite would occur here in the second half with Man City being dragged level through Kevin De Bruyne against the run of play. After Rodri was able to decisively able to win the ball back in the middle of the pitch, the ball found its way to De Bruyne who was at the top of the half-circle. The Belgian midfielder swung and struck a low-grass-cutting shot with so much power, Courtois had no chance as it flew past him and into the lower bottom corner, equaling the score 1-1.
Despite scoring this vital goal, Man City could never regain the high energy from the first half and Real Madrid looked to find a winner. After Toni Kroos sent in a curling cross on a freekick, Benzema was able to make contact with a close header only for it to be saved wonderfully by Ederson with quick reflexes. Their best chance would come in the last minute of regulation time though as Aurelien Tchouameni hit a powerful longshot aimed for the top corner which also required a world-class save from Ederson. However, Man City held on, and the match finished 1-1.
Given the seemingly unstoppable form Man City were in, some expected them to blow away Real Madrid but that couldn't be farther from the truth as Real Madrid not only held on, but were the better team for large parts of the match. While the Citizens could still very well make it to the final, this opponent is likely the toughest they will face all season. Unfortunately for us fans, the star strikers of either team, Benzema and Haaland, were unusually quiet on the night. Though one might point to the defensive masterclasses the center-backs of both teams pulled off.
As the teams travel to Manchester for the return leg, there is still all to play for, especially when you consider that there are no more away goals. And while Man City were able to prevent Real Madrid from winning at home, the Eithad Stadium is not particularly known to be a hostile atmosphere and Los Blancos have shown to have no issues winning on English soil either. But don't expect Erling Haaland to remain dormant for long either.
AC Milan 0-2 Inter Milan
On Wednesday night we were treated to a momentous matchup that will likely be remembered for a long time in Italian football history. As was mentioned before, while Inter Milan and AC Milan have been rising back up the football hierarchy, very few would have expected either team to have made it this far.
The last time these two teams faced each other in the Champions League was the famously controversial semifinal in the 2004/05 season, nearly two decades ago. Since then, both teams peaked in the late 2000s, winning serious silverware before financial struggles and internal mismanagement saw them fall into disrepair in the 2010s. But thankfully for the Italian game as whole, the direction has shifted upwards over the past few years.
AC Milan won Serie A for the first time in over a decade last year and headed into this season looking to defend their title. However, it has overall been a very inconsistent season for them especially as Napoli ran away with the Scudetto this year. Milan went through a run of very poor form after Christmas break but it was actually in the Champions League knockout rounds where they rebounded with a narrow win over Tottenham. Since April, the red side of Milan has been in red-hot form, thrashing Napoli 4-0 in Naples in Serie A before also impressively eliminating them from the Champions League Quarterfinals leading Milan to where they stand now.
Their cross-town rivals, Inter Milan, have had a similarly inconsistent season as well interestingly enough. Looking to bounce back after winning the Scudetto in 2021, Inter was unable to string together good performances against the tougher opposition seeing them cede the title to the aforementioned Napoli. Stereotypical of a Simone Inzaghi team however, they have been extremely resolute in cup competitions, beating AC Milan, of all teams, 3-0 in the Super Coppa Italiana, making the Coppa Italiana Final for this season and then pulling off a series of great collective team performances to see off the Portuguese giants, Porto and Benfica, to make it to the Champions League semifinals.
Speaking of previous results between these two teams, Milan edged out a 3-2 victory back in September in league play only for Inter to respond with a close 1-0 win in February with that 3-0 Cup Final win sandwiched in between. Therefore, this first leg here in the Champions League was perfectly poised to be a classic.
When the match kicked off, both teams tried to put their opponents under intense pressure, contrary to the stereotypes of Italian teams being defensive and slow. However, it would be Milan who cracked first with their players unable to handle the aggressive attacks of Inter. Winning an early corner, Hakan Calhanoglu sent in a looping cross that was so pinpoint accurate, all Edin Dzeko had to do was brush off his marker and side-foot it into the top corner. Milan were shellshocked and only a few minutes later, Nicoo Barella flicked a soft pass to Federico Dimarco who sent a low cross to Henrikh Mkhitaryan who was making a deep run through the middle. With a quick dribble, Mkhitaryan was now 1v1 with Mike Maignan in net, and sent the ball sailing past him. Merely 11 minutes into the game, Inter Milan were 2-0 up and the score could've been even worse when Calhanoglu sent a missile of a shot which painstakingly crashed off the post. Inter had another chance to increase their lead after Lautaro Martinez embarrassed Fikayo Tomori with a silky dribble only to be taken down by Simon Kjaer in the box. Although the referee judged the contact was minimal and he called the penalty back.
The first-half performance was possibly the best 45 minutes Inter played this whole season but heading into the second half, they couldn't keep up the momentum meanwhile Milan were able to compose themselves after their ongoing defensive calamity. That being said, Inter almost made it 3-0 again when Alessandro Bastoni, of all people, ran straight at Milan's defense before laying off the ball to Dzeko whose shot was only stopped following a brilliant save from Maignan. Aside from that mishap though, the Rossoneri carved out some chances for themselves as Sandro Tonali got on the ball more. Early in the second half, an excellent through ball from Tonali found Junior Messias wide open on the right flank but he unfortunately dragged his shot wide. Shortly after, Tonali himself had a wonderful shot which just struck the post. After that flurry of Milan chances though, the Nerazzurri did regain control over the match, choosing to batten down the hatches and close out the match with a 2-0 victory, and eventually, the game ended with that same scoreline.
While Inter did falter slightly in the second-half, their first-half performance was immaculate and they come away with a commanding 2-0 win which could've, and probably should've, been higher. As for Milan, they were severely missing their most dangerous player, Rafael Leao, through injury and it showed as Olivier Giroud was completely isolated up top and Theo Hernandez had no one to linkup with. That being said, Leao's absence doesn't excuse Milan's defensive collapse. Still though, it is only 2-0 and if Leao is able to make it for the return leg, Milan have all the chance in the world to stage a historic comeback.