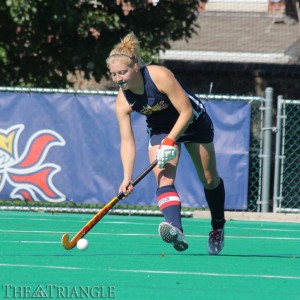 The Drexel field hockey team saw its season come to an end Nov. 8 against Northeastern University in the semifinal round of the Colonial Athletic Association Tournament. After an exciting season, the second-seeded Dragons took on the third-seeded Huskies and fell by a score of 2-0.
It was 0-0 heading into halftime. Northeastern tacked on two goals in the second half to take the 2-0 win to head to the CAA final, where they lost to the University of Delaware.
"Postseason is always competitive," senior co-captain Lindsay McArdle said. "We had a strong first half, but Northeastern had a strong push in the second and took advantage of their opportunities. It was a hard-fought game for both teams, and we just didn't put it away when we had our chances."
The Dragons end the 2013 season with a 13-7 overall record and a 4-2 conference record.
"Despite us not getting the result we wanted last weekend, we still had an impressive run this season," McArdle said.
McArdle was one of five players to be selected to the All-Conference team, which was voted by the CAA head coaches. She was joined by junior goalie Jantien Gunter and sophomore back Lauren Hibshman, who also received First-Team All-CAA honors. Junior midfielder Christina Conrad was named Second Team All-CAA, while freshman midfielder Jessica McCarthy earned a spot on the All-Rookie team. Senior co-captain Kristen Focht was named to the conference's All-Academic Team.
"From the beginning of our season until now, we have improved greatly as a team," McArdle said. "We can reflect on our wins and our losses, but one thing that we will carry with us from this season and for the rest of our lives are the memories we made along the way."
Drexel will now go into the offseason and try to figure out who will fill the shoes of the three graduating seniors: McArdle, Focht and Elise DiDonato.
It seems as though none of the graduating seniors are too worried about the future of the program they are leaving behind.
"The Dragons will not waste any time getting ready for the 2014 season," McArdle said. "This program has done nothing but improve over the last couple of years, so what's next for the Dragons? I would expect to see big things coming from Drexel field hockey in the future."
This is the second consecutive year the Dragons have made the CAA playoffs. After a long season of battling in every game, Drexel will now look to improve and carry the program's success forward.