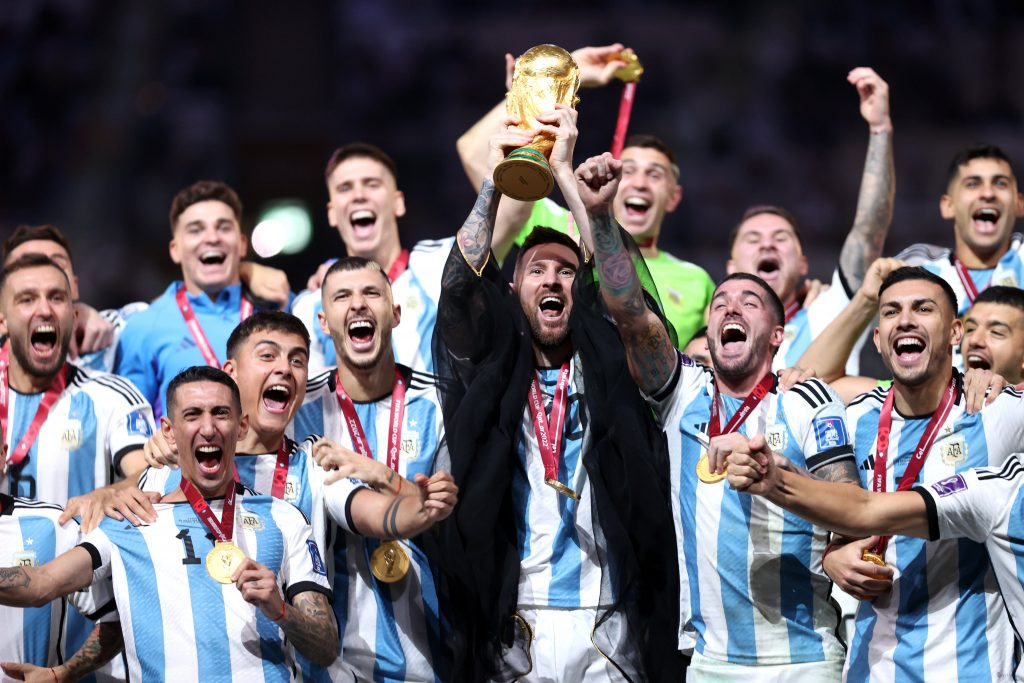 On the night of Dec. 18, 2022, Gonzalo Montiel sent his penalty past Hugo Lloris into France's goal to win the penalty shootout and seal the 2022 World Cup for Argentina. The entire South American nation was immediately thrown into jubilation, and this was seen on the field where a unique phenomenon occurred. After the team lifted the trophy and celebrations commenced, the players headed over to the Argentine fan section and together with the teary-eyed passionate supporters, they all sang, in unison, the song, "Muchachos, Ahora Nos Volvimos a Ilusionar," ("Boys, Now We Can Hope Again,") word for word.
The captain and star player, Lionel Messi, led the chant while holding the actual World Cup trophy and being hoisted up in the air on the shoulders of Sergio Kun Agüero. It is not common to see such a strong connection between the fans and players of a large and prestigious team like Argentina, especially during a massive tournament like the World Cup. However, the nation of Argentina is one that shares a unique bond with football. The sport is an integral part of their culture, and this song, which carried Argentina through the 2022 World Cup to the point where they were crowned champions of the world, is a prime example of that. But what exactly is the story behind this song, and why is it such an eye-opening window into Argentine football culture?
This song dates back to the late 1990s with the formation of La Mosca Tse – Tse, an Argentine rock fusion band who combine many genres such as tango, cumbia, salsa, reggae and Latin pop. In 2003, they released the song "Muchachos Esta Noche Me Emborracho," ("Boys, I'm Getting Drunk,") a rather upbeat yet dreadful breakup song with lots of tango influence. This song was widely popular across Argentina, specifically with football fans but little did La Mosca know that their song would lead their nation to World Cup victory almost 20 years in the future.
On the footballing side of things, Argentina went through a rather lengthy trophy drought after the retirement of their star Diego Maradona who captained La Albiceleste to triumph at the 1986 World Cup. While Argentina did win the 1993 Copa América, they would not win a single trophy for the next 28 years, a catastrophic return for a nation with such a rich footballing history. What made this period so much more painful was the manner in which Argentina lost, often coming so close to success before failing at the last hurdle. Argentina painstakingly lost in the 1995 Confederations Cup Final, the 2007, 2015 and 2016 Copa América Final and even the 2014 World Cup Final. To make it even worse, from 2006 and onward, Argentine possessed Lionel Messi, the heir-apparent to Maradona. And yet, with seemingly the best player in the world, they still could not win.
For a country so obsessed with football, blame was pointed in every direction – to the Argentine Footballing Association, to CONMEBOL (the South American governing body of football), the managers, the players, and, possibly most unfairly, to Messi himself, who was expected to fill the shoes of Maradona. While it took many years of hardships, the detractors were ultimately proven wrong when Messi led Argentina to victory at the 2021 Copa América, breaking the winless streak. For years there were issues with the team. The star players didn't work together, they had subpar managers and the team lacked balance. But finally, the coach Lionel Scaloni was able to construct an extremely well-rounded team built upon pure grit and determination, not to mention a motivated and hungry Lionel Messi. This all culminated in Argentina deservedly winning the 2021 Copa América after defeating their eternal rivals host nation Brazil 1-0 in the final, ushering in a new era. Their success was further solidified at the Finalissima in June 2022, where Argentina faced off against Italy, the European continental champions; Argentina ranaway as emphatic 3-0 winners.
These two trophies sparked a feeling of great hope within Argentine football fans which had not been felt in decades. Funnily enough, this manifested itself in a very interesting way. A schoolteacher named Fernando Romero took that famous La Mosca song and rewrote the lyrics, turning it into an anthem to cheer on Argentina at the upcoming World Cup, and thus, "Muchachos, Ahora Nos Volvimos a Ilusionar," ("Boys, Now We Can Hope Again,") was born. Romero's lyrics went viral on social media until the artist, Viraliza2, turned it into a cumbia song and uploaded it on YouTube where it got millions of views, spawning many more remixes and covers (cumbia is a very popular genre of music in Argentina and Latin America in general). This song expressed the joyous feeling that surrounded this team. For the first time in generations, Argentina were heading into the World Cup with an almost comfortable confidence that they should win the whole thing. It almost felt like destiny: for the people, for Messi and for Maradona, who passed away in 2020. Then about a week before the 2022 World Cup kicked off in late November, La Mosca themselves officially released a version of "Muchachos" with Romero's lyrics, propelling the song into superstardom.
Translated to English, the lyrics to the song are as follows:
Español: En Argentina nací,
tierra del Diego y Lionel,
de los pibes de Malvinas
que jamás olvidaré.
No te lo puedo explicar
porque no vas a entender
las finales que perdimos
cuantos años las lloré
pero eso se terminó
porque en el Maracanã
la final con los brazucas
la volvió a ganar papá.
Muchachos,
ahora nos volvimos a ilusionar.
Quiero ganar la tercera.
Quiero ser campeón mundial.
Y al Diego
desde el cielo lo podemos ver
con Don Diego y con La Tota,
alentándolo a Lionel.
Y ser campeones otra vez
English: In Argentina, I was born
Land of Diego and Lionel
And the boys from the Malvinas
That I will never forget
I can't explain it to you
Because you won't understand
The finals that we lost
How many years I cried
But that is over
Because in the Maracanã
The final against the Brazilians
Papa won it again
Boys,
Now, we hope again
I want to win a third
I want to be world champion
And Diego
From Heaven we can see him
With Don Diego and with La Tota*
Cheering on Lionel
And to be champions again
*The parents of Diego Maradona
Taking a deeper look into the lyrics, it is easy to see why this song caught on with both the players and the fans, as it really captures the Argentine spirit and is a reflection for Argentine national identity overall. The song opens up by describing the entire nation of Argentina as the "land of Diego and Lionel," obviously referring to Maradona and Messi, the most iconic Argentine football stars and in many ways, the most popular and relatable Argentine figures in recent history. The song also makes a reference to the "pibes (boys) of the Malvinas," in other words, the fallen soldiers of the 1982 Malvinas War.
This conflict arose over a collection of islands off the coast of Argentina which the UK also lays claim to, referring to them as the Falkland Islands instead. This disagreement dates back several hundred years to Argentine Independence from Spain but in 1982, it erupted into war with Argentina attempting to regain the islands only to suffer a heavy defeat. Since then, this conflict has been a crucial part of Argentine nationalism, as it serves as one of the few things all Argentines can agree on. It also evokes the Argentine desire to lead their own destiny, separate from the European superpowers. This context made Diego Maradona's pair of goals against England at the 1986 World Cup all the more beloved in Argentina.
While "Muchachos" does reference the pain of the recent string of losses in major finals, it speaks about it with a sense of optimism for the 2022 World Cup. More interestingly though, is the manner in which it refers to Lionel Messi. Despite being such a talented footballer, Messi has not had the smoothest relationship with the Argentine public, mostly due to the shadow left by Maradona. As was mentioned before, this rested on the lack of silverware, but another component was the context of Maradona's character. He was the embodiment of the "pibe" (street kid) spirit. He came from poverty and rose to the top of society. He lived his life struggling with heavy controversies including but not limited to alcoholism, drug addiction, mafia connections, contentious political views as well as his bombastic and eccentric personality. While his talent on this pitch was unimpeachable, his imperfections off the pitch were relatable to the average Argentine. Furthermore, his goals against England immediately after their defeat in the Malvinas War offered a form of revenge to their international enemy. Messi, who came from a middle-class background, who spent most of his life in Spain and who lives an extremely private life without much controversy, occupies a different space than Maradona.
However, "Muchachos" marks the beginning of a new age, one in which Argentines have come to terms with the differences between "El Pibe de Oro" and "La Pulga Atomica," where Messi and Maradona are viewed as equals even if they have many differences. If anything, Messi is viewed as the next iteration of Maradona despite carving out his own path. Though Messi did not grow up playing with a pelota de trapo in a potrero, nor did he avenge the fallen soldiers of the Malvinas, he still inspired the entire nation by pushing them to the highest altitude of victory that can be achieved while instilling joy in the heart of every Argentine. This song is evidence of Messi finally being accepted by the Argentine people, which is why it was so popular.
Aside from the scenes at the 2022 World Cup Final, "Muchachos" became the anthem pushing Argentina to victory early on after their crucial yet hard-fought win over Mexico in the group stage. Videos surfaced of the players celebrating in the locker room while singing and dancing to this song further encouraged the fans to cherish it even more so than before. It then became tradition after each Argentine victory for the players to celebrate with the song and it was commonplace to hear the fans chanting the lyrics before, during and after each match, strengthening that intangible yet unbreakable bond between the players and fans which was crucial to their World Cup title.
Music being a part of the fan experience is normal in countries across the world, but in Argentina, it shares a unique connection like no other. While it is part of Argentine football fan culture to carry drums and horns to games while coming up with chants and hymns, commercially-released songs by popular artists play an equally vital role. This is seen countless times throughout the years with iconic songs like "La Cumbia de los Trapos" by Yerba Brava, which talks about the fan experience at a football match, "La Mano de Dios" by Rodrigo, which is about Maradona's famous Hand of God goal, "Soy Sabalero" by Los Palmeras, a prideful anthem about being a fan of the Argentine club Atletico Colon de Santa Fe, or even the newly released "3 Estrellas en el Conjunto" by Bizarrap, Duki, and La T y La M, which is a tribute to Argentina's 2022 World Cup win.
So whether it be the immortalization of Messi and Maradona, honoring the fallen troops of the Malvinas, paying homage to Argentina's Catholic roots or just longing for victory, "Muchachos" by La Mosca is a beautiful reflection of Argentine football fan culture and as a result, played an unexpected role in their road to victory at Qatar 2022.