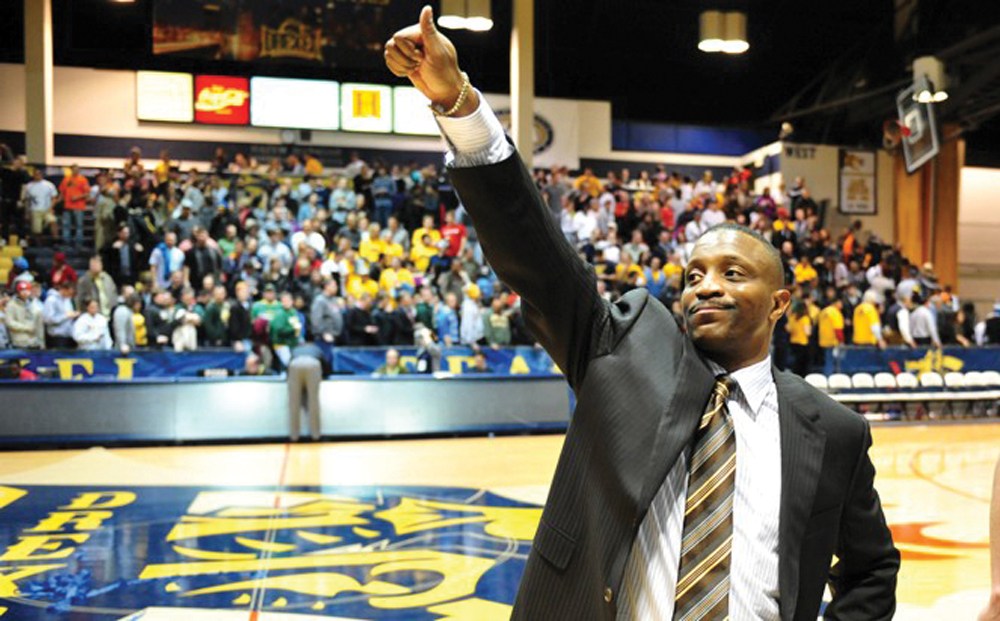 James "Bruiser" Flint, Drexel's head men's basketball coach, was fired on March 7.
It was a long time coming, and it was the right decision by Drexel's athletic department, but it's an awfully difficult pill to swallow.
Flint did his job just about as well as he could have for 15 years. Watching a relationship like this one come to an end is tough. It's akin to closing a book and then never returning to it, no matter how much you came to love the story it laid bare.
Asking Flint to sell faith and belief in athletic success at Drexel was to ask that same man to draw water from a rock, night after night and recruiting trip after recruiting trip.
Flint was handed the sixth-best car in a six-car lot, told to dress it up like a sports car, and ended up turning it, for many years, into a serviceable, efficient sedan.
He took Drexel men's basketball, stumbling and aimless after two uninspired years under Steve Seymour, and turned the program around in a hurry. He didn't waste any time; he won 37 games in his second and third years combined. He should have made the NCAA tournament in his sixth.
Flint's Drexel teams did the impossible time and again.
They knocked off ranked powerhouses in Syracuse and Louisville. They beat the University of Pennsylvania so consistently and thoroughly that the Quakers' athletic director refused to let his team of Ivy League athletes travel across the street. Flint turned Samme Givens, a 6-foot-5 kid born right here in Philadelphia, into the most formidable rebounding machine the Colonial Athletic Association had seen in years.
He hung around the program longer than nearly every coach in Drexel history, save Sam Cozen, whose name is emblazoned on the Dragons' home court.
Flint did his job the right way by putting the kids first. His job was to coach a basketball team, but in his eyes that team was comprised of teenagers and early 20-somethings figuring out just what they were trying to accomplish in their lives.
In his decade and a half, Flint's teams posted at least a 90 percent graduation success rate, and the program received the NCAA's Academic Performance Award four times.
And he cared for the school. He cared for each person walking around campus; he cared for the fans who dedicated time and energy to coming out to his games.
He even cared for the stupid reporter trying to get him fired.
Once, in the fall of my sophomore year, I walked to lunch as Flint sauntered up 33rd Street, past the volleyball courts. He had an audience, a cast of about a half dozen walking behind him, hanging on his every word because Flint is, at his core, a people person.
I was content to keep my head down, to let him keep doing his thing. I had only covered the team for half a season. He doesn't even know who I am.
But as I turned my head away, I noticed an arm in the air. It was Flint, waving at me, a modest grin across his face. He recognized me, and went out of his way to make sure I knew that.
We were, it would turn out, in this together. Just on opposite sides of the fence.
Even when Flint knew the tide had turned, and that this season would undoubtedly be his last at the school he had given a decade and a half of nothing but his best, he was unflinching in the face of criticism and professional to a fault.
Flint laughed — maybe with me, maybe at me — in post-game press conferences, but he always made sure he got his point across.
"No, but seriously," he would say after each pointed joke. He was never one to be misunderstood.
Hopefully, those who enjoyed spending time on campus during his tenure made sure to stop and enjoy what they were watching. An entertainer on the sidelines, a winner on the floor, and a teacher of young men.
Flint was honest. He never handed out platitudes. He was sometimes affable.
He was always Bruiser Flint.