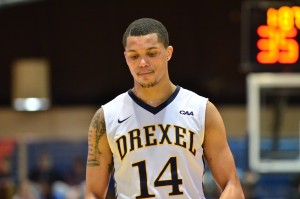 At the very least, Damion Lee deserved a chance.

The Baltimore native deserved a shot at taking his team to his hometown and attempting to do the impossible, just as he had all season long.

The Drexel University men's basketball team had no place in the Colonial Athletic Association championship discussion this season. The Dragons hauled a young, growing team into the season. The team had a bona fide star in Lee, and they had surrounded him with shards of basketball players.

But there the Dragons were, topping Southern Mississippi in late November behind Lee's 22 points on 10 shots. And there they were again in late January, rolling past a far superior Northeastern University team because Lee plastered 33 points on the Huskies.

Damion Lee willed the Dragons to heights they never deserved to find themselves at this season; averaging 21.5 points per game through 27 contests, he was putting on performances that belonged at major conference programs.

All of that is what made the news of Lee's season-ending broken hand on Feb. 22 so sobering. The junior, spending his fourth year in University City, had returned from an anterior cruciate ligament injury that cost him the overwhelming majority of the 2013-14 season.

Lee had waited for his turn, rehabbing every single day in the school's recreation center. He came back with a vengeance in November and attacked each game like he needed to score 50 points. Nothing less would suffice. He was the best player in the conference, a modest but self-assured sharpshooter capable of almost anything on the floor if he set his mind to it. Three-pointers? Locked down. Free throws? In his sleep. Post moves? Sure, why not?

No team in the CAA could stop him. Only injury, the cruelest way to watch your season end, could do that.

"I just feel bad because I think [Lee] was going to get MVP of the league," head coach James "Bruiser" Flint said after the team's 58-44 loss to the University of Delaware Feb. 26. It was the team's first game without Lee. "I hope this doesn't hurt him. He was having one of those seasons. Now you miss a couple of games, and people at times get out-of-sight, out-of-mind. He should be MVP of the conference. We went through a lot and he put us on his back."

All on his back. Every inch of the team rested squarely on Lee's 6-foot-6-inch, 200-pound frame.

He played every single minute of 13 games this season. He averaged 38.1 minutes per game, tied for sixth-most in the entire country.

During an improbable six-game win streak that catapulted the Dragons into the CAA title conversation for just a few fleeting moments in early February, he averaged 22.8 points per game. In back-to-back games during that stretch, against two of the three best teams in the conference, he scored 33 points and 32 points, respectively.

Frantz Massenat and Chris Fouch, the Dragons' two best players last season in Lee's wake, were two of the greatest players in program history. But neither one holds a candle to what Lee can do with a basketball. Scouts think he has a chance to play in the NBA when he finishes up his time at Drexel. They came to watch him play; a handful of scouts were in attendance when he broke his hand against Northeastern.

All of this is to say, Damion Lee is something special. Damion Lee is a player that Drexel fans don't get to see often; they haven't seen one like him in quite some time, and they shouldn't expect to see another one any time soon.

Lee will play his final season as a Dragon next season, unless the unspeakable happens and he suffers yet another injury. A little more than eight months out, it seems as if the team could be serious contenders for the conference title with Lee leading the way.

Flint said he told his star player to start thinking about next season already. Lee will be healed and ready to go in a month, and he can start working on improving his already impressive game. It will be conference title or bust for Lee and his teammates.

And yet, while next season may be the one he's waited for his entire Drexel career, the fact that Lee couldn't finish out this campaign feels entirely unfair. It feels like a great work of art went unfinished.

After the Dragons' loss to Delaware, Flint said with a laugh that he told Lee he broke his hand because "he shot every shot."

Of course, Lee never would have settled for anything less.