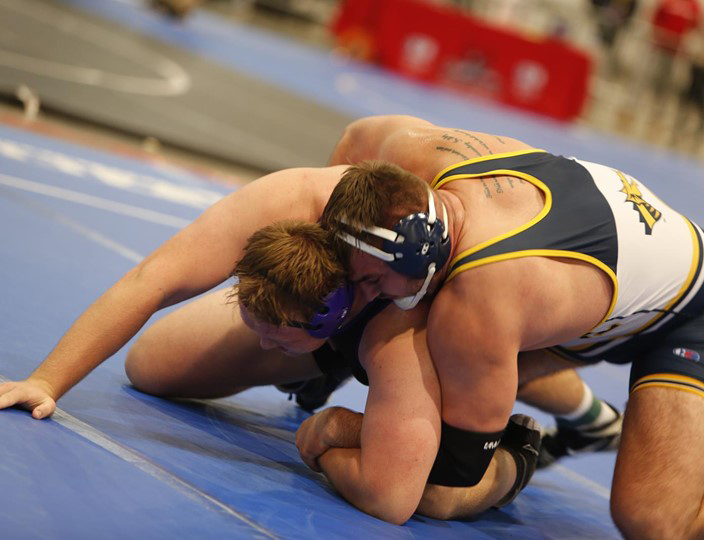 Following a strong showing in their last outing at the Keystone Classic Nov. 18, in which the Drexel University men's wrestling team finished second out of 10 teams, the Dragons saw their competition quadruple in size Nov. 30 when they traveled to compete at the 2018 Cliff Keen Las Vegas Invitational in Nevada.
Multiple Drexel wrestlers had strong performances at the Keystone Classic to secure the runner up spot as a team, falling short to the current National Collegiate Athletic Association Division I wrestling champions, Pennsylvania State University. Top placements were earned by upperclassmen and underclassmen alike as junior Ebed Jarrell, and seniors Stephen Loiseau and Joey Goodhart each earned second place in the heavier divisions. Sophomores Chandler Olson and Evan Barczak took runner up spots in some of the lighter weight classes.
In the wake of these results, Drexel felt confident going into Las Vegas as two members of their squad, Loiseau and Goodhart, had each been ranked within the top 20 of their respective weight classes out of the 115 wrestlers scheduled to be competing at the invitational. All rankings are from before the competition.
Drexel were one of 42 teams competing in Las Vegas during the weekend, some of which have been ranked as some of the elite programs in the country, including The Ohio State University, University of Michigan, University of Missouri, University of Minnesota and University of Nebraska at Kearney, each of which round out FloWrestling's current top 10 rankings.
In his first match, freshman Antonio Mininno took on University of Virginia's Louie Hayes, then the No. 6 ranked wrestler at 125 pounds nationally. Mininno dropped a 19-7 decision to Hayes, before going on to grind out North Idaho Colleges Jacob Frias 7-5 in the first round of consolations. Mininno would end his run after a close 7-6 bout against Joshua Portillo of Nebraska.
At 133 pounds, freshman Ty Smith received a bye in the first round before taking on University of Illinois's Dylan Duncan, holder of the No. 11 collegiate ranking in the division. Smith was defeated 9-2 to fall into the consolation bracket, where he was matched up against North Idaho's Nicholas Hara. Smith out-worked Hara en route to a 18-3 technical fall, before proceeding to earn a 10-5 decision over United States Air Force Academy's John Twomey. Smith closed out his day after a 18-3 technical fall loss to North Dakota State University's Cam Sykora, the category's No. 15 ranked competitor.
Sophomore Julian Flores had a similar run to his fellow underclassmen, as he dropped his first match, before going on a solid run in the consolation rounds. The No. 15 competitor at 141, Dom Demas of the University of Oklahoma, defeated Flores 4-2, who used the loss to fuel back-to-back decision wins over North Dakota State's Gavin Sutton and Jonathan Killingsworth of Nebraska. Flores was eliminated after Binghamton University's Anthony Sparacio handed him a 6-3 decision loss.
After being granted a bye in his first match in the 157-pound division, sophomore Evan Barczak barely lost out on going on to the next round in his 3-2 loss to Purdue University's Griffin Parriott. Barczak collected a pair of decision wins over Oklahoma's Justin Thomas and Northern Iowa University's Pat Schoenfelder. Nebraska's Matthew Malcom made sure Barczak didn't qualify past the consolation round of 16 after handing him a 7-5 decision loss.
The middle weights saw limited success on the first day of the competition as sophomore Mike Manley and redshirt freshman Bryan McLaughlin each dropped two matches in a row to exit the competition early in the 165 and 174-pound categories respectively. Manley took decision losses to Air Force's Marcus Amico and Cornell University's Milik Dawkins, while McLaughlin dropped his matches to Oklahoma's Anthony Mantanona and Central Michigan University's Collin Lieber.
It was in the heavyweight divisions where Drexel saw the majority of their success. Having gotten through on a bye in his first match in the 184-pound division, junior Owen Brooks was outed from the winner's bracket after a 20-2 tech fall loss to No. 3 ranked Nebraska prodigy Taylor Venz. Brooks won a decision over Harvard University's Clifton Wang and pinned Northwestern University's Brendan Devine, almost breaking into the consolation quarterfinals before being outmatched by Utah Valley University's Will Sumner in a 18-0 technical fall defeat.
Coming into the competition, the No. 9 ranked Loiseau was expected to have a good performance at 197 pounds, and the upperclassman had a tremendous opening with a routing of Sawyer Root, from The Citadel, the Military College of South Carolina, in a 15-0 tech fall win. Although Utah Valley's Tanner Orndorff ended Loiseau's chances in the winner's bracket, the Drexel senior would rally to earn himself a spot in the consolation quarterfinals.
Loiseau took home pins over Highline College's Daniel Allen and North Idaho's Hunter Gregerson, as well as a decision Jackson Striggow, the No. 16 ranked Michigan prospect. Loiseau went to war in his final match, a high scoring affair against the No. 8 ranked Nathan Traxler, a rising star in the sport coming out of Stanford University. Loiseau ultimately fell to Traxler 15-11.
Drexel's most outstanding performance came from their most physically imposing wrestler, No. 19 ranked Goodhart, a 285 redshirt senior. Though Goodhart followed in the steps of his teammates at first, dominating his first match before falling into the consolation bracket in the second, Goodhart was determined to leave his mark on the event. He was the only member of the Drexel squad to qualify for the second day of events following five-straight wins over Campbell University's Odgerel Batkhising, Harvard's Evan Callahan, Northwestern's Conan Jennings, North Dakota State's Brandon Metz and California State University Fresno's AJ Nevills.
In the semifinals of the consolation bracket Dec. 1, Goodhart shared the mat for the last time against Zach Elam of Missouri. He exited the competition after a 10-2 decision loss. For his deep run in the tournament, Goodhart was named Drexel University's School of Education Athlete of the Week.
Goodhart and his teammates will return to the Daskalakis Athletic Center Dec. 7 for their second home meet of the season. They will be facing the United States Military Academy in a match-up that is sure to bring the noise.