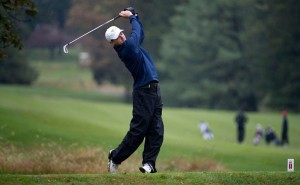 With just a handful of months left in his illustrious college career, the greatest golfer Drexel University has ever seen kicked off his final season in fine fashion.
Senior Chris Crawford shot a second-round 68, two-under par at the Bartlett Country Club, and finished with a two-round score of 141 to lead the Dragons to a come-from-behind victory at the Leo Keenan Invitational Sept. 21.
The Dragons shot a two-day total of 579, five strokes ahead of second-place finisher Robert Morris University.
This time around, Crawford finished tied for third with Chris Stricek of St. Francis, Pennsylvania, once again four strokes behind the leading shooter, Garrett Browning of Robert Morris.
But with the title on the line, in a tournament that Drexel had flirted with winning in years past, the experienced Dragons put together a staggering second round to claim the trophy.
Along with Crawford's fiery 68, junior Yoseph Dance shot a second-round 70 after carding a three-over-par 73 in the first round to finish tied for sixth with a two-day score of 143, just two strokes behind Crawford.
Dance cemented himself as the Dragons' go-to No. 2 option last season, and this start to the season only reaffirms that he is a force in his own right alongside Crawford.
Behind Crawford and Dance, two new faces looked sharp in their first tournaments as Dragons.
Aaron Fricke, a transfer from Lackawanna College, shot 73 and 75 in his first tournament with Drexel to finish an eight-over-par 148, good enough to tie for 15th overall in the field of 48.
And freshman Mike Cook shot an impressive one-over-par 71 in the second round after an underwhelming 78 on Day 1 to finish with a solid two-day score of 149, tying for 17th overall.
Without any key graduations, and only one player lost to transfer during the offseason, the Dragons are poised to make Crawford's final season something special. Of course, the players and talent were in place last season, but the Dragons managed to win just one tournament, the City 6 Championship, a small-scale competition that posed no sort of real challenge.
But with Crawford hitting consistently, Dance continuing to improve, and new faces finishing in the top 20 in tournaments, head coach Mike Dynda and the Dragons could be on to something this season.
Something really impressive.