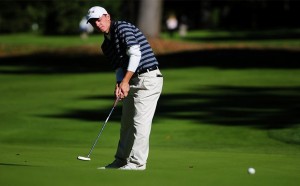 It's one thing to start off on the right foot. It's another thing entirely when your whole team does so.
The Drexel University men's golf team teed off its 2014-15 season Sept. 14 at the Leo Keenan Invitational, hosted by St. Bonaventure University, and made short work of breaking the all-time school record for lowest combined team score in a 36-hole tournament by 14 strokes. The record had stood since 2005, when the team recorded a 584 at the Old Dominion University/Seascape Invitational.
The Dragons finished third out of 12 teams in this year's Leo Keenan, shooting a two-day total of 570, just five strokes behind tournament winners Robert Morris University and two behind Humber College.
"I was very happy with our performance," head coach Mike Dynda said. "It was a great start to the new season with two freshmen, two sophomores and one junior. We had three people playing the course for the first time and you wouldn't have been able to tell by the way they played."
Junior Chris Crawford shot a two-day total of 141, good for seventh overall, and was followed close behind by freshmen Avery Schneider and Adam Mistretta, who shot 142 and 143 respectively. Schneider finished tied for ninth and Mistretta tied for 11th in the first tournament of their respective careers, an impressive start on what has proven to be a tough course for the Dragons in the past.
Dynda said he was impressed with the way Schneider and Mistretta executed this weekend, sticking to the plan they had laid out.
"We had a good practice round, a good game plan going in and the guys listened to our advice," Dynda said of his precocious pair of golfers. "[Schneider and Mistretta] played well this summer and they continued it this weekend. They overcame the first-tournament jitters and did well."
The Dragons' mainstay golfer, Crawford, shot a consistent pair of rounds, carding a 71 on the first day of play and a 70 on the second. He finished just four strokes behind tournament champion Ryan Prokay from Robert Morris, and his coach thought Crawford could have finished even higher if he'd played his best golf.
"Chris kept the ball under the hole this weekend," Dynda explained. "He had his usual good scoring despite not striking the ball as well as he usually does."
In the end the six golfers who finished ahead of Crawford carded at least one round in the 60s, as did the two golfers who finished immediately behind him.
Sophomores Yoseph Dance and Brian Fischer rounded out the Dragons' five in Olean, New York.
Dance, who finished last season with the second-best scoring average on the team behind only Crawford, shot a solid 72 in the first round before falling off pace on the second day, carding a 77 in the second round to finish tied for 38th at 149.
Fischer showed great promise towards the end of last season, including out-shooting Crawford in the penultimate tournament of the season. His season got off to a rocky start on the first day with an 80, but he was able to compose himself before the second round and shoot a 72 to finish tied for 57th with a two-day total of 152.
Dynda said the way Fischer played Sept. 15 is indicative of the way this team is able to look forward after a bad round, and he's happy with the way Fischer handled himself after a disappointing first round.
"All of our guys have the ability to put a bad round behind him," Dynda said. "[Fischer] had four birdies in a row [the second day] and rebounded well from round one."
All five of Dynda's golfers finished within 11 strokes of each other, which shows just how deep this team is this season. He said the team is "pumped up" heading into the Cornell Invitational Sept. 20, an event that Crawford won last season and that the Dragons finished just five strokes short of winning as a team.
Dynda said to expect the same five golfers to head up to Ithaca, New York, for the upcoming tournament.
"If we win a tournament or set a new record like we did, the same five go," he explained.
Sound reasoning for a sound team.