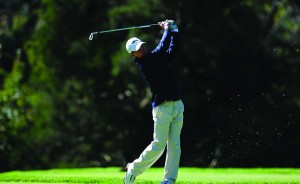 Frederick Douglass once said that without struggle, there is no progress.
After two weeks, the Drexel golf team has shown that they're intent on being a part of the trophy conversation in any tournament they compete in. But the team is still progressing.
That's where the struggle comes in.
The team finished fifth at the three-round Cornell Invitational Sept. 20-21 in Ithaca, New York, just six strokes behind tournament winner Dartmouth University.The fifth-place finish was tough to swallow for the team ¬— the Dragons were one stroke off the lead heading into the final round Sept 21, and even began the third round strong. The title was within their grasp. It just slipped out of reach on the back nine.
Still, head coach Mike Dynda was not disappointed by the perceived collapse down the stretch, but rather encouraged by the way his team shot over the weekend.
"We got off to a great start at the beginning of Round 3," Dynda said. "In my estimate, we were leading the event with six holes to play. The fact that we stumbled a little down the stretch is all just growing pains.
"We will learn from this and use this experience in a positive way in our next event at George Mason [University]."
Junior Chris Crawford once again paced the team, shooting a three-day total of 220, going for a 72 on the first day before carding a pair of 74s in the second and third rounds. He finished tied for third, just two strokes behind Blake Carter of Longwood University, who used a second-round 70 to separate from the rest of the field.
Crawford said he didn't like the way he shot the ball during the tournament, an interesting thought considering he finished two strokes from winning the tournament for a second straight year.
"This past weekend at Cornell [University] I didn't have my game with me," Crawford said, "but I found a way to score relying a lot on my short game and course management."
"It's always encouraging having an opportunity to win a golf tournament," he continued. "I'm very happy with my finishes, and I believe I'll be in good shape to finish off a tournament in the near future.
"You just have to keep putting yourself in position and things will work out."
Dynda said his best golfer may have had his status as reigning champion weighing on his mind over the weekend, which could have lead to Crawford's inability to walk away with the win. But he said he's very confident in the junior's play after two tournaments, mainly because he knows Crawford's best days of the season are yet to come.
"Chris will also get his wins," Dynda said. "He shot a little higher than his average this weekend and came in third. That makes me proud."
Of course, one star does not a successful golf team make.
Behind Crawford, the Dragons' trusty four support players — freshman Avery Schneider, sophomore Yoseph Dance, sophomore Brian Fischer, and freshman Adam Mistretta — finished within three strokes of each other, an impressive show of consistency that should bode well for future tournaments.
Dynda said he liked what he saw from his team as a whole, especially on a weekend when he thinks his team could have shot better than they did.
"It says we have depth and talent," Dynda said. "It also means we can play average and compete with the Northeastern Division I teams.
"What I mean by average is that at both St. Bonaventure [University] and Cornell, none of the kids played the round of their life, or played better than their average. If nature's law of averages comes to fruition, we'll get our wins."
Crawford said he was impressed by the whole team, but especially Schneider and Mistretta, who through two invitationals have proven they belong on a Division I starting five.
"I think this team has a lot of young talent," Crawford, now the senior-most member of the team, said. "Both Avery and Adam are very good players and have done a lot to help the team in the first two tournaments of the fall."
Schneider finished second on the team for the second straight week, shooting a three-round total of 232. He began the tournament with a 72, heading into Round 2 tied with Crawford near the top of the leaderboard. But he carded a pair of 80s to round out the tournament, which Dynda said he expects to see the freshman remedy in the coming weeks. Dynda said he liked the way Schneider has been hitting his drives lately, likening them to airplanes for how long they stay afloat.
Mistretta entered the third round tied with Schneider at a two-round total of 152, but carded a third-round 83 and ended up fifth out of the Dragons' five.
But rather than focusing on the poor final round, Dynda said he was impressed with the way the freshmen handled difficult greens and strong winds through the first two days.
"Adam is a grinder," Dynda said. "He took a step forward in my opinion; as a freshmen there are a lot of things that go in to competitive golf. [Mistretta] did not have his best ball striking week at all, and he shot 76-76."
Heading into the Patriot Invitational at George Mason University Sept. 28, Dynda said he expects a similar squad to what he's rolled out at the first two events of the season, with one slight deviation — the team is looking to give sophomore Scott Forrester a chance to sneak into the travel squad with a qualifier at some point.