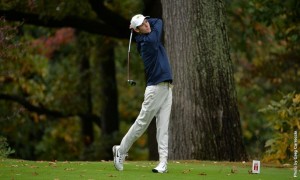 Spring has come upon us, which means the Drexel University men's golf team is back in action. It's no secret that this winter has been a cold one, and because of that getting back outside when the weather begins to warm is a great feeling. The Drexel men's golf team opened up their warm spring season at the White Manor Country Club as a part of the Villanova University Wildcat Invitational. Drexel did a great job after having months off, finishing tied for third in a 16-team competition. The Dragons shot a combined score of 591 — just 10 stokes more than the first place school, Binghamton University.
As the 2014 fall season came to a close, junior Christopher Crawford was ranked number one in the Colonial Athletic Association by GolfStat. Crawford did another great job at the Wildcat In-vitational, shooting a 71 the first day, which was par for the course. Crawford was able to begin the day with par on his opening two holes. Both holes were over 400 yards, but Crawford found the cup within four strokes.
The next six holes were a bit trickier for Crawford to manage, but with his talent this only meant he would bogey, going one over each hole's par. On holes nine and 10, Crawford found his stoke again going even, but then bogeyed the next six holes. Crawford finished strong shooting for par on holes 17 and 18, and he received par for the course with his final score of 71.
In the second round Crawford started off with even better scores, shooting for par on his first four holes. He then bogeyed on the next five holes, which put him at one over par for the course half way through. Crawford ended the second round with a final tally of 73, two over par. His total for the two rounds was a 144, which is a great score seeing as par for both rounds was 142. Crawford finished seventh, just four strokes off from first place's Billy Johns from Lehigh University.
Freshman Adam Mistretta shot the next best score for the Dragons, finishing the invitational with a very impressive 145. The first round started very well for Mistretta, as he shot for par on his first hole. He then shot one under par on holes two and three, two under par on the fourth hole and continued to shoot one under par for the next three holes. On the eighth hole, Mistretta seemed to lose his stroke just a bit as he bogeyed hole eight and double bogeyed hole nine. The second half of the course gave Mistretta troubles as his worst score would come on the 10th hole where he shot a double bogey. Even with the struggle on the back end, Mistretta found himself with an overall score of 76, just five over par for the course.
As impressive as Mistretta's performance was in the first round, his second performance was even better. Mistretta parred his first and ninth holes. Holes two through five he bogeyed, and then double bogeyed holes six and seven. He finished with a bogey on hole eight and shot for par on hole nine. The back end of the course is where Mistretta thrived for the second round. He was able to shoot for par on holes 10 through 13, and on the next three holes Mistretta shot one under par. The 17th hole was Mistretta's best performance, where he shot three under par, and then two under par on the 18th hole, finishing with a total score of 69. This was a great performance for Mistretta: as a freshman he displayed a great deal of talent and composure. This performance earned Mistretta a top-eight finish.
Drexel would not have been able to finish in the top three as a team if only two golfers had im-pressive outings. Freshman Avery Schneider and Brian Fischer finished in the top 32, and Yoseph Dance finished top 60. Schneider and Fischer both shot nine over par with a total score of 151. Dance finished with just seven more stokes added to his total score, which was 158. With these three performances and the great efforts put forth by Mistretta and Crawford, the Dragons were able to begin their spring season with an impressive third place finish.
Drexel will be playing in Seattle at the Chambers Bay April 6-7. They will look to move forward from the Wildcat Invitational with individual and team confidence. Golf is certainly an individual endeavor, however, there is still a team aspect when in competition, and the Dragons know this. If one golfer has an off day, they can maintain confidence that their teammates will be there for support.